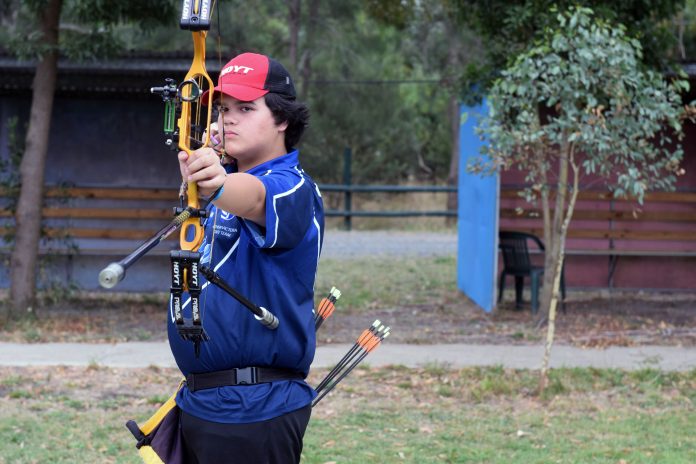 Liam Durkin
ALL going well, Morwell teenager Luke Couzner will take his bow and arrow to Tasmania to compete in the Archery Australia National Championships.

Those who have qualified will be hoping it is not a repeat of last year, where the event was postponed due to travel restrictions.
Luke, who calls Twin City Archers Gippsland (based in Morwell) home, said he was excited to be making the trip across Bass Strait.
"I'm looking forward to going to Tasmania and to hopefully get a medal for Victoria and my club," he said.
"Last year we couldn't go, so this year it's been a bit weird because we weren't able to shoot a lot last year to get everything done so we had to get back into the swing of things, to get all of our muscles back up to where we needed them and just practise all over again."
Luke was successful in getting one of the 10 spots available on the Victorian team, having accumulated enough points through various field and target events.
Field archery involves shooting at targets in a bushland environment, while target archery is the format most regular patrons would be familiar with, as participants aim at stationary circular targets.
Another form of archery – clout – requires players to shoot arrows up into the air and land near flags on the ground.
As Luke explained, the desirable skills for archers included the ability to block out any external noise.
"It gets hard sometimes, I've had target panic before which is where you are at the bow and you are shaking so much you just can't shoot and it's a struggle to get back through," he said.
"It takes a lot of time and practise just to get any skill up so you just need to put the time and effort in."
While archery might never quite shake the Robin Hood stereotype, competitions work in a fairly simplistic manner, with each archer given a certain amount of arrows to shoot from various distances to get the highest score.
Moving forward, Luke said he would like to travel overseas to compete in the sport, although in a bit of an unfortunate circumstance, he won't be able to shoot at the Olympics unless he takes up shooting in a style known as recurve .
Recurve bow and arrows are far less forgiving than the ones Luke currently shoots, which are known as compound.
"Hopefully I'll be able to get to the Victorian team for as many years as I can and hopefully go to other places in the world," he said.
With archery enjoying good levels of popularity locally, and with Twin City Archers hosting major events in the past, Luke encouraged anyone interested to give the sport a go.
"It's amazing fun because it's competitive but it's also fun," he said.
"You just make friends all the time and it's not one of those sports where it's so serious – it's always fun all the way around."