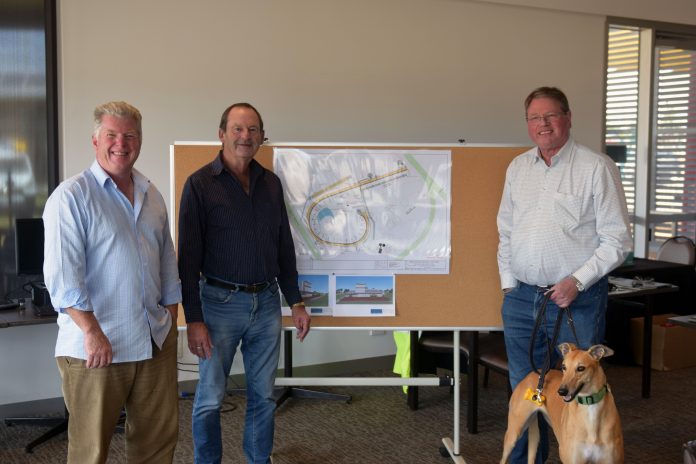 Liam Durkin
TRARALGON will soon lay claim to having a world-first in the sport of greyhound racing.
Extensive works are currently underway at Glenview Park to construct a one-turn track to aid injury prevention in competing greyhounds.
With animal welfare and safety front of mind, Traralgon Greyhounds Club manager Steve Clarke said it was all systems go to get the new track up and ready.
"It's an exciting time for greyhound racing and it's all directed toward safer racing and reducing injuries on track and animal welfare," he said.
"All these projects that are going on by Greyhound Racing Victoria have one focus in mind and that is the welfare of the dog.
"This track has been designed by the University of Technology Sydney, their specific brief was to reduce injuries and look after greyhounds welfare so they've come up with a unique design, it's a world-first design for this type of track, we're really excited to be the recipients of it and we just can't wait to see the dogs running around.
"Our previous track was structurally flawed, so a courageous decision was made by Greyhound Racing Victoria to close it and to redo it, rather than push a bad project and put animal welfare at risk, GRV decided to cease racing here and come up with something better."
Although greyhounds haven't raced at Traralgon since October 2018, Mr Clarke said it was a credit to GRV for their work in seeing the sport retain its presence in the local area.
"I must say, Greyhound Racing Victoria have always been resolute that they wanted to remain a racing entity as far as greyhounds go in Traralgon or Latrobe Valley," he said.
"It has taken some time to get to this point but we've had a few hurdles along the way. It has been a real process to get to this point but they have been very resolute and consistent in their approach that greyhound racing was going to continue in this area."
Unlike traditional circular tracks, the starting position of the new Traralgon track will be some distance further back from where greyhounds usually jump, and accommodate races of 350, 450 and 500 metres.
All going well, Mr Clarke said the track should be open by September.
"We look like we will probably open around September, that's the hope, weather permitting, hopefully we'll open with a bang and it will just be a fantastic venue for people to come to," he said.
"They're doing the major earthworks at the moment, just reforming the land and bringing the track to fruition. We have some heavy machinery here at the moment just pushing a lot of earth around and forming the shape of the track and the surrounds and making sure everything is in place for the final work to occur."
In more exciting news, the club is also upgrading other parts of the complex.
"As a club we're refurbishing our facilities and extending our grandstand to include a substantial deck out the front and we're also creating an outdoor cinema," Clarke explained.
"We've been gracious enough to receive from Greyhound Racing Victoria at significant cost a 12 metre by six metre digital quality screen which we intend to donate back to the local community to use as an outdoor community cinema.
"We are getting new kennels as well so the whole lot is getting replaced, we can't wait to engage the community and bring them here.
"We're working very closely with Latrobe City Council and we can see some major community events, apart from racing, occurring at this venue and some real major racing events as well."
Glenview Park encapsulates greyhound and thoroughbred racing, as well as the Traralgon Pony Club and the Traralgon Croquet Club.
Moving forward, there is potential for the area to become a real hub of activity on the eastern side of Traralgon.
"We've spoken with the racing club in relation to doing a dual-code event," Clarke said.
"We love our neighbours and try and work in as closely as we can with them to try and get the most benefit to the community from this facility."
The new Traralgon track will enhance the sport further in Gippsland, to go with greyhound clubs in Warragul and Sale.