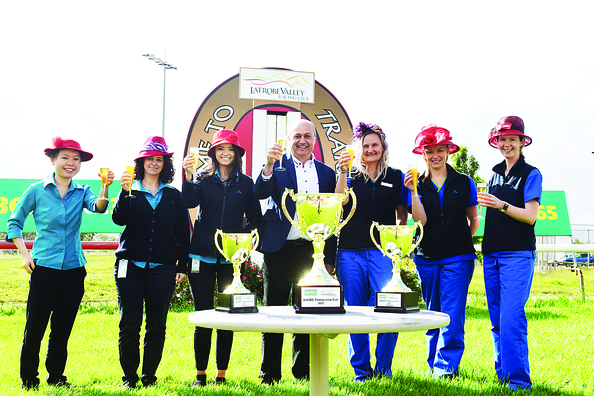 HORSE RACING
By LIAM DURKIN
ALL race-going eyes will be on the Traralgon Cup which will be run and won this Sunday.
The timing could not be better as far as the racing fraternity is concerned, as crowds will once again be welcomed back through the gates.
So much of what has been missed about country racing, from fashions on the field, to picnic rugs, to marquees, to the hustle and bustle of the betting ring will again be a feature for the Latrobe Valley Racing Club's staple meeting at Glenview Park.
Glenview Park has been a key meeting place in the last few months for reasons other than horse and greyhound racing, as it has been used by Latrobe Regional Hospital as a facility to administer COVID vaccinations.
A large part of this year's Traralgon Cup will be used to pay tribute to LRH staff who have worked around the clock on the frontline during the pandemic, and give the public a chance to say thanks and the staff themselves an opportunity to unwind and enjoy a day's racing.
Latrobe Valley Racing Club chairperson Frank Bezzina said it was all systems go in readiness for the Cup.
"We can't wait, we're so looking forward to it," he said.
"The community really wants to come back, we've been inundated with phone calls. The membership for the last two weeks has gone through the roof. The track couldn't be any better, it is nice and lush all the way around."
As a volunteer organisation, Bezzina said the Latrobe Valley Racing Club felt it was important to keep the sense of community alive.
"What we have really concentrated on this year is all the services will be local," he said.
"The marquee man is local, the chef is local, we'll have the local bagpipe player playing as people arrive and local singers."
The $70,000 Bet365 Traralgon Cup will see owners and trainers from across the state converge on Glenview Park to try and get their hands on the silverware.
At least eight races are expected to feature, with a final call to be made the day prior.
The 2021 Traralgon Cup will also remember prominent local trainer Allan Douch, who died earlier this year, with the naming of a race in his honour.
Gates at Glenview Park will open from midday on Sunday.
Patrons must be double vaxxed to gain entry.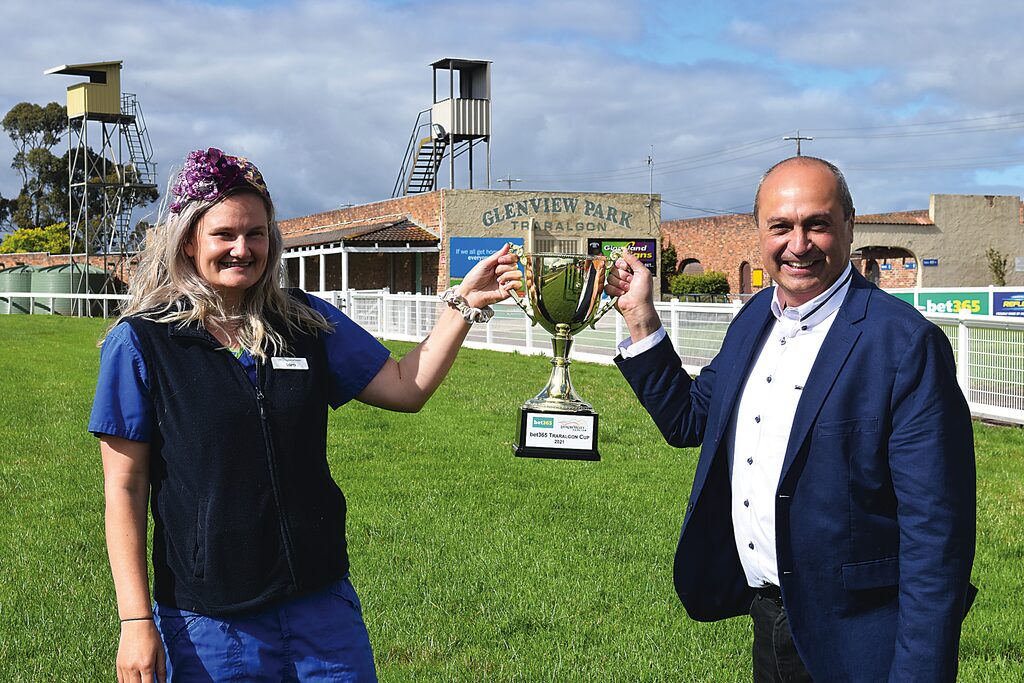 Eyes on the prize: Latrobe Regional Hospital Gippsland Regional Public Health Unit team leader vaccinator Lara Parker and Latrobe Valley Racing Club chairperson Frank Bezzina show off the Traralgon Cup trophy. photographs liam durkin
Holy grail: The Traralgon Cup winner will be crowned on Sunday. A trophy will be awarded to the trainer, jockey and owners.