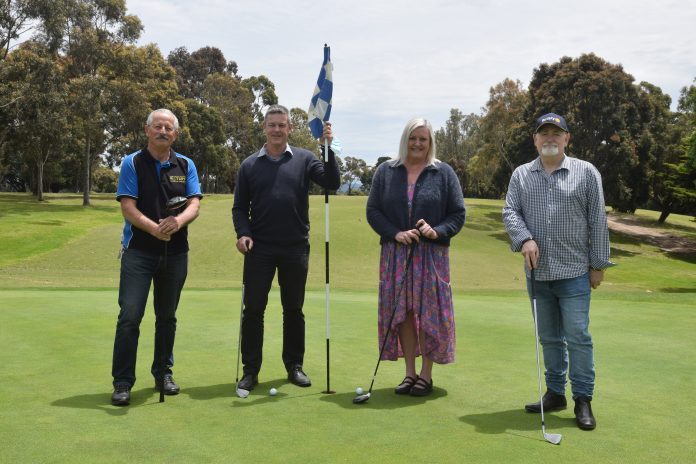 LIAM DURKIN
GOLF
By LIAM DURKIN
A CHARITY golf day in support of mental health was held at Traralgon Golf Club yesterday.
The Rotary Club of Traralgon and Member for Morwell Russell Northe hosted 'Tee Up for Mental Health' to raise money for Lifeline Gippsland in its suicide prevention program, and to also assist Rotary in providing first-aid training in the region.
More than 100 players came together and enjoyed a relaxing round of golf in a welcoming environment.
Northe, a technically sound left hand golfer himself, said the event played an important role in broadcasting a vital message.
"Lifeline, ACSO, Talking Mental Health and the Rotary Club of Traralgon have been doing some amazing work in our community in difficult areas such as suicide prevention, mental health, drugs and alcohol and I really wanted to say thank you and one way we could show our collective appreciation was by having a golf day fundraiser," he said.
"The goodwill that we have received from businesses and the community more broadly has been overwhelming with the golf field at capacity.
"Organisations such as Lifeline rely upon alternative fundraising initiatives to support their programs, so hopefully we can make a positive difference to this incredible organisation who in turn help people who are in crisis.
"The reality is Lifeline saves lives and we want to enable the amazing staff and volunteers at Lifeline to be and feel supported."
The event received significant backing from Gippsland Motor Group.
"GMG is thrilled to be part of this event again in 2021. As a proud, long established business in the Gippsland region we are proud to support local organisations who in turn help members of our community in their time of need and that's precisely what Rotary, Lifeline, Talking Mental Health and ACSO do," Gippsland Motor Group general manager Chris Elliott said.
Susanne Lampitt from Talking Mental Health stressed the importance for anyone who might be struggling to reach out to any number of mental health organisations.
"Seek help, there is always help available, even though it might not seem that way there is a broad variety of opportunities to get help to start that conversation which can be really difficult, but could be life saving," she said.
If you or someone you know is struggling, phone Lifeline on 13 11 14 or BeyondBlue on 1300 224 636.