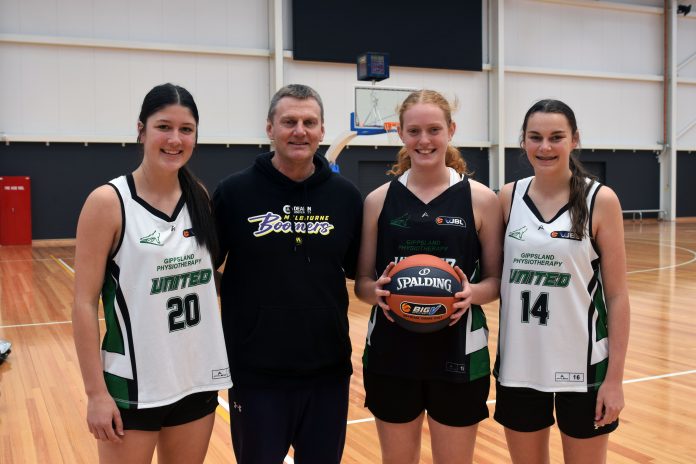 LIAM DURKIN
BASKETBALL
By LIAM DURKIN
THE Melbourne Boomers came to the region last week as part of a three-day tour.
The visit saw the Boomers engage with a number of local stakeholders in preparation for their WNBL regular season game to be played in Traralgon on January 8.
On Monday, the team hosted an all-abilities come and try session, before holding an open training session at the Gippsland Regional Indoor Sports Stadium.
Local rising basketball stars Emily Scholtes and Asha Nightingale from Traralgon, and Maffra's Jaime Gallatly were invited to train alongside the Boomers, and had the
experience of a lifetime working under the guidance of head coach Guy Molloy.
The Boomers visited Traralgon primary schools St Michael's and Kosciuszko Street on Tuesday and also went on a mine tour in Walhalla.
Boomers co-captain Cayla George said everything was positive about their visit to Gippsland – with one exception.
"We have a session each day, really excited to be here. Everyone has been welcoming except the weather," she said.
"It's a really great opportunity to get out in the community, it is a fantastic facility here (at GRISS).
Keeping her sense of humour, George said the Boomers in-season game against the Canberra Capitals in Traralgon might carry one significant challenge.
"Local girl Jade Melbourne will be playing for Canberra so hopefully we still have a few supporters going for us," she laughed.
"We're really excited to bring the WNBL here to the region and hopefully there is some future NBL players watching."
With the WNBL season beginning next month, the Boomers will be looking to take the next step following a heartbreaking three point preliminary final loss to Townsville Fire in their last campaign.
"We've been going at preseason almost three weeks now, feeling pretty good but just have to iron out a few wrinkles and stay ready," George said.
"The championship is always the goal but you have to enjoy the process at the same time as cliché as it sounds … you want to enjoy the experience, that is what we are here to do at the Boomers."
The Boomers have a strong connection to Gippsland with not only Jade Melbourne, but Chelsea D'Angelo also playing for the team previously.
The Boomers have formed a visible
presence in the region over the past four years, delivering events and community programs in partnership with the Latrobe Valley Authority and state government.
Those watching the Boomers training in Traralgon on Monday might have left with a few points to ponder.
In what is surely reassuring to the everyday basketballer or sportsperson for that matter, even the Boomers made unforced errors when trying to execute basic skills such as tip-ins or jump shots.
However, where things might differ from training at a local level, the Boomers were able to tidy up errors almost instantly, so much so they virtually became a non-issue when meshed with the dozens of other shots that went in.