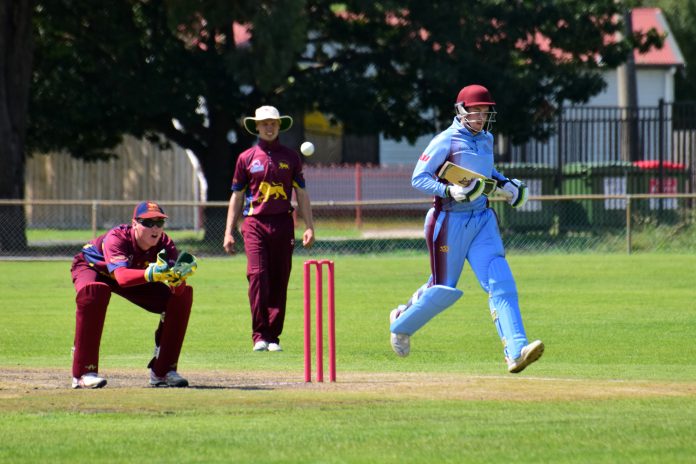 Liam Durkin
CRICKET
LVDCL
By LIAM DURKIN
THE second-half of the Latrobe Valley and District Cricket League season commences this weekend.
Players will return from a three week break over Christmas and New Year, which will present team leaders with a tricky challenge in trying to make sure their troops do not go into the first lot of matches in 2022 still in 'holiday mode'.
MORWELL will look to stay on top of the ladder when it travels to Yinnar to play Raiders.
Only a masterful innings of 122 not out from Moe great Andrew Philip has been arguably all that has prevented Morwell from remaining unbeaten in the first half of season 2021/22, as they have answered most challenges that have come their way.
However, that was then and this is now, and for now the challenge will be defeating a Raiders team that, like their ageing veterans, refuses to go away.
Raiders has won three games and lost two, but its form line has gone: win, loss, win, loss, win.
Such a trend has probably been indicative of the make-up of the Raiders team, which has key players in Liam Maynard and Madura Perera, veterans in Chris Stanlake and Mick Higgins, and a sprinkling of kids such as Harry McColl, Ben Burrows and Tim Hutchinson.
Adding some experience and class might help address this inconsistent form line, and Raiders star Brad Knowles appears the logical choice to come into the side provided he is fit and able to.
Word had been circulating in LVDCL circles pre-Christmas that the former first class cricketer would make a return after the break, and now that the time has come, great interest will take place to see whether or not this is the case.
If Knowles plays it could set up a great showdown with Morwell counterpart Brendan Brincat.
The pair have been snicking batsman off for decades with their deadly seam and swing bowling, and could each hold the key to their team's success.
Morwell has been complemented by a very deep batting order this season, and only a fool would try to argue the Tigers do not have to most daunting card in the competition.
With a player like Blake Mills, who has played Victorian Premier Cricket firsts, coming in as low as seven, Morwell is indeed blessed.
This depth has allowed the Tigers to structure their innings almost like a Gippsland Cricket League match. Stroke makers such as Blair Clymo and Mark Cukier up top can keep the scoreboard ticking and have Morwell looking at a score around the 200 mark, while if they happen to lose a few wickets in the first session they have players who can bat for long periods like Jordan Campbell to try and scratch out a handy score around 150-160.
It is clear Morwell has put a lot of work into its entire batting line-up this season – even the tailenders are more than capable of being 10 off 20 balls rather than traditional tailenders who might be two off 20, meaning Raiders will need to work hard to snare all 10 wickets.
MIRBOO NORTH and Churchill will meet in the grand final rematch.
The second placed Cobras will make the trek up to Mirboo North who are equal fourth on points.
Mirboo North could see the season restart as an opportunity to follow a similar narrative to what happened 12 months ago where they did not drop a game after the main break on their way to the flag.
Despite the Tigers saying farewell to a number of premiership players since lifting the trophy last March, Churchill will be cautious of their opponents, particularly captain Jesse Giardina, who plundered a man-of-the-match innings of 85 against them in that decider.
Giardina might also hold an ace up his sleeve as a former Churchill player himself, and know what bowling changes and fields opposite number John Keighran is likely to set.
Giardina is one of the few batsman in the league that really looks to attack the military mediums of Churchill's Steve Warr, and this battle could prove decisive in determining the winner of the match.
Warr is likely to play cat-and-mouse with Giardina, and if he has to sacrifice going for a few boundaries in order to prize his wicket before the Tigers skipper is truly set it is probably a risk he is willing to take.
LATROBE will welcome CATS to Peter Siddle Oval
The two teams appear to have been cut from the same cloth so far in season 2021/22 in that they have each been the unfortunate losers in matches decided by one wicket. The Sharks have lost one game by a wicket, while CATS, somewhat bizarrely, have twice had victory snatched from their palm by a last wicket stand.                                                  While both teams have justifiable reason to believe they have been hard done by, they can ill-afford to sit back in self-pity as there is still plenty of cricket to be played.                          Latrobe new recruit Navin Gomez seemed to find his feet toward the end of last year, with his figures in his last two games reading 5/54 from 17 overs, and he is sure to provide the CATS batsman with plenty to think about.                                                                       CATS opening bat Jamie Cochrane ended 2021 with scores of 50 and 87, and he will want to pick up where he left off.                                                                                         JEERALANG-BOOLARRA and Trafalgar will fight it out for the title of 'Concrete Kings' on the Boolarra synthetic wicket.                                                                                                 The Panthers have a rare home game at their actual home ground, and will want to make the most of it against their fellow hard deck companions.                                                    As the only two clubs in the A Grade competition without a turf wicket, the one time Jeeralang-Boolarra and Trafalgar are able to play on their home grounds is when they play against each other.                                                                                                         Despite the toll travelling away virtually every week for the best part of four years has no doubt had on both clubs, the Panthers and Ships deserve a fair amount of credit for the performances they have put on the park: The Ships have won an A Grade premiership – the Panthers have played in the last four finals series.                                                             Trafalgar hasn't lost to Jeeralang-Boolarra since 2018, but by the same token, haven't necessarily found the going easy against the Panthers, who have generally made the Ships fight hard for the points. So hard in fact, Trafalgar players were reported to have been singing and dancing to the Gwen Stefani song 'The Sweet Escape' after getting away with a draw in a two day match in 2019/20 that seemed destined to end in defeat after day one.              The Boolarra synthetic wicket might also give Trafalgar players something to adapt to, as contrary to popular belief, synthetic wickets do not all have the same consistent bounce that allows batsman to rock back and wait for the ball. The quality and age of the concrete underneath and how recently the astro strip was laid are all factors in determining how the ball behaves.                                                                                                               Jeeralang-Boolarra was a bit hot and cold in the first half of the season, but with players the likes of all-rounder Nila Thillekarathna, pace bowler Matt McGrath and captain Ben Heath, who sits inside the top five on the league runs aggregate, most pundits in the LVDCL see the Panthers as every bit an 'on their day' team, meaning they could well make 300 in a one dayer or blast a team out cheaply if everything clicks for them 'on their day'.                    MOE will host Centrals at Ted Summerton Reserve.                                                              The Lions go into the clash with four wins on the trot, and will want to take it to five against a team it may meet again in the finals.                                                                               Moe has been quietly but surely getting the job done so far this season, and what's more, seemed to have unearthed a few hidden gems along the way.                                         While the abilities of Andrew Philip and Joel Mitchell are well documented, the Lions have found contributions from a few somewhat unlikely sources as well.                                      Opening bowler Robert Blunt has taken his game to another level and is now leading the attack and is arguably the most improved player in the competition.                                     In his last three games Blunt has only gone for 43 runs in 28 overs, meaning his economy rate is just 1.54 – an amazing stat considering all matches this season are one dayers.        For various reasons Moe has already used 16 players in the firsts this season, but that being said, it appears captain/coach Pat Spiteri has simply adopted a 'next man in' policy – so far to great effect.                                                                                                                    Just in the last game Troy Oakley did a job at number seven, making 41 batting mostly with the lower order to take Moe to an eventual winning total of 9/176.                               Having players come in and make an immediate impact will surely provide Spiteri with a good problem to have at the selection table as he could have a plethora of options to choose from.                                                                                                                               Big hitting Centrals captain/coach Rob Webber and middle order batsman Mark Rawson should enjoy playing at Ted Summerton, and will want to make use of what has been a belter of a wicket so far in season 2021/22.                                                                          Should either of Webber or Rawson get going, it could become a six-hitting competition between the pair, and Moe will want to see the back of them as early as possible. Traditionally Centrals and Moe each abide by the formula that: wickets in hand equals runs, equals wins, so this match may well be a case of who can play their own game better.     TRARALGON WEST HAS THE BYE.