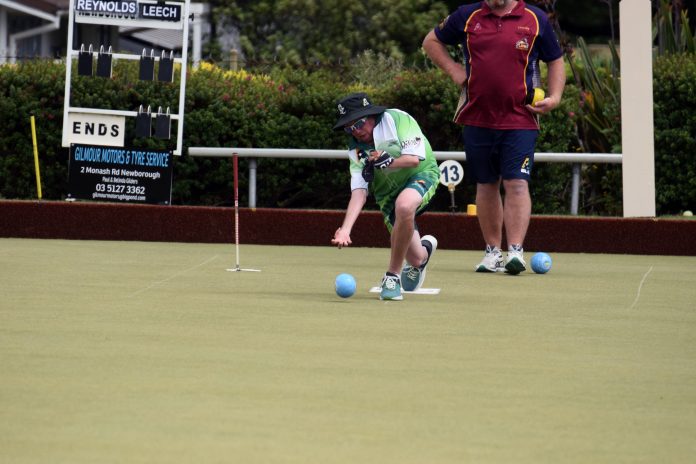 Michael Holroyd
BOWLS
ENERGYAUSTRALIA
CLASSIC SINGLES
By MICHAEL HOLROYD
THE EnergyAustralia Classic Singles commenced at Newborough Bowling Club on Monday, with a full field of 96 top bowlers from throughout Victoria, along with Rohan Dennis and Alan Fawcett from New South Wales and James Reynolds from the ACT taking part.
Players were placed in 32 sections of three players with each person playing games against the other two players in their section and marking the third game in their section.
Steve Pallot from Moe was the only Latrobe Valley player remaining after the section play despite a number of locals performing well on the greens.
Reynolds, a former Australian representative player, won his section and defeated Jayde Leech from Moe fresh from winning the Strzelecki North State Singles.
Dennis, from Merrylands, also won his section after defeating Stephen Adams from
Karingal.
Eight ladies entered this year including Kirsty Van Den Hoff from Traralgon and Sarah Ashby from Newborough.
Despite performing admirably, Trish Cullinane from Heathmont was the only lady winning through to the last 32 following her defeat of Brendan McCallum (Hampton).
The winners of the past two years, Nathan Bush (Deer Park) and Thor Shannon (Essendon) won through and are hot favourites to play-off in the final tomorrow.
They will face opposition from former winners Tony Schiavello (Bundoora RSL) and Ray Jansen (Melbourne Cricket Club), who are both keen for another win.
Bob Watt (Whittlesea) won the Prelude to the Classic last week and continued his good form to win his section.
Andrew Dalli (Mitcham) and Todd Blackburn from Webbcona won on their first visit to
Newborough.
Blackburn was a late entry after a number of players withdrew due to illness and performed the best of the five players who came down with former local Gary Johnson, now based at Webbcona in Ballarat.
The stage is set for the last 32 players to engage in five rounds of knockout play today and
tomorrow.
Spectators are welcome, with free admission.
EnergyAustralia Classic Singles
Final 32 Draw
A Eng (Yarraville-Footscray) v S Cannington (Melbourne); R Jansen (MCC) v T Shannon (Essendon); T Cullinane (Heathmont) v T Schiavello (Bundoora RSL); D Morrison (MCC) v N Schiavello (Bundoora RSL);M Prosenica (Melbourne) v G Van Vugt (Pakenham); A Dalli (Mitcham) v B Hubber (Bundoora RSL); E Miller (Brunswick) v M Adams (Mornington); D Carroll (Heathmont) v G Spencer (Beaumaris); N Bush (Deer Park) v N Lewis (Moonee Valley); D Mars (Middle Park) v P Tirant (Yarra Glen); B Watt (Whittlesea) v T Blackburn (Webbcona), F Krslovic (Rosebud Beach) v J Reynolds (Canberra), C Veenendaal (Mitcham) v S Pallot (Moe), W Morris (West Sale) v P Dodd (Lilydale), H Cortenbach (Mooroolbark) v R Dennis (Merrylands NSW), I Ewing (Brunswick) v T Ristic (MCC).