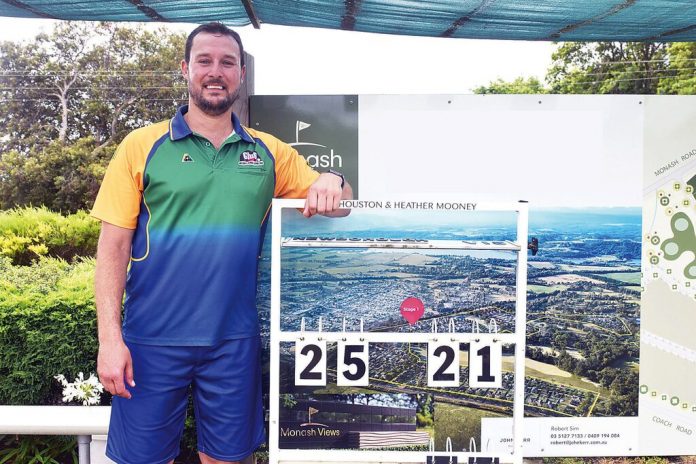 LIAM DURKIN
LAWN BOWLS
CLASSIC SINGLES
By LIAM DURKIN
THE EnergyAustralia Classic Singles netted
victory for an interstate player, with Rohan Dennis of Merrylands, New South Wales, prevailing in an thrilling final over Ray Jansen of Melbourne Cricket Club.
Dennis was the last player standing in the tournament which saw two days of sectional play followed by a day of knockout rounds.
Jansen, a previous winner of the event, took the game right up to his more youthful opponent, as both players traded periods of dominance at each end.
A tense crowd watched the final with intent at Newborough Bowling Club to see which player could get to the magic number of 25 points needed to secure the title.
Only a handful of points separated the two competitors for the most part, however, Dennis was able to get some vital breathing space around the 20-point mark, establishing a three point buffer which Jansen was unable to bridge.
Some deft touch and delicate placings from Dennis had the crowd and even his opponent in awe late in the piece, as on a few occasions he was able to thread the eye of the needle and curve his bowls in between those of Jansen's to get closer to the Jack.
Dennis appeared calm and collected as he got within touching distance of the required 25 points, sipping an ice cold glass of water brought to him from the clubhouse.
He was forced to sweat on his victory as Jansen refused to give in.
The state of the match toward the end forced Jansen to deliver his bowls like a 10-pin bowler to try and take Dennis' bowls and the Jack out of bounds to force a restart.
Jansen's stalling tactic was successful in some earlier instances, however, it did not come off right at the end, as his bowl sailed past those of Dennis, thus sealing his win.
Great sportsmanship was seen by both players in the immediate moments following, as they happily shook hands and said 'great game', along with Newborough Bowling Club chairman Alan Ryan, who officiated the match.
For Jansen, even being in the final was a story in it itself, as he had been asked by Newborough Bowling Club at the start of the tournament if he would be available to mark the deciding game if it came to it.
As a man who has been through bouts of cancer, Jansen shone as a bright light for all bowlers present at the final into what challenges in life can be overcome.
Dennis was quick to acknowledge this of his opponent when speaking in the moments after his win.
"He is an inspiration to all us bowlers, what he has done is absolutely incredible and we are all very proud of him," he said.
"It could have gone either way. He is a great competitor, he has won here before and knows how to get it done, so he was a very tough opponent for me.
"I'm absolutely over the moon. It is incredible to win this tournament, I've been coming down for quite a few years now and really, really proud to get on the honour board with some of the legends who have won here in the years gone by.
"Bowls is one of those ones where you give it your best shot and you need a bit of luck on your side as well. I had some close games along the way but seemed to find enough to get through each game."
Dennis also wished to make mention of the great condition of the greens.
"There has been heaps of rain and the greens have stood up really well," he said.
"Honestly this is one of the best grass greens I've played on, a real credit to the greenkeeper Scotty (Jones)."
A presentation to Dennis and Jansen was made in the clubrooms, with Meredith Bowden from tournament sponsor EnergyAustralia on hand to announce the company would continue to support the event in coming years.
The Classic Singles has grown in stature since it was first played 25 years ago, and is now arguably the most prestigious lawn bowls tournament in Gippsland.
Tournament director Michael Holroyd said the 25th anniversary of the event was a tremendous show.
"It was terrific for our 25th year," he said.
"We had 14-15 players pull out for various reasons prior to the tournament and we were able to fill all spots to keep it going every year of having a full tournament.
"For the final it was a terrific day to play, a good game of bowls, good crowd, they saw some of the best draw bowling, along with the odd couple of drives that people did to get themselves out of trouble."
As the club's marquee event, Holroyd said the success of the Classic Singles helped the club get the New Year off on a positive note.
"It is certainly a great start to the year," he said.
"We've found since we came back to the first week in January that there seems to be a lot of interest in bowls."
With bowling clubs famous for their hospitality, it may be no secret as to why the Classic Singles has continued after so many years.
"The players like the greens, they reckon the people here are friendly and they all love the lunch," Holroyd said.