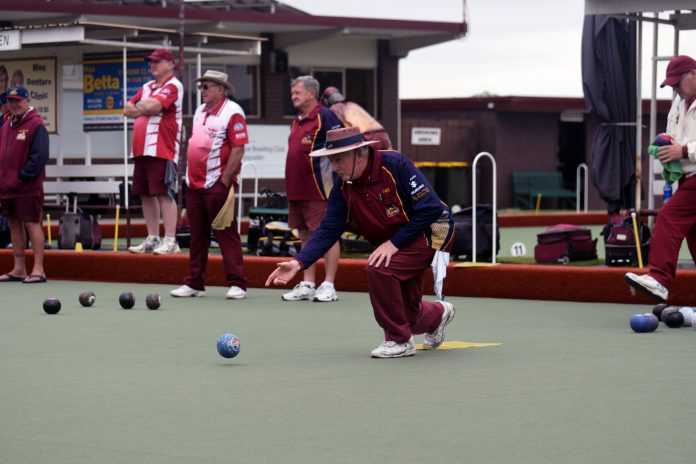 MICHAEL HOLROYD
BOWLS
STRZELECKI NORTH
SATURDAY PENNANT
By MICHAEL HOLROYD
AN interesting round of bowls over the weekend.
DIVISION 1
NEWBOROUGH and Traralgon were all set to play under lights at Newborough on Friday night before the storm which had been threatening with ferocious thunder and lightning unleashed an enormous downpour flooding the green and entering the clubrooms.
A swift decision was made to transfer the game to Traralgon where play could occur in the indoor centre.
The change in venue suited the home team with Matt Ferrari and his team of Kirsty Van den Hoff, Kevin Enguell and Ian Kirkup showing the way with a 40-12 win over Nosha Michaels and his rink of Bob Goldie, Jo-Anne Michaels and George Lambos.
James Scullin with his rink of Ron Sherlock, Pat Trewin and Damien Barnes had a 34-20 win over Tommy Lodge and his team of Barry Daley, John Backman and Craig Thornton.
Phil Mustoe and his rink of Chris Thomas, Ian Hilsley and Maurice Sutcliffe had a 22-21 win over Kevin Loverr and his team of Brian Carpenter, Michael Weatherall and Neale Houston.
To complete the clean sweep, Vin McIlwain and his team of Shane Chapman, Abe Roeder and Chris Ward were too good for Alan Grubb and his team of Josh Kennedy, Tony Knipping and Scott Jones, winning 23-17.
Traralgon 18-119 defeated Newborough 0-70.
Moe welcomed Traralgon RSL and gained a much needed win.
Sandy Caines and his rink of Paul Read, John Woods and Barry Hawkett led the way with a 31-23 win over Alan Kanavan and his team of Titch Hore, Greg McDonald and Ross McKenzie.
Ted Kuklinsky and his rink of Fred Martin, Greg King and Jan Rudy had a solid 23-18 win over Morice Gardiner and his rink of Paul Matters, Dave Morley and Max Aumann.
For the visitors Rick Lukey and his rink of Gordon Bakker, Peter Barnes and Kevin Durwood won 23-20 over Jayde Leech and his team of Les Brown, Michelle Muccillo and Banger Harvey.
Ross Sizeland and his rink of Ian Hartley, George Cargill and Terry Hunter had a 23-22 win over Steve Pallot and his Moe rink of Ian Caines, Dave Mander and Val Griffiths.
Moe 14-96 defeated Traralgon RSL 4-87.
Drouin had a good win over Warragul with Mark Atkinson and his rink of David McIlfatrick, Jan Aubrey and John Leighton had a 25-14 win over Graham Davis and his rink of Ken Landman, Ken Scammell and Peter Gallasch.
Toby Wallace and his team of Denise Hamilton, Clive Newman and Arthur Moore won 22-16 over Matt Schreyer and his rink of David Alderman, Bill Clappers and Paul Simmons.
Sheryl Atkinson and her rink of Graeme Aubrey, Maureen Leighton and Mick Fleming had a 25-17 win over Janette Gallasch and her rink of
Matt Draisma, Des Stephens and Terry Sullivan.
The lone winning Warragul winner was Dave Smith with his rink of John Vickerman, Jim Power and Pat Hammond defeating Samantha Atkinson and her team of Steve Barr, David Tayles and Les Firth 21-18.
Drouin 16-90 defeated Warragul 2-70.
Trafalgar had a big win at home against Morwell Club.
Darren Kane and his rink of Sean Tatterson, Graham Hill and Nathan Fraser got the ball rolling with a 33-12 win over Nobby Noblett and his rink of Dave Stevens, Dashaa Martin and John Leicester.
Paul Dawson and his team of Mary Holdsworth, Frank Farrugia and Peter Jonas had a 33-18 win over Rod Smith and his rink of Michael Skinner, David Broadbent and Neil Whitelaw.
Tim Fraser and his rink of Col Carmichael, Ian Riley and Ken Capper won 27-20 over Glenn Trembath and his rink of David Patience, Vaughan Reimers and Wayne Arnold.
The lone winner for Morwell Club was Brett Harle and his rink of Alan Campbell, Roger Rejmer and Tara Harle, who defeated Ian Miles and his rink of Heather Taylor, Peter Rosenboom and Tim Anderson 22-20.
Trafalgar 16-113 defeated Morwell Club 2-72.
DIVISION 2
THORPDALE continued to show that they were a worthy addition to this division with a big win over Traralgon RSL (2).
Brendan Jennings and his rink of Brian O'Connell, Dylan Gunn and Denis Gunn were the big winners with a 38-16 win over Graeme Asbury.
The other winning skippers were Danny Vanzuylen, Ross Kennedy and Ben Powell.
Thorpdale 18-112 defeated Traralgon RSL (2) 0-77.
Longwarry welcomed Drouin (2) and Ken Towt and his rink of Mark Serong, Simon Counsel and Hank Metselaar won 43-7 over Brian Thorpe.
Adam Proctor and his rink of Glenn Pask, Ian Peterson and Jason Lieshout won 38-13 over Andrew Kidd.
Ken White and his rink of Elio Megetto, Barry White and Grant Pask won 32-18 over Lyn Jeffrey.
Col Jeffrey was the only winning Drouin skipper, prevailing 25-20.
Longwarry 16-133 defeated Drouin (2) 2-63.
Traralgon (2) had a narrow one-shot victory over Newborough (2) when Cary Locke drew five shots on the last end over Graeme Cocks to win the day for his team despite losing 20-24.
The winning rinks for Traralgon (2) were Barry Fernance with a 22-20 win over Joan Goldie and Dave Currie with a 27-21 win over John Wasiukiewicz.
The other winner for Newborough (2) was Gary Ingley.
Traralgon (2) 14-89 defeated Newborough (2) 4-88.
Morwell maintained top spot with a resounding victory over Neerim District.
Nathan Cook won 38-17, David Cook 25-14, Ernie King 28-21 and Ron Lyfield completed the clean sweep with a 38-22 win.
Morwell 13-126 defeated Neerim District 0-74.
DIVISION 3
NEWBOROUGH (3) travelled to Traralgon (3) with the home team winning on three rinks and Norbert Schroeder winning 42-8 over Ken Bechaz.
Other winning skippers were May Cross and Brendan Smiles.
The lone winning Newborough (3) skipper was Michael Holroyd.
Traralgon (3) 16-94 defeated Newborough (3) 2-71.
Warragul (2) with David Ferguson winning 31-22 and David Gatewood winning 35-12 were too strong for Yinnar who had winning skippers Gavin Osborne and Tim Roche.
Warragul 14-105 defeated Yinnar 4-79.
Garfield welcomed Morwell (2) and with a draw and two rinks up came home the winners.
Winning skippers for Garfield were Steve Bassed and Nick Henwood and for Morwell was Shashi Bhatti.
Garfield 15-93 defeated Morwell (2) 3-86.
Boolarra had three rinks up against Moe (2), who managed a draw on the other rink.
Winning skippers for Boolarra were Bob Allen, Graeme Colbert and Terry Parker.
Boolarra 17-95 defeated Moe (2) 1-67.
DIVISION 4
YALLOURN North had a good win over Warragul (3) with Ricky Hearn winning 39-14 and Rob Matthews winning 30-20.
The winning Warragul skippers were Bill Clarke and Michael Cousens.
Yallourn North 14-109 defeated Warragul (3) 4-84.
Yarragon enjoyed the visit to Drouin (3) with all rinks up.
Winning skippers were Jarrod Grigg, Sam Mazza, Jason Roberts and Richard Polmear.
Yarragon 18-104 defeated Drouin (3) 0-77.
With three rinks up Traralgon (4) had a sound win over Newborough (4), who only had one winning skipper Ryan Marston.
Winning Traralgon skippers were Terry Lawrence, Col Mayman and Ian Wills.
Traralgon (4) 16-87 defeated Newborough (4) 1-73.
Morwell (3) had a good win over Trafalgar (2) with the winning Morwell skippers being Ian Auld and Bob D'Brass, while the winning Trafalgar (2) skippers were Tony Dawson and Wayne Hurst.
Morwell (3) 14-116 defeated Trafalgar (2) 4-100.
DIVISION 5
Traralgon (5) 16-79 defeated Traralgon RSL (3) 0-51, Churchill 14-89 defeated Moe (3) 2-54, Neerim District (2) 14-81 defeated Morwell (4) 2-55 and Morwell Club (2) 16-82 defeated Garfield (2) 0-52.
DIVISION 6
Newborough (5) 8-44 defeated Traralgon (6) 2-39, Trafalgar (4) 10-46 defeated Yinnar/Churchill 0-37, Trafalgar (3) 10-93 defeated Yallourn North 0-26, Longwarry (2) 10-56 defeated Morwell Club (3) 0-39 and Boolarra (2) 8-51 defeated Thorpdale (2) 2-47.
THIS WEEK
IN Division 1, we see the start of reverse matches from the early season and Newborough aims to get back on the winning list as it welcomes first round winner Traralgon RSL.
Warragul needs to win over Morwell Club, Drouin and Trafalgar will be a keen battle and Traralgon hosts Moe.
In Division 2, Longwarry travels to Morwell
seeking to provide an upset. Thorpdale hosts Traralgon (2), Traralgon RSL (2) hosts Newborough (2) and Neerim District hosts Drouin (2).