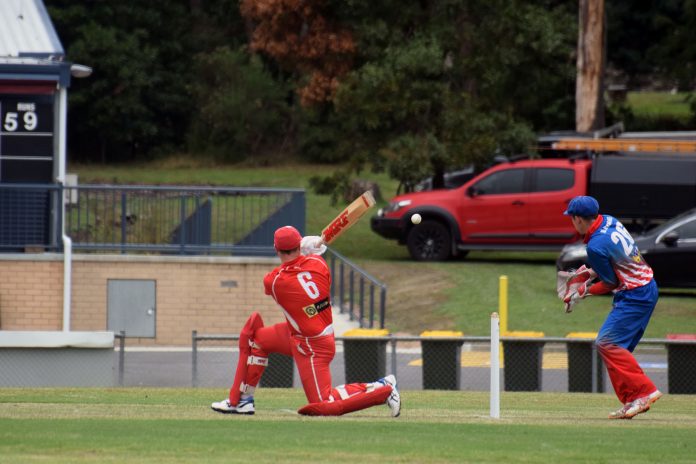 LIAM DURKIN
CRICKET
LVDCL
By LIAM DURKIN
COMPETITORS in the Latrobe Valley and District Cricket League are on the home stretch.
A number of positions on the Premier A and A Grade ladder could still be shuffled before final placings are solidified in three weeks' time.
Teams holding ambitions of taking their
campaigns deep might be approaching the
remaining three regular season games and two finals much like a five Test series – win at least one of the first three Tests to stay in the hunt and then win the Fourth and Fifth test to win the premiership.
TRAFALGAR pulled off a miracle against Moe in A Grade.
The Ships needed 129 off the last 90 balls at Ted Summerton Reserve, and got them in the last over.
Earlier in the day the Lions posted 7/253, led by Riley Baldi who torched 121 from 104 balls at the top of the order. The man known as Eagle soared high, whacking three sixes and 10 fours in his onslaught, highlighted by an incredible six over long off that took shot of the day honours.
As if making a ton couldn't be any better, the youngster brought up three figures on his 21st birthday.
Moe skipper Pat Spiteri added to the total with an unbeaten 46, as he and Ash Savige hit and ran late to get the score past 250.
Aydan Connolly took 2/34 and Rhys Holdsworth 2/36 for Trafalgar.
The Ships took a steady approach in response, and at the halfway mark was 4/83.
While they were probably 20 or so runs behind where they wanted to be, Trafalgar was able to stay alive by the fact singles were on offer and there was a very short boundary on the South Street Primary School side.
Jackson Noonan was promoted from nine to six and responded with a swashbuckling 86 from 76 balls, combining with Holdsworth in a 156-run stand for the fifth wicket.
At the 30-over mark the Ships had got the equation down to just over a run-a-ball, and were looking to target a few overs to go big toward the back end.
Trafalgar got the big overs they were after, and as is often the case when momentum is all with one side, it felt as though Holdsworth and Noonan were in total control of what was happening.
Come the final over, the Ships needed two to win and Holdsworth brought up the win with a square drive through backward point.
The captain produced when his team needed him most and ended on 104 not out, arguably the finest of his eight hundreds in a Trafalgar shirt.
Ash Savige proved a handful with the ball, finishing with the extraordinary figures of 2/17 from 10 overs with four maidens. Royce Colgrave hit some very good areas in his opening spell and ended with 2/46.
The win narrows the gap between Moe and Trafalgar, with the Lions on top of the A Grade ladder by four points.
For Trafalgar players, it was a victory that some of them may well remember when they are 80-year-old men either playing lawn bowls or needing to have their meals mushed into a paste.
MIRBOO North dented Latrobe's finals aspirations in Premier A.
While the Sharks remain in the top four, the repercussions of dropping a game to the bottom side means they are only one point clear of fifth placed CATS.
Latrobe was asked to have a hit on the Mirboo North turf, and found runs from skipper Benn Zomer who made 61 and Ronnie Chokununga who made a run-a-ball 49.
Navin Gomez also chipped in with 26 not out and Mick Zomer scored an unbeaten 32 upon answering a Sharks SOS to help the team.
Before last Saturday, the senior Zomer had not played an A Grade match for Latrobe since October 2013, with that appearance in fact the only game in the top flight he has been listed in during the MyCricket era.
How quickly time has flown since then was surely evident when he combined with son Benn in putting on 63 for the fifth wicket to see the Sharks close at 5/200.
Luke Corry took 2/60 for Mirboo North, while Anton Thomas returned economical figures of 1/23 off 10 overs, with three maidens.
A 109-run partnership for the second wicket between Zach Hollis and Clinton Wise set a solid platform for the Tigers in their pursuit of the total.
Like Zomer, Wise also showed that playing cricket can be much like riding a bike, as he made 42 in what was his first A Grade game since March 2015.
Hollis scored 66, with his knock featuring three sixes, before a pulsating finish saw Mirboo North hit the winning runs with an over to spare.
Gomez took 3/27 and Tyron Gamage 2/51 to be Latrobe's leading lights with the ball.
MORWELL kept its post-bye winning record intact.
While most teams in the LVDCL have struggled after having the bye, the Tigers have not lost a game since their forced break three weeks ago.
The Tigers won a competitive match against CATS last Saturday at Keegan Street.
After electing to bowl first, Morwell saw their opponents close at 5/206.
Nathan Harrup made a fine 76 and CATS skipper Ben Julin scored 65, backing up the good work up top by Jamie Cochrane who made 45.
Harrup and Julin put on 113 for the third wicket, with their partnership essentially getting CATS to 200.
Dylan Day took his season wicket aggregate to 20 following figures of 3/46.
Morwell calculated the chase well, securing the points with three overs left and five wickets in the shed.
A captain's knock of 72 not out from Jordan Campbell led the way, while Blair Clymo made 56 and Blake Mills 40.
Campbell and Clymo put on 102 for the fifth wicket, extending on a 50 run stand between Clymo and Mills earlier in the piece.
Sam Hoch and Tinashe Panyangara took a pair of wickets each for CATS.
CHURCHILL continued like clockwork.
Not only did the Cobras win again, they yet again secured a bonus point – this time against Raiders.
Raiders opted to bowl first on their home deck, and dismissed Churchill for 194.
Brendan Mason top-scored with 66 and found support from Steve Warr and Nick Duncan who made 29 and 25 respectively.
Wickets were shared among the Raiders bowlers. Madura Perera (2/26), Olly McColl (2/28), Harry McColl (2/45) and Jeevan Varghese (2/45) all chiming in.
In reply, Perera scored a productive 52 from 71 balls and Mick Higgins added 39 of his own, but in the finish, a scorecard that showed only one other player reach double figures told the story for Raiders, who closed at 9/140.
Matt Harvey took 3/31 with his left arm orthodox and John Keighran 2/11.
Churchill remains on top of the ladder, six points clear from Morwell.
TRARALGON West had an easy win against Jeeralang-Boolarra.
The Panthers only win came at the toss when they elected to have hit at Jack Canavan Oval.
The joy was short-lived however, as Jeeralang-Boolarra was shot out for just 79 in under 40
overs.
Only three players made it to double figures, with extras the equal top score.
Leg spinner Adam Thow was near unplayable, taking 3/17 from 10 overs with six maidens.
Eagles' heart-and-soul Tim Fitch ended with 4/10 and Hayden Kimpton 2/17.
Traralgon West made it an early day, getting the runs before the first drinks break, only losing two wickets on the way.
Salman Rasool hit 35 not out and Kimpton 27.
CENTRALS had the bye.