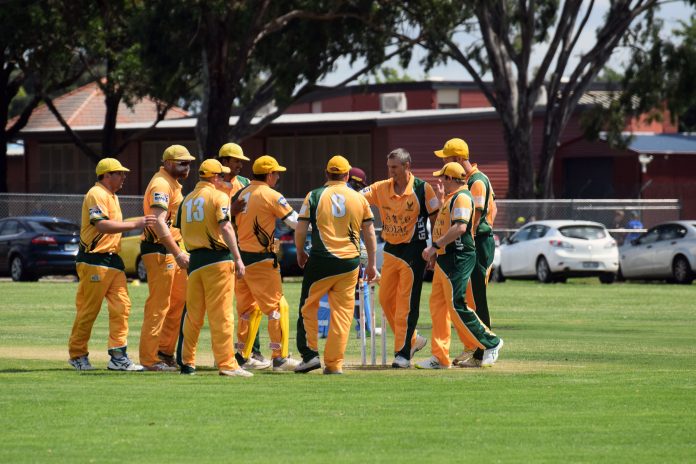 LIAM DURKIN
CRICKET
LVDCL
By LIAM DURKIN
IT appears to be a case of 'three into two won't go' in the Premier A division of the Latrobe Valley and District Cricket League, as the campaign reaches the end of the regular season.
Just five points separates third from fifth, with Raiders, CATS and Latrobe all fighting for a place in the finals, while in A Grade, the top four looks set, although some positions could still be shuffled in the weeks to come.
CATS leapfrogged Latrobe and went into the Premier A Grade top four after claiming victory
over Raiders.
Raiders won the toss and elected to bat first at home, but could only manage 9/102.
Cal Stewart made it clear he was priming himself for finals, taking the new ball and nabbing 4/14 in the finish.
Of Stewart's four wickets, three were bowled and another lbw, while he also delivered four maidens in his 10 overs.
Raiders' woes were probably best summed up by the fact extras top-scored on 21.
That being said, conditions were not easy at Yinnar, as CATS was 4/20 in reply.
Raiders beanpole quick Harry McColl came straight from a practice match with Gippsland
Power to bowl eight overs trying to win the match, but in a pulsating finish, CATS won with two wickets left in the shed.
Raiders ace Madura Perera ran riot, taking 6/25.
A result much bigger than cricket was seen later that night, with Raiders holding a fundraiser
that saw more than $5000 raised for much loved clubman Matt Van Loon to support the recovery of an unexpected health battle.
CHURCHILL continued on its winning way, this time defeating Latrobe.
The Sharks batted first at Peter Siddle Oval and closed at 6/186.
Captain Benn Zomer led from the front, scoring an unbeaten 68 from 67 balls.
Zomer backed up the work done by openers Ronnie Chokununga and Anu Meenakshi, who
scored 53 and 33 respectively.
Spinners Rick Velardi and Matt Harvey took the bulk of the wickets for Churchill, claiming 3/53 and 2/45.
John Keighran proved his versatility lay not just with the bat, returning ridiculous figures of
0/9 from 10 overs with six maidens.
A 93-run partnership for the third wicket between Brendan Mason and Nick Duncan then ensured the Cobras had the game under control and allowed those in the middle order to come in and finish the job with four wickets and just as many overs in the bank.
Duncan top scored with 60 while Mason wasn't far behind, scoring 59.
Sharks coach Tyron Gamage took 3/29.
MORWELL had an early day against Mirboo North.
The Tigers of Mirboo North won the toss and batted first on their home deck, but that is about where the joy ended, as within 40 overs they were skittled for 87.
Things went from bad to worse for Mirboo North, who were 3/12 and then 5/18.
Opening bat Jed Alexander watched the trainwreck helplessly from the other end, before he decided there wasn't much point hanging around and was stumped for an innings high 29.
Dylan Day took 4/16 from 9.3 overs, taking his wicket aggregate to 27 in the process.
Off-spinner Mark Cukier added to his career tally, taking 3/17 from 10 overs with four maidens.
Naturally, Morwell lost a few wickets chasing the bonus point, and was 3/21 at one stage, but got the required total inside 30 overs.
Captain Jordan Campbell bumped his average up with a second consecutive red inker, making
33, along with Blair Clymo, who made 32 not out.
TRARALGON West all but sewed up a finals position in A Grade.
The Eagles had a big win over Centrals, securing a bonus point and with most of the top order producing at Jack Canavan.
Batting first, Rami Zafar and Hayden Kimpton got stuck into the Lions bowling, putting on 111 for the first wicket.
Zafar scored 75 and Kimpton 65, before Tim Fitch continued to tick the score along, batting with the middle and lower order to finish on 49 not out.
Traralgon West went well past the 200 mark, making 232 in the finish.
Mark Rawson steamed the bleeding, taking 5/30, while Lachlan Patterson (2/37) and Rob Webber (2/45) chipped in.
In reply, Centrals never really got going, with the top order falling to 5/56.
Reghard Hefer made 27 from 28 balls opening the batting and Patterson made a counter-attacking 61 off 64 balls at number seven which provided some fireworks and saw four balls sail over the fence, but their efforts proved to be in vain.
In the wash-up, Centrals was bowled out for 166. Reece Falla did the damage for Traralgon West, bagging 5/33 with four of his wickets coming unassisted.
Kimpton (2/26) and Fitch (2/47) also took multiple scalps.
MOE consolidated its position as likely minor premier.
The Lions easy victory over Jeeralang-Boolarra at Ted Summerton Reserve secured a bonus point, and took it nine points clear on top of the ladder, meaning something will need to go drastically wrong for them to lose top spot with two rounds to go.
Jeeralang-Boolarra opted to bowl first at the ground simply known as 'Ted', but struggled to
find any early inroads.
Riley Baldi and Noah Kane put on 56 for the first wicket, with Baldi scoring 37 and Kane a steady 58.
Andrew Philip came in at first drop and kept the runs coming, making 87 from 98 balls, with
his innings featuring 12 fours.
In a partnership more resembling a business firm when written down, Philip and Kane put on
108 for the second wicket as Moe closed at 5/244.
Alex Devonshire took 3/42 for Jeeralang-Boolarra.
The Panthers innings barely took off, and they were bowled out for 66 in 32 overs.
Leg-spinner Sean Spiteri bamboozled his opponents, finishing with 4/17 from nine overs, while Gippsland's greatest diplomat Clinton Taylor took 2/18 from nine overs with three maidens, even finding the time to execute a run out for good measure.
TRAFALGAR had the bye.