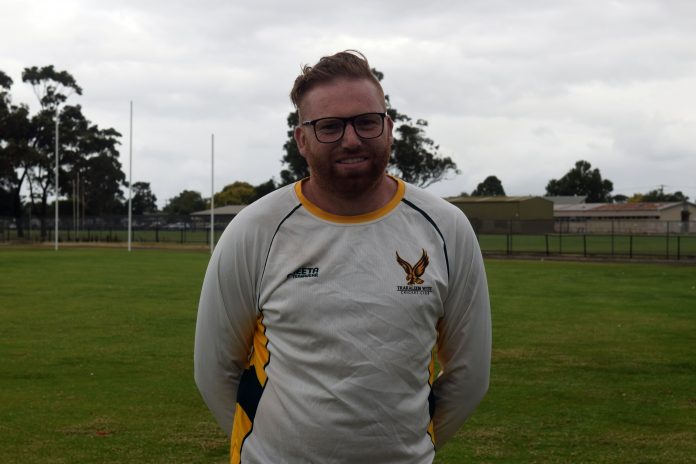 LIAM DURKIN
CRICKET
LVDCL
By LIAM DURKIN
AND they reckon Robert Flower had to wait a long time to play a final.
While the Demons legend might have played 269 games before experiencing finals action, surely even he didn't go down a path as taxing as Traralgon West Cricket Club stalwart Tim Fitch.
Fitch will finally get to taste A Grade finals cricket this weekend – 15 years after making his debut for the Eagles.
To say Fitch has had the patience of a saint would be something of an understatement. To
say Traralgon West has been through a tough time to get to this point would well and truly go beyond that.
The Eagles haven't played finals in A Grade since 2003/04. Fitch hasn't played in 'a' final since he was a 16-year-old in C Grade.
Fitch, along with players the likes of Ben Edebohls, Reece Falla, Adam Thow and Luke Phillips have battled through the dark ages of the last few years, which included going five seasons without winning a game, to come out the other side to witness what is sure to be a watershed moment for the club.
Given this recent history, Fitch said it was hard not to get caught up in the emotion as the side prepares to take on Moe in this weekend's Latrobe Valley and District Cricket League semi-final.
"Since knowing we were going to make finals it has been brought up quite a bit," he said.
"All of the older boys that were here 19 years ago kept mentioning it to us. They're all extremely relieved, happy for the playing group.
"We went five years without winning a game but I think everyone forgets basically in the space of eight years we won three games.
"It is a long effort but just being able to make it now justifies those years and now hopefully we can win the semi and get into the big dance."
In looking at reasons why Traralgon West struggled for so long, Fitch believed a combination of factors meant the Eagles constantly found themselves on something of a rebuilding treadmill – always feeling as though they were going forward without actually moving from where they were.
"It happens at every club, people have kids or they move away with work, you lose your best batsman, best bowler, they drop out, blokes retire, they step down through the grades and they don't want to play A Grade," he said.
"We went through a really tough period where most nights we'd have eight people selected for a two-day game in A Grade and then we'd be calling blokes to see if they would be willing to play two-day cricket. When I was captain there was no point berating the boys if they weren't performing how you want them to perform because your ability is your ability, you just had to make the most of it, go out and have the best fun as possible.
"There was one game I captained knowing we were going to lose. Ex Students are a powerhouse and were a powerhouse back then. It was a 35 degree day, we had a team that, no offence to the boys, I just thought 'how are we going to beat this team?' I think they declared 260 after 60 overs.
"Whilst you do try and go into every game to win I think that was for me probably our lowest point, knowing that I couldn't see us winning a game of cricket, whereas I try to go into every game thinking that we can win.
"Then we sort-of transitioned, we had enough young kids come through at one stage and we just said 'well we're losing anyway we might as well give the young kids a go'".
Taking hits for long term growth, the kids that were initially thrown to the wolves such as Josh Monacella and Ihraam Zafar have emerged to now be among key players in the Eagles line-up.
Monacella is averaging more than 30 and Zafar made a first grade ton when he was 18.
Although results might have suggested otherwise, the Eagles experienced a few small mercies in recent seasons to suggest they were on the way up.
In 2018/19, Traralgon West defeated a Centrals team that played in the grand final.
Last season they defeated CATS reverse-outright a fortnight before that same side went on to win the premiership.
"It has been a slow burn," Fitch said.
"We really got off-field right, getting training set-up right, getting facilities.
"If you look at results throughout the club C Grade and B Grade have built quietly over the last few years, then it transitioned to A Grade so we've sort of built from the ground-up.
"We built slowly through player recruitment and we've been around the mark, two years ago we missed out (on finals) by two points, lost the last game, had we of won that we would have played finals, last year we reverse-outright the team that won the flag and missed out by a point."
In taking the next step to break into finals, Fitch said a greater finishing quality and simply knowing how to win had proven the key ingredient.
"I really think that if you don't know how to win you can't win," he said.
"Over the last five years we've lost three/four games by 30/40 runs which is nothing. It took us to scrape over the line a couple of times and then probably losing a few that we should have won to see there has been a bit of a change about how to win games of cricket, I think that is just as important as having the ability to win games of cricket.
"I think the boys are realising they're good enough and learning how to win the boys can be optimistic knowing they can mix it with anyone."
Traralgon West has staved off no shortage of challenges on the way to this finals qualification, from playing home games on the rough grounds of St Paul's to considering its A Grade future altogether.
To their credit they have stuck it out – lesser clubs would have given up years ago.
"We were approached a couple of times to potentially go down to B Grade, it was a discussion we did have as a club," Fitch said.
"But it is really hard once you take that step back from A Grade to then get a side back up to
the top division. I think doing what we did was the best option because at least you've still got an A Grade team, you can still recruit players (and) your juniors stick around because they know they've got something to strive for in the higher grade.
"Ben Edebohls could have left, Rami (Zafar) has stuck around, Monas (Monacella) is sticking
around, Hayden Kimpton has come across."
Despite the troubles on-field, Fitch said the club has been able to remain upbeat thanks to a dedicated band of members uniting to weather various storms.
"There is two ways to look at it, you can be positive or negative," he said.
"I think what was key was that we are all really good mates. The fact is that we do play cricket with each other but every chance we get we are around to each other's house having a barbecue, we're all catching up with each other and it is not just the A Grade unit it is the whole club so everyone gets along really well.
"That has had something to do with the slow success we are starting to have. You don't want to let your mate down.
"A club is nothing without the people that are inside, I just think this club is fantastic. You've got families like the Griffiths, Sammy Varsaci, Paul Quinlan who have been around for years and they just keep turning up because of the people.
"The playing group is very aware of that and we are doing the best we can to repay the faith they have shown in us. These are the guys that were turning up when we weren't even competitive, they kept coming to games, to training, helping us."
As for why Fitch has stuck by Traralgon West for so long, the man simply known as 'Club' said he felt at home in the Eagles nest.
"I'm a pretty loyal type of person. This is my club, they gave me the first crack at playing A
Grade," he said.
"When I first came into the team, we lost all of our senior players, so us as juniors going back 14/15 years ago got given the opportunity to take control of the team, given opportunities to bat in higher positions, bowl in higher positions. I just thought going through the lean period the best way for me to repay that was to stick around.
"The blokes who had senior roles in the team back then didn't want to leave the work for someone else to do to pick up the slack, you keep losing players it just mounts the pressure on someone else to try and have to navigate which can be quite tough."
So, are Traralgon West daring to dream?
"Yeah, why not?" Fitch said with an undeniable sense of fearlessness.
"You don't play not to win.
"Of course you think about it, at the end of the day we are two wins away from being premiers, but that goes for three other teams as well.
As for what a premiership would mean:
"It would mean everything … absolutely everything," Fitch said.
"Reward for everyone's patience, if you sat me down three years ago and said 'you guys could win a flag in five years', I wouldn't believe it.
"I couldn't even put it into words how much it would mean."