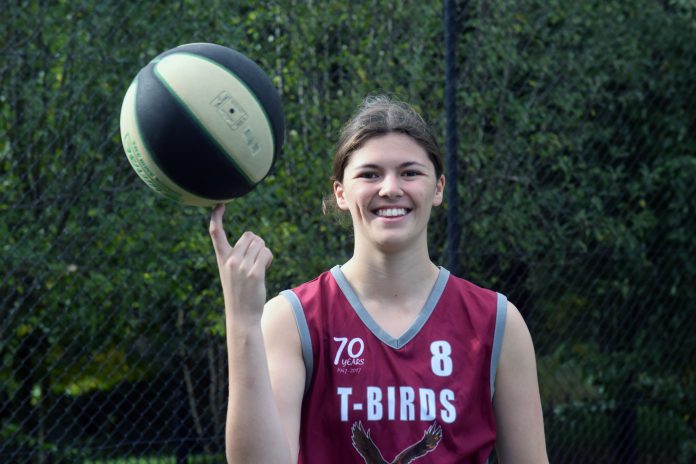 LIAM DURKIN
BASETBALL
By LIAM DURKIN
Jade Melbourne was given a basketball hoop for Christmas as a four-year-old.
Last week, the Traralgon local, now 19, was taken at pick 33 in the WNBA draft by the Seattle Storm.
Speaking to The Express less than 24 hours after being drafted, Melbourne said the news hadn't quite sunk in.
"I still don't know how I feel really … I'm just super excited to be in this position, it has always been a goal and dream of mine to get picked up in the WNBA," she said.
"We watched round one, round two and my name hadn't been called yet so I was getting a little bit nervous, for round three they don't
actually announce the names so we were just looking, looking (on the screen) and then pick 33 came up."
The daughter of Crown Hotel, Traralgon
managing director Brett Melbourne, family and friends gathered at the refurbished pub to watch the draft, and erupted in wild cheers as her name appeared.
"I saw a four letter name starting with J and I was like 'I think it's me guys!' and we all celebrated," Melbourne said.
"It was a cool reaction, it was crazy … a bit of relief. I had a few people from Traralgon basketball there, a few of my close friends, teammates, great group of people and wouldn't have wanted to celebrate with anyone else.
"It was really special, to have people that have supported me and been through the journey was really special."
The draft certainly capped off a meteoric rise for Melbourne. She is now off to play in the best basketball competition in the world – less than 12 months ago she was only initially a reserve for the nations Asia Cup team.
As Melbourne herself admitted, the WNBA only recently entered her mind as a possibility.
"To be honest I didn't know about the draft until about a month ago," she said.
"I met with my agent and he said 'have you got any plans for draft night?' and that's when it hit.
"One of my friends had seen me in a couple of mock drafts, wherever I went of the 36 picks I was just going to be stoked wherever. When my name actually got called out it was a dream come true, the realisation that I am now a WNBA player is pretty cool."
Such was the turnaround, Melbourne said she hadn't had a chance to look into the state of Washington she would be calling home.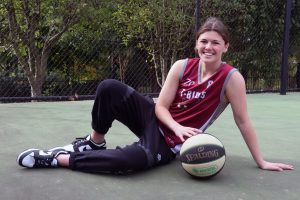 As for the city itself, when some readers hear the name 'Seattle' they might immediately think of The Simpsons episode where Krusty the Clown tells a class of would-be clowns to memorise funny place names, one of which is Seattle.
That being said, Seattle does have a formidable basketball team, and the Storm won 21 games last season to finish third in the Western Conference, making it to the second round of the play-offs.
While Melbourne won't fly over to the United States until the start of the 2023 season, she said she had already been made to feel welcome at the Storm.
"I don't know a heap about Seattle the place, but I know their basketball team has a real winning culture," she said.
"They want me to be a guard of their future program. They want me to be a combo, one-two guard. They like my pace, they like the way I play, so I thought that was really encouraging. I'm just going to continue to develop my game here and when my opportunity arises I'll head over.
"The last 18 months has been huge for me, getting the call-up in 2020 to go to the hub with the Canberra Capitals, playing for the Opals, I haven't had a moment to take it all in, I'm just trying to stay in the moment with everything that I do and look forward. I'm only 19 so hopefully I'm just scratching the surface with what I can do.
"They (Seattle) have a few Aussies there that reached out to me and Sue Bird and Breanna Stewart who are their household names reached out to me. I'm feeling a part of it already and I can't wait to meet them all.
"Sue Bird is my favourite player in the WNBA so when she reached out I was pretty star struck."
There was one particularly poignant message Melbourne received after the draft, which came from recently retired Australian captain Jenna O'Hea – herself a Traralgon girl.
Traralgon has now produced two WNBA products, while the area has produced three with Belinda Snell from Mirboo North.
The trio are in exclusive company. Less than 40 Australian's have ever made it to the WNBA.
"To follow in the footsteps of a lot of those gun Australian players that have come before me is a real honour," Melbourne said.
"I feel like I've worked hard for this, this has been a dream to have basketball be a living, for it to slowly become a reality is special."
The basketball loving public in the US has wasted no time adopting Melbourne as one of their own, and she reported to have gained 2000 social media followers a day after the draft.
Before entering the bright lights of the WNBA, Melbourne will play for Ballarat Miners in the NBL1 season throughout winter, and then suit up for the Capitals for the next instalment of WNBL.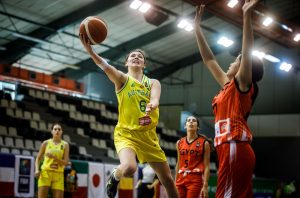 The new Seattle Storm guard wished to pay tribute to a number of people, especially her parents Brett and Sharyn.
"I definitely wouldn't be in the position I am without them, they have done hours on the road, state camps in Bendigo, games in Melbourne, they have sacrificed so much for me to follow my dream," she said.
"I think me getting drafted was testament to them as well. It took my whole family to get me to where I am, my two sisters (Sophie and Ava) always supported me, so I couldn't be thankful enough to my family – I love them to bits.
"There is so many people from Traralgon. Jeff White, Karen Joyce, Aaron Bryce, just to name a few.
"They have all been huge influences on my game and I wouldn't be in the position I am without them, so I am super grateful for everyone that has helped.
"There has been so many that have played a small part in the journey I just can't mention them all. I seriously wouldn't be in the position I am without all the help and advice those coaches have given me."
Just as Seattle gave Jimi Hendrix his start in music, Melbourne will be hoping the city gives her the start of a storied WNBA career.
As her namesake carries that of an Australian capital city, Melbourne said she would be doing her best to make the name of the Latrobe Valley capital city proud.
"I'm a Traralgon girl, I love this small country town, it has definitely shaped the person I am today," she said.
"All my basketball has been played here. I started in Under-10s all the way up to 18s. I loved being a T-Bird, whenever I could I wanted to come back even when I moved to Canberra. I always wanted to play for the T-Birds. Growing up there I have so many friends, whenever I'm home I go up to the stadium because the people there are just awesome.
"I'm just from Traralgon, people can realise that anything is possible if you work hard.
"Anytime I'm home I'll be down at the stadium seeing all the people that helped me get into this position.
"I still love the T-Birds and the family there, I'll never be too big for Traralgon that's for sure."