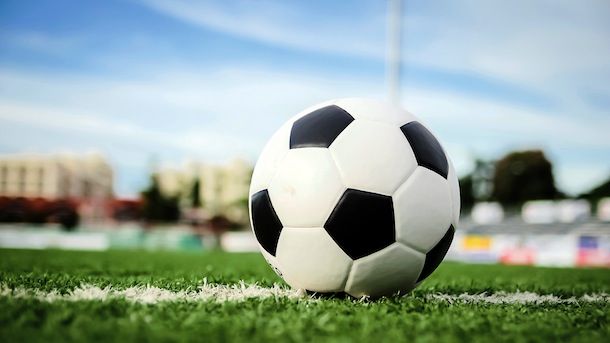 LAURIE WILLIAMS
SOCCER
LVSL
By LAURIE WILLIAMS
ROUND 7 REVIEW
ROUND 7 of the Latrobe Valley Soccer League could go down as league-defining come the end of the year, with Falcons moving to the top of the table after downing Churchill while Newborough/Yallourn caused the upset of the round by beating Moe United in their local derby. Fortuna 60 was equally impressive beating previously undefeated Morwell rivals Morwell Pegasus while there was wins for Sale United and Monash.
CHURCHILL v FALCONS 2000
FALCONS claimed top position on the ladder after their hard fought win over a tenacious Churchill who pushed the Morwell side all the way on a difficult surface.
Churchill was competitive in the first half keeping Falcons scoreless after the Birds had the bulk of possession. Churchill keeper Glen McColl was under pressure by a constant barrage of shots at goal as Falcons kept attacking, but Churchill was resolute in their defence.
The Rams almost took the lead midway through the term when Charles Simon had to stretch to keep out a long range bomb forcing the ball wide. If the game had finished at half time at 0-0 then Churchill would have been pleased with their efforts but after the break Falcons proved too strong and showed why they are still undefeated this season.
On the 55 minute mark some exceptional interplay on the left hand wing brought about a sumptuous cross for in-form striker Nonda Lazaris to expertly drive the ball home from 15 yards out into the bottom corner to settle the nerves of the away side.
To Churchill's credit they continued to fight and harass but were only able to manufacture one chance in the half which saw them sky the ball over Simon's goal.
As the game entered its final stages the high fitness levels of the Morwell side came to the fore and striker Jamie Pistrin helped himself to a late brace to put the result beyond doubt at 3-0.
MOE v NEWBOROUGH/YALLOURN
NEWBOROUGH/Yallourn, who have had a stop-start campaign thus far, now have the bragging rights of the traditional derby thanks to a hard earned win over crosstown rivals Moe.
The Combine flew out of the blocks to be up by two goals at half-time.
After the break Moe was still not on the board as Newborough increased their lead to 3-0 with still half an hour to play.
The Devils got one back seven minutes later, but Newborough/Yallourn was determined to win and subsequently scored again only four minutes later. The two sides traded a further goal apiece, leading to a final scoreline of 4-2.
The loss was the third of the season for Moe, who are seemingly out of touch in the fight for the league title at this point in time.
Many thought Newborough/Yallourn would be out of the league title picture after some off-season recruitment issues but they have been extremely resolute and find themselves only six points off top spot with a game in hand.
PEGASUS v FORTUNA
A TANTALISING all-Morwell fixture played out on Sunday with Fortuna upsetting the more fancied Pegasus on their own turf.
Pegasus, with five wins from five, were expected to win what was billed as a tight contest, however they now find themselves out of top place and in turn the Orangemen firmly inserted themselves into the league title race.
Fortuna showed good signs early and by the break were one up on Pegasus with Hayden Tanti scoring with a bullet that beat Santo Simon. Simon was in stunning form saving a number of guilt-edged opportunities and his side solely had him to thank for keeping them in the contest.
There was plenty of action on field as Pegasus tried to make up lost ground but Fortuna was defensively strong.
Fortuna custodian John Beamer was called into action at least four times in the second half as Pegasus tried to level the score.
Players were going down like nine pins as the on field activities saw some very tough tackles.
Fortuna was sitting on their slender lead well into the term when a Kuku Mahmoud shot shaved the top bar which saw Fortuna clear from defence upfield where Ollie Spiteri was lurking and he beat the keeper on a one-on-one to give Fortuna a 2-0 lead.
With time running out Pegasus, with the last throw of the dice, was able to claw a goal back to ensure a nervous end to the match but it was a case of too little too late as Fortuna took the match 2-1 for Pegasus' first defeat of the season.
Fortuna's victory, along with other results, sees them move up to third position with a game on hand. Pegasus will have to quickly shake off the defeat as they host a plucky Churchill side this weekend.
MONASH v TRARALGON
MONASH won their first match of the season with a comfortable 4-1 win over Traralgon City, their fourth in a row over the Roosters.
Monash scored first through Jarrod Baldacchino beating Traralgon's new 'keeper Mason Loprese, but the Roosters got one back just before the interval.
The ever-present goalsneak Braden Paulet put the Wolves ahead just after the break then Broden Grover scored his fourth goal in three matches to give Monash a 3-1 buffer.
After a corner kick a goal-mouth scramble ensued in Traralgon's attacking end which saw the ball deflect into the net.
Adam Semple's shot from 20 metres out was fumbled by the keeper and Paulet seized the opportunity to score his second to give the Wolves a 4-2 victory.
The win sees Monash up to equal seventh while Traralgon City find themselves in eighth.
SALE v EAST GIPPSLAND
SALE'S match against East Gippsland brought great rewards as the Swans tried to get back in form after their trouncing at Falcons last week.
The 5-1 victory over the Eagles was full of merit with Isaak Jondahi scoring a brace, his second for the season, Cooper Coleman also scored twice with Callum Campbell rounding out the scorers.
The game was made harder for the Eagles as they finished with only 10 players.
East Gippsland remain winless this season while the win for Sale sees them jump to sixth place.
ROUND 8 PREVIEW
TWO more night games are planned for this weekend with Traralgon City hosting Moe and Falcons at home against East Gippsland. Both matches commence at 7pm.
TRARALGON CITY v MOE (7pm Saturday)
UNDER lights again are these two teams with Moe smarting after being rolled by crosstown rivals Newborough/Yallourn last weekend. The Red Devils were surprised by the tenacity of the Combine who seemed to want possession more. However some of Moe's injured brigade will return and they will be baying for blood to restart their season.
RECORD: Played: 96, Moe 53, Traralgon City 29, 13 draws. Last time: Moe 2-0.
FALCONS v EAST GIPPSLAND (7pm Saturday)
EAST Gippsland see themselves going from the frying pan to the fire as they face the daunting trip down the highway to the ladder leaders. Falcons are riding the crest of a wave at present, they remain the only undefeated side and are playing well although Churchill gave them some anxious moments last weekend which will give the East Gippsland side some encouragement. Potentially Falcons could reach double figures on form against the Eagles who are finding it a tough season. Falcons hold the perfect record against the East, not dropping a match against them.
RECORD: Played 9, Falcons 9, East Gippsland 0. Last time: Falcons 10-1.
FORTUNA v NEWBROUGH/YALLOURN (3pm Sunday)
GIANT killers Fortuna are starting to make people sit up and take notice. Their wins on Anzac Day (where they defeated Churchill 5-2) and Sunday beating the top side Pegasus in a tough encounter (2-1) are giving them a new bout of confidence and will put them in good form against Newborough/Yallourn who surprised Moe last weekend in a return to winning form. If Fortuna are looking to make a run for the league title they must win encounters such as this, but the battle-hardened Combine are big-time performers and this fixture takes top billing as the match of the round.
RECORD: Played 44, Fortuna 34, Newborough/Yallourn 8, 8 draws. Last time: Newborough/Yallourn 1-0/
SALE v MONASH (3pm Sunday)
AN important match for both teams where winning means so much for their morale. Monash bounced back with a good win over Traralgon City while Sale battled hard for a win against a determined East Gippsland team last week. Monash has the better record over Sale, but the Swans won the last encounter and will be keen to make it two in a row.
RECORD: Played 91, Monash 41 Sale 30, 20 draws, Last time: Sale 2-1.
PEGASUS v CHURCHILL (3pm Sunday)
THIS is a game where Pegasus need to pick up the pieces after their loss to Fortuna last weekend, but they lost more than the match as they also lost top spot and it was their first loss for the season. Churchill put up a brave front against Falcons, but were worn down by the relentless pressure from the top side. Pegasus should return to the winning list, but can't take the Rams too lightly.
RECORD: Played 59, Pegasus 33, Churchill 14, 12 draws. Last time: Churchill 1-0.
INFORMATION REQUIRED
LAURIE Williams is researching information on the following soccer clubs as part of a book entitled 'Gippsland's Forgotten Soccer teams'. Information about the following clubs would be helpful. Dinamo (1980-91), Loy Yang Condors (1982-85), Valetta, Melita, Hazelwood Cobras (2nd Div 1978-80), Inter-Morwell, Newborough, Newborough Bulldogs (1995 2nd Div), Morwell Rangers/Condors (1990 2nd Div), LV Knights (1995-96 2nd Div), Jeeralang Rams (1981-84 2nd Div), Churchill University (2007 2nd Div), Falcons Blue (all girls team 2007 2nd Div), Sale Wanderers/Cardinals (1975-1977 2nd Div), Bairnsdale United (1976-78 2nd Div), Newborough Hotspurs (1982-83-2nd Div) and Pegasus Fillies (all girls team 1978-3rd Div).
Information and pictures can be sent to lauriefooty@hotmail.com.