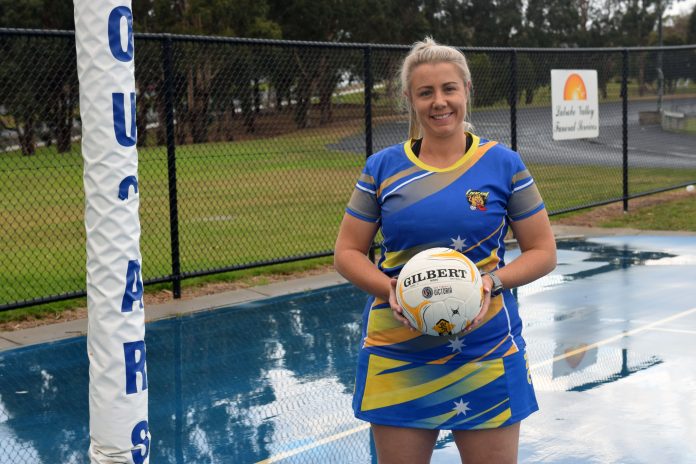 LIAM DURKIN
NETBALL
NORTH GIPPSLAND
By LIAM DURKIN
CHURCHILL netballer Roxie Whitechurch played her 300th match at the weekend.
Whitechurch brought up the milestone against Traralgon Tyers United in A Grade.
The now 300-gamer wasn't one to make too much of a fuss about bringing up the triple ton, simply saying it was another step in a journey forged by a love of the game.
"I just enjoy it, it's what I know, it's what I've done forever," she said.
"I guess playing 300 games does take a long time to achieve, dedication with training along the way and sacrifices."
Whitechurch joined exclusive company, taking a place alongside Nolene McDougall and Stacey Sanders as the only other Churchill netballers to reach 300 games.
Her path to Churchill was rather innocuous, simply making the move upon the advice of close friend Rachell Esler-Waring way back in 2000.
The pair are still playing for the Cougars today.
"She brought me to the club. You wouldn't have dreamt it (still being here) but it's that club you keep coming back to," Whitechurch said.
"The long term friendships that you have keep you coming back. You can bring the kids here and they can have a kick of the footy, have a play on the court after the game.
"Last year we celebrated Nolene McDougall and Stacey Sanders with their 300th game. I played alongside Stacey with a lot of our games, we celebrated our 200th together on the same day, so that was nice.
"Noles was part of that A Grade side when I came into the club that you looked up to so it is nice to be joining those two within the netball 300."
Whitechurch has been a model of consistency during her career and proven age is no barrier, winning her two club best-and-fairest trophies in B Grade 17 years apart.
The mid-courter has always polled well in whatever grade she has represented, finishing runner-up in the C Grade league best-and-fairest in 2001 and then runner-up in three successive club vote counts from 2005 to 2007, the first two of which were in A Grade.
In breaking down the games, Whitechurch estimates 180 have been in A Grade, with two seasons worth of games in C Grade and the remainder in B Grade.
Ever the team player, Whitechurch said there was one achievement from the 300 games that stood out above all else.
"The highlight was the 2012 A Grade premiership flag," she said.
"Playing alongside a really good bunch of ladies, we were a pretty tight group. To take that out with them is one of my highlights at the club.
"We couldn't see it coming, Rosedale was the team to beat that season.
"For us to take that out it was a lot of team effort, to put it all together we had to really back each other and it all came together.
"We lost to Rosedale in a final leading up to that, so to regroup and bring it on that day was more satisfying.
"We came out pretty strong and were dominating, by half-time we were in the box seat so we knew we just had to play the game out and continue on with that pressure.
"You still remember that feeling when the final whistle goes, and that is the feeling you chase continuously.
"The emotions were extremely high after that win. We all wanted it so much, once you have achieved that it is just surreal."
The Cougars won in a canter under the coaching of Rachel Patterson, defeating the Blues 53 to 32.
The year 2012 proved to be a memorable one for Whitechurch on and off the court, as she was bestowed with the honour of life membership to Churchill that same season.
Whitechurch has also contributed to the Cougars through coaching, overseeing as many as nine senior teams during her time.
As well as the premiership, Whitechurch said seeing the progression of players under her tutelage was also a highlight.
"It is something that I am passionate about. I like seeing players develop, that is really satisfying, and promoting team culture," she said.
"To see something you've taught at training and being played out in a game, that is why you coach, it is a nice kick-back."
Whitechurch wished to thank a few people who have been with her throughout the journey.
"I wouldn't be able to continue to play if it wasn't for my husband (Matt) supporting me, looking after the kids while I play," she said.
"The support has always been there, from my parents when I was younger bringing me to the games all the time, they are the one who start you off.
"I've been lucky in the years I've come through with the quality that's alongside me.
"I've always had the support of Stacey Sanders backing me up in defence with her gadget arms. I've enjoyed feeding the ball into Kylie McDougall and Emily Gaul, they make my life easy to do my job, alongside Katrina Hutchinson, and Maddy Burney in defence backing you up as a multiple best-and-fairest of the club."
Looking ahead, Whitechurch said the body was holding up reasonably well, and with Churchill starting the season in promising shape, greater glory could perhaps be on the horizon.
"I'd like to think I've still got at least another five or so in me," she said.
"Kids sport is going to take over, it's recovery these days, I never knew what that was until the last couple of years, recovery and those sessions with your osteo, masseuse to get you through.
"We're looking pretty good. We have a youthful side that is very energetic and willing to do a lot for their coach, learn and push themselves.
"We have our reunion this year so hopefully we can top it off with another premiership … that would be nice."