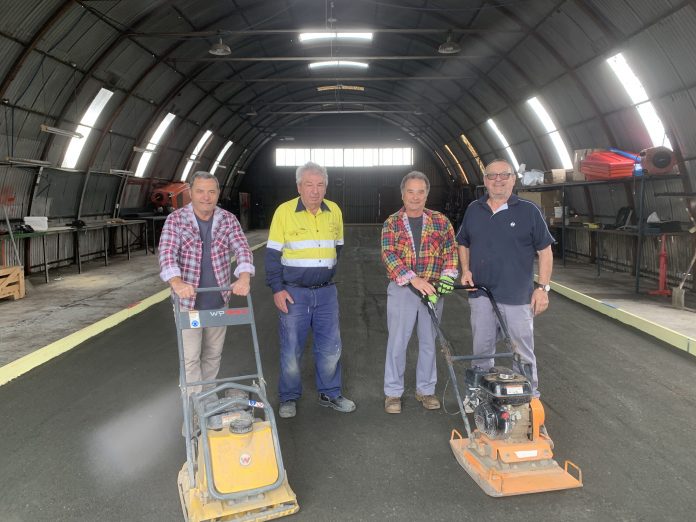 LIAM DURKIN
BOCCE
By LIAM DURKIN
NOBODY does hospitality quite like the Italians.
Much like always having a bottle of wine ready for visitors, the Morwell Bocce Club has
new courts ready for the Bocce Nationals next month.
The courts themselves have been constructed as a genuine labour of love, with the local Italian community banding together to see them come to fruition.
From a practical viewpoint, the club has needed to build two more courts to complement the existing premier facility at the Italian Australian Club to accommodate the number
of players expected to descend on the area for the tournament.
In a great show of community, neighbouring business Massaro Motors generously donated
the use of a shed for the club to construct the new courts.
Tony Paolini, Felice Prezioso, Benny Alesi and Franco Fava were busy at work last week
putting the new court together, encompassing a length of around 30 metres.
Once framed-up, the court was filled with a soil, compacted and watered before adding the
top layer of sand.
Similar to a cricket pitch, a bocce court needs to be firm to allow consistent bounce and to
avoid the ball 'sticking' in the surface.
Fava, a life member of the club, said all was in readiness for the nationals.
"It is an honour for a humble club like ours in the country to host such an event," he said.
"We have the courts, they will be perfect for the nationals.
"We are expecting at least 60 players plus families, there will be probably 120 people.
"It will be a good boost for the Valley. Really looking forward to it. Everyone is really excited.
"We've been working from morning to night, levelling the courts and doing the physical work but we are doing it because we love the sport."
The nationals are set to be a memorable occasion in more ways than one, as 2022 marks
50 years of Bocce National Championships.
It is the second time the Bocce Nationals have been hosted in a regional centre and the first time that the senior men and women's championship will be held in Morwell.
The Bocce Australia board has chosen Morwell primarily because of its long participation history with the sport and the contribution that the club and the players have made since they joined the Bocce Federation.
Bocce Australia president Frank Funari said the Italian Australian Club was a multi-purpose
social, sporting and cultural complex catering for everyone.
"The club epitomises Australia's multiculturalism and has embraced all members of the community – the success of which can be seen in the diversity of membership," he said.
"The club today is all that its founders would have dreamed it to be and is very much aligned to Bocce Australia's purpose of having bocce being played by all communities."
The Bocce Nationals will run from Thursday, June 9 to Monday, June 13.