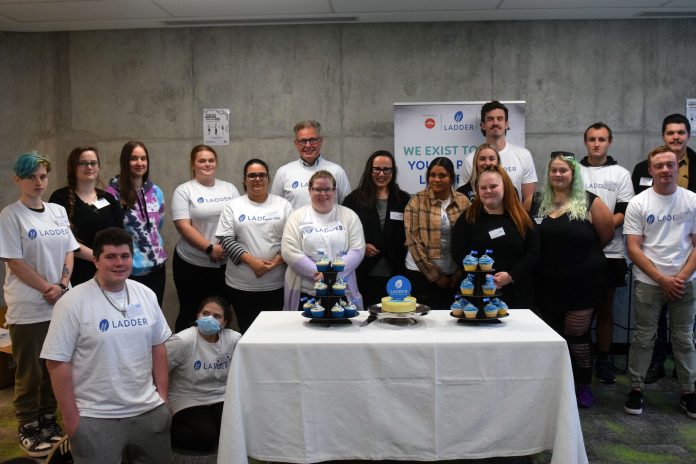 LIAM DURKIN
By LIAM DURKIN
YOUTH not-for-profit Ladder Step Up Latrobe Valley celebrated its fourth birthday recently.
Celebrations were held at the Morwell Innovation Centre, with program graduates, facilitators and supporters gathering to hear about the positive impact Step Up Latrobe Valley has made to the lives of young people aged 16 to 25.
Graduates fronted the audience to tell their stories of how they managed to find direction and guidance through Ladder to help turn their life around.
Incredibly, in only a short space of time, Ladder Step Up Latrobe Valley has helped close to 190 young people successfully identify, engage in and sustain education, training and employment.
What's more, those who may have been branded 'dead beats' in a school classroom environment have proven that through programs such as Ladder, everyone has a chance to succeed.
Ladder differs from a conventional classroom as it nurtures participants through an intensive eight week program to identify goals and then provides follow-up support.
Ladder Step Up Latrobe Valley program graduate Sarah is working two jobs and is currently looking at entering TAFE.
She believes the program helped her with her confidence and self-worth and has made her the person she is today.
"It gave me confidence. I was very shy and couldn't speak for myself when I joined the program," she said.
Simone, another recent program graduate, entered the program as a reserved young person looking to return to school and find employment.
Through hard work, commitment, and support from the Ladder team, Simone returned to school and is currently participating in a traineeship with A Kinder Cup at Morwell Neighbourhood House's social enterprise café.
"I'm also thankful to the Ladder Program for being such a positive thing in my life, and for continuing to provide me with opportunities even after I finished the program," she said.
A special part of the birthday saw a series of video messages from AFL players and officials, including Gold Coast Suns star Touk Miller and AFLPA chief executive officer Paul Marsh.
The AFL industry has partnered with Ladder and has its origins back in 2007 when former Essendon player Mark Bolton, Paul Licuria (Sydney and Collingwood) and Joel Bowden (Richmond) decided to tackle youth homelessness.
Former Collingwood, Essendon and Hawthorn player Michael Hartley was in Morwell for the celebration, as was current St Kilda AFLW player Tarni White.
Both are currently working as development coaches with Ladder.
Hartley is still playing football as the prized recruit of Goulburn Valley club Seymour this season.
The celebrations did not just stop at the birthday, after it was announced the program would receive funding for another 12 months.
The Ladder Step Up program received renewed funding as part of a $7.5 million package in the Victorian Budget.
A birthday wouldn't be complete without a cake, and program participant Bella was given the honour of cutting the first slice, along with Member for Eastern Victoria Harriet Shing.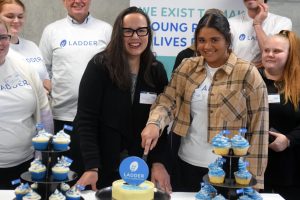 Ms Shing said she was proud of all graduates.
"Over the last four years, I have seen the real and incredibly positive impact the program has had on young people across the Valley," she said.
"It's quite literally changing lives. Every single graduate has not only gained confidence and skills, but has also become a role model for others to do the same – I can't wait to see our graduates continue to thrive, and for more participants to make their mark into the future."
Those interested in a program can visit the Ladder office at 19-21 Church St, Morwell.