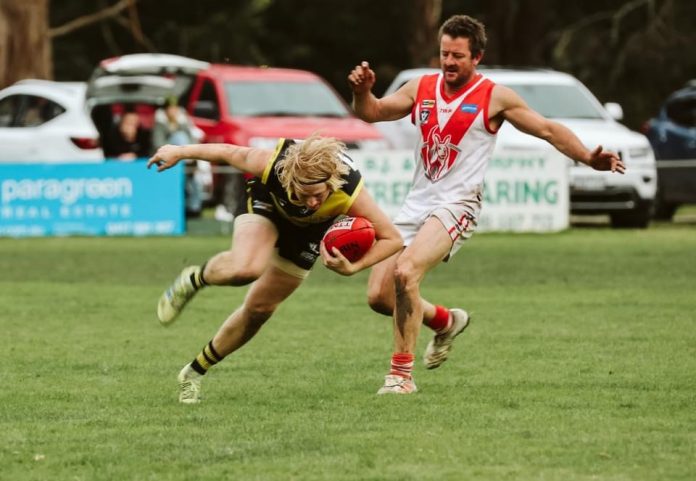 ROB POPPLESTONE
FOOTBALL
MID GIPPSLAND
By ROB POPPLESTONE
IT'S been said before and there is little doubt it will be said several times before the end of the season – the evenness of the Mid Gippsland Football-Netball League competition at the moment is drawing more interest, and is attracting bigger crowds, all while making every single game crucial for clubs.
NEWBOROUGH v BOOLARRA
THIS mouth-watering clash was not for the faint hearted.
Two of the big improvers of the 2022 competition would not, did not and could not take a short step at any stage if it was to truly say they gave all they had in their quest to not only take the points on the weekend gone but to also start to emerge as a genuine contender.
Both clubs are not yet firing at full power but are showing that no side in the league is safe from what they are capable of doing.
On this occasion it was the Bulldogs that won 9.12 (66) to 7.8 (50), a result that for a lot of the afternoon appeared to be going the opposite way.
Newborough coach Craig Skinner said his team showed good spirit at home.
"We saw both sides control the game for long periods of time with contested football making goals hard to come by," he said.
"Both sides have changed for the better over the summer and will keep improving over winter, great to see our young group come from behind and bounce back after two tough weeks away."
Newborough's Patrick Charles received the Rod Taylor medal for best on ground voted by both coaches.
Boolarra coach Tony Giardina said the side didn't capitalise.
"Our start was good until half-time, missed opportunities could have made the scoreboard look a lot better, but in the third quarter we lost our way and Newborough lifted and made us look silly and just like that the game was taken away from us," he said.
FOSTER v YINNAR
LEADING into Round 5, sitting ninth and seventh on the ladder, these two teams are a perfect example of sides that could finish anywhere from top three to bottom three depending on a series of fortuitous wins or conversely, a number of unfortunate losses.
On the weekend, it was a confident Tigers at home coming off a win over Newborough confronted by a Magpies side desperate to bounce back into the winners circle after a most disappointing loss at the hands of Stony Creek.
The home side, with their radar in place almost perfect in front of goals, proved to be the difference, winning 10.1 (61) to 7.7 (49).
Foster coach Sam Davies said the game was a genuine arm wrestle.
"It was a tough win against good opposition who really challenged us and were on top for half the game, a really important win in such an even competition," he said.
It's a win that now puts Yinnar on the back foot and with some work to do before they can gather some momentum moving forward.
Yinnar coach Daniel Taylor said his side would look to bounce back.
"It was a tough day, to Foster's credit they had the game on their terms, we got to work throughout the second and third quarters and felt like we were the better side, but we were still unable to play our brand, and one undisciplined act late in the third quarter changed the momentum for the rest of the game," he said.
"We're just not good enough for long enough at the moment which is disappointing."
MDU v HILL END
MDU had been keen to return to their home ground and show a healthy home crowd what they were capable of against one of the better sides in the competition.
Just seven days earlier the Demons had given a start to Mirboo North and fallen just four points short after chasing hard for most of the day.
This week the plan was to put pressure on the visitors from the first bounce and try to keep them at arm's length for the afternoon and that is exactly what happened, with MDU edging out Hill End 6.7 (43) to 5.12 (42).
In a game that could be season defining for the Demons, winning coach Peter Harris said he was proud of his team.
"It was a cracking contested game of football from both sides, our boys stuck to our game plan and were then able to execute it in the last half, it was nice to finally be on the right side of a close one," he said.
Preseason premiership favourites, Hill End realise that this season is as tough as it gets, and playing your best football sometimes isn't enough, somewhere, somehow, clubs are going to have to find more than they currently have.
Hill End coach Mike Santo said the team needed to string four quarters together.
"We played some superb footy early and then believed we were better than we were," he said.
"Credit to Peter and his side they had a game plan and beat us the next three quarters, they spread well from stoppages and took away our strengths and they deserved the win, our inaccuracy and lack of discipline is becoming a real issue for us, hopefully it's a wake-up call."
MIRBOO NORTH v FISH CREEK
A SLIP up, even at this early stage of the year, starts to extend the gap between those in the five and those out by that little bit more and then comes a stage where the gap is just too far to bridge.
With that in mind, Mirboo North, after a slow start to the season, were committed to stay in touch by claiming their second victory of the season in just as many weeks.
The Tigers don't appear to like doing anything easy, and won by less than a kick, 10.3 (63) to 9.6 (60).
Mirboo North coach Josh Taylor said it was good to bank the four points.
"Another tough game, character building for the group, Fish Creek both times we have played them over the past two years have been hard at it and very tough, good to get through the game with a win," he said.
Fish Creek counterpart John Danckert was left to think what might have been.
"Thought we were really competitive again around the footy, we are getting plenty of opportunities to score, if we kick straighter we are maybe four wins and one loss," he said.
"Injuries again are an issue, but we're not on our own there, effort and application is there we just simply need a win."
Even after two close losses in a row, Fish Creek still sit above the Tigers on the table by percentage, but now must prepare for a clash with the top of the ladder and unbeaten Tarwin side, a match from which a win can put the Kangaroo's season back on track.
The Tigers might still find themselves third from the bottom on the ladder, but they are showing all the signs of a side that is destined to climb their way much higher in the weeks ahead.
STONY CREEK v MORWELL EAST
THE Lions returned to their home ground just seven days after taking the scalp of a finals contender in Yinnar on the Magpies home ground.
Their weekend clash against a bird of another kind in the Hawks was going to be every bit as tough as any this year.
Morwell East, after an early season stumble, had already shown improvement was on its way, but at various times their coach had been frustrated with what he saw his side do and what he knew his side was capable of doing.
The Hawks ended up winning a low scoring slog 5.10 (40) to 4.9 (33).
Morwell East coach Devon Soutar labelled it a result that was satisfying but still a way off where they wanted to be.
"It was a real grind in the first half with an inability to complete the play going
forward and our turnovers fuelling opposition opportunities," he said.
"We were able to break away in the third and that breathing room allowed us to control the game and speed in the closing stages."
For Stony Creek, after some very clear improvement this season, the loss put a stop to real momentum.
Stony Creek coach Jay Accardi conceded they were beaten by a better team.
"We were pretty much outplayed, outworked and out coached by Morwell East," he said.
"At times we worked our butts off to get the ball and then we handed it straight back to them with either poor disposal or poor decision making, there is plenty to work on."
TARWIN v THORPDALE
UNBEATEN, on top of the ladder and at home, the Sharks strolled into the weekend confident another win was on its way.
Tarwin is just one of a handful of clubs slowly making the improvements necessary to have success both on and off the field, and it was also keen on not letting Thorpdale stand in the way of what they wanted to achieve.
The Sharks recorded a comfortable win 26.12 (168) to 6.9 (45).
The Sharks actually trailed at quarter time before they really turned on the afterburners, kicking 10 goals in the second quarter, eight in the third and finishing the game off with six more in the last, in a truly dominating performance.
Tarwin coach Troy Hemming said it was a good all round performance from his side.
"It was a great team effort from the boys, everyone played their role and they all had a smile on their face," he said.
Thorpdale it seems still have some work to do, although in fairness illness has severely affected their preparations in the last few weeks.
The Blues had to cancel training on the Tuesday leading into the Round 3 game against Morwell East after three quarters of the senior team got sick, while they were left without a coach last Saturday after Ray Pickering came down with COVID the day before.
Something unfortunate was bound to happen on a date reading Friday the 13th, and sure enough it did.
Jason Winderlich took the coaching reigns last Saturday and kicked two goals, and was assisted by the man known as 'The Wizard' Garry Edwards.
TOORA had the bye.