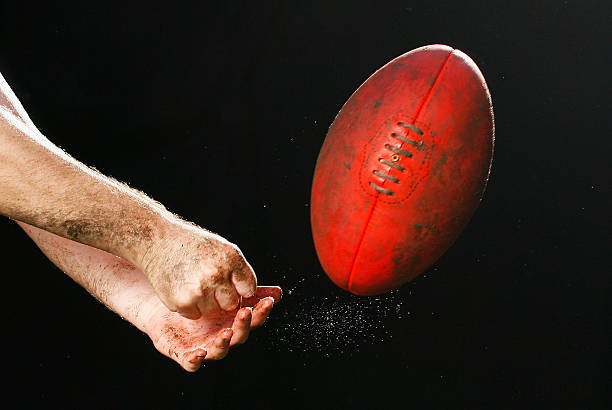 LIAM DURKIN
FOOTBALL
GIPPSLAND LEAGUE
By LIAM DURKIN
ONE-sided results were the order of the day in Round 9 of the Gippsland League.
All but one match returned a margin of less than 44 points, in what marked the halfway stage of the season.
There is still one game left to complete the round, which will be played between Bairnsdale and Warragul this Saturday.
The other eight clubs will now enjoy their midyear break, and look to come back refreshed for what is usually the toughest period of the year in terms of weather, personnel and motivation.
SALE was far too strong for Morwell.
The Magpies were ruthless in their execution at home, winning 17.16 (118) to 6.7 (43).
Morwell entered the match with a bit of confidence following a solid fortnight which included a win over Wonthaggi, but any such confidence was surely zapped midway through the second quarter as Sale blew the lead to beyond seven goals.
If there was any Tiger Train leading into the game, it came to a grinding halt at half-time as Morwell remained goalless.
The Magpies continued to put the foot down after the main break, adding four and six goals in the next two quarters.
As predicted, the difference in experience between Sale and Morwell had a big say in the result.
The top three players for the Magpies all had over 100 VFL or Gippsland League senior games under their belt in Ryan Pendlebury, Shannen Lange and Kane Martin.
Martin kicked four goals, as did Brad Dessent. Tom Glenn, Mitch Bown and Jesse Collins also did a good job.
At the risk of diving into hyperbole, Martin would have to be one of the greatest 'local' players to ever pull on a Sale jumper.
If not the greatest then certainly one of the most consistent.
Granted the Magpies have produced a litany of AFL players, but for sheer consistency at Gippsland League level Martin's statistics are mind-blowing to say the least.
He has been in the best 108 times in 171 games since 2010 – meaning two-thirds of the time he steps onto the field he is in the top six players for Sale.
Add to that the fact he has kicked over 200 goals and you essentially have your prototype 21st century midfielder.
As anyone in football knows, midfielders who can kick goals are worth their weight in gold.
Best players for Morwell were Tyler Brown, Cody Macdonald, Archie Grant, Ryan Hearn, Nathan Noblett and Tyler Hillier.
TRARALGON moved to second on the ladder after defeating Maffra.
The Maroons overcame an indifferent second quarter to break away from the Eagles in the finish, closing out victors 12.8 (80) to 9.8 (62).
Making the trip to Maffra, the visitors hit the ground running in the first term, scoring three goals to one behind.
The Eagles hit back from there, and went into the sheds with only eight points the difference.
Traralgon was able to take control from there, and kicked four goals to one in the third before a high scoring last quarter saw nine goals kicked between the two teams.
The win made it four in a row for the Maroons, and now sees them hold second spot on the ladder by percentage from Sale and Moe.
Some big wins in previous rounds have certainly helped Traralgon, who currently have a healthy percentage of 150.47.
Brett Eddy kicked three goals for the winners, while Harvey Neocleous, Tye Hourigan, Mark Collison, Luke Johnson and Tate Marsh all played well.
Eddy was not the only former Port Adelaide player on the ground, as Maffra had someone with a familiar surname wearing the red and black.
John Butcher made his fifth appearance for the season, but failed to hit the scoreboard, with the goals coming mainly from Eagles' youngster Tom Thatcher who nabbed three.
Hudson Holmes continued his blinding form and was best on ground for Maffra, along with Ed Carr, Danny Butcher, Alex Carr, Tom Jolly and James Huts who missed last week due to COVID.
Having now played each other once, Traralgon has put itself in a good position to contend, and gained some serious street credit along the way with wins over Sale and Wonthaggi, and marginal defeats to Leongatha and Moe.
An upset loss to Warragul has been the side's only real blemish so far in 2022, and given the Maroons will get a good run of home games in the back half of the season, it could have the red carpet laid out leading into September.
WE saw the real Wonthaggi on Saturday.
The Power showed why there was so much talk surrounding them in preseason after dismantling Moe by 44 points.
Having been somewhat underwhelming in the early part of the season, Wonthaggi put it all together on the weekend, winning 12.3 (75) to 4.7 (31).
The result had instant ramifications for the Lions, who dropped from second to fourth.
Conversely, the Power are now a game and a half clear in fifth, and look a good chance to climb further in the second half of the season.
After losing two of their last three games by less than a goal (one with a missed shot right on the final siren), it was clear Wonthaggi weren't that far off, and so it proved when they took to the field at Ted Summerton Reserve.
On the scoreboard at least the Power's most dominate period was either side of half-time.
Wonthaggi added four goals in the second and third quarter, and only gave Moe one in the same time frame.
The third quarter effort was most impressive, as the Power kept Moe goalless kicking with the wind towards the Can Bar.
A strong mark to Aiden Lindsay and follow up conversion straight in front maintained a buffer in the 20-point vicinity for Wonthaggi, which was probably worth more given the choppy conditions.
The Lions had some periods of dominance going into half-time, but struggled with efficiency going inside 50.
Moe had more inside 50s for the game (47 to 41) and broke even in centre clearances (nine-all), but the majority of their inside 50s were shallow entries, which allowed Wonthaggi defender Tim Knowles to rebound at will.
The Power also had the upper hand in clearances around the ground, winning that stat 41 to 35.
There was some positives for Moe, with second-gamer Lachlan McGrath in the best players. The Under-18 ruckman did an admirable job jumping against a seasoned opponent in Toma Huther.
Read into it what you want, but Moe easily won the free-kick count 31 to 19. While those at the Can Bar will probably find that hard to believe, it does suggest the Lions were willing to put their head over the ball and stay strong in the contest.
Ultimately however, the most telling statistic came once the Lions coughed the ball up.
The Power obliterated Moe on turnover, scoring 10 goals and not a single behind.
At times it seemed Wonthaggi's pressure forced the Lions to handball so much it looked as though Moe players weren't handballing to create, they were handballing to give the ball to someone else and say 'your problem now'.
Moe coach Declan Keilty went forward in the last quarter as his side was faced with a 26-point margin to overcome.
Keilty provided a highlight with a one-handed mark, but at the other end his opposite number in Wonthaggi coach Jarryd Blair had the last laugh, kicking the final goal of the game.
Speaking post-match, Blair said he was pleased with his side's effort.
"We've been good in patches and average in patches so it was good to put a solid game together," he said.
"I was really happy with our pressure around the footy, I thought we were better at it and were able to take options away (from Moe).
"There is lots of growth in our group and kids still learning a bit about themselves, they are getting better every week, it is about supporting them through to being able to play that consistent four-quarter footy."
Blair paid particular mention to his defenders in keeping Moe to just four goals.
"Our back six are really starting to find a bit of synergy together, it has had a bit of change week-to-week so it is good to get consistency through that division and I think they all appreciate knowing what they have to do and keep turning up for one another," he said.
Wonthaggi should welcome back key defender Shannon Bray next game after he had to go to Sydney for a wedding.
Apart from Leongatha, the Power looks to have the most amount of depth, a sign Blair said was healthy heading into the guts of winter.
"Boys are really putting their hand up for senior selection which is great," he said.
"It is good to see those boys playing good team footy as well, sometimes it can get a bit selfish trying to get yourself picked but they are all playing to a plan.
"I think everyone looks forward to a bye, it's (the season) a big commitment from the boys.
"Always nice to have a win heading into a break as well, so we'll have a few days to have a breather and get ready for Sale."
The former Collingwood 150-gamer had 21 disposals for the match, while best player awards were given to Knowles, Ryan Sparkes (19 touches), Huther, Tom Murray, Jack Hutchinson and Josh Schulz.
For those wondering what makes a player of Blair's quality stand out in local footy, it is mainly the ability to quickly sum up a situation and make adjustments on the fly.
On one occasion he received the ball at centre half back and was about to kick a searing pass straight ahead, but realising that pass wasn't on, quickly pulled his kick at the last moment to hit a free player out wide.
Most people say 'give the first option', but you find the elite players adhere to 'give the best option'.
Keilty was again best for Moe, while Trent and Riley Baldi were in the thick of the action. Skipper Jacob Wood battled hard, as did Harri Sim who kicked a very nice snap goal late in the piece.
LEONGATHA has now beaten every team in the competition.
The Parrots again won by some distance, this time defeating Drouin by 153 points.
There were calls for the mercy rule at Drouin Recreation Reserve. At half-time Leongatha led 13.10 (88) to 0.1 (1), and at full time the score was 23.20 (158) to 0.5 (5).
The Hawks entered the record books for all the wrong reasons, with their final score now officially the lowest Round 9 score in league history.
Ironically, Leongatha was the previous holder of that unwanted title, with a score of 1.4 (10) against Moe back in 2006.
Times have certainly changed since then, and Leongatha is now three games clear on top of the ladder.
Aaron Hillberg kicked seven in a best on ground display. Aaron Heppell and Tom Marriott were also busy for the Parrots.
Seth Calway and Harry Wans fought manfully for Drouin.
If you want an idea of how strong Leongatha are, this might tell you: Cam Olden played twos – the same Cam Olden that plays in the VFL for Richmond.