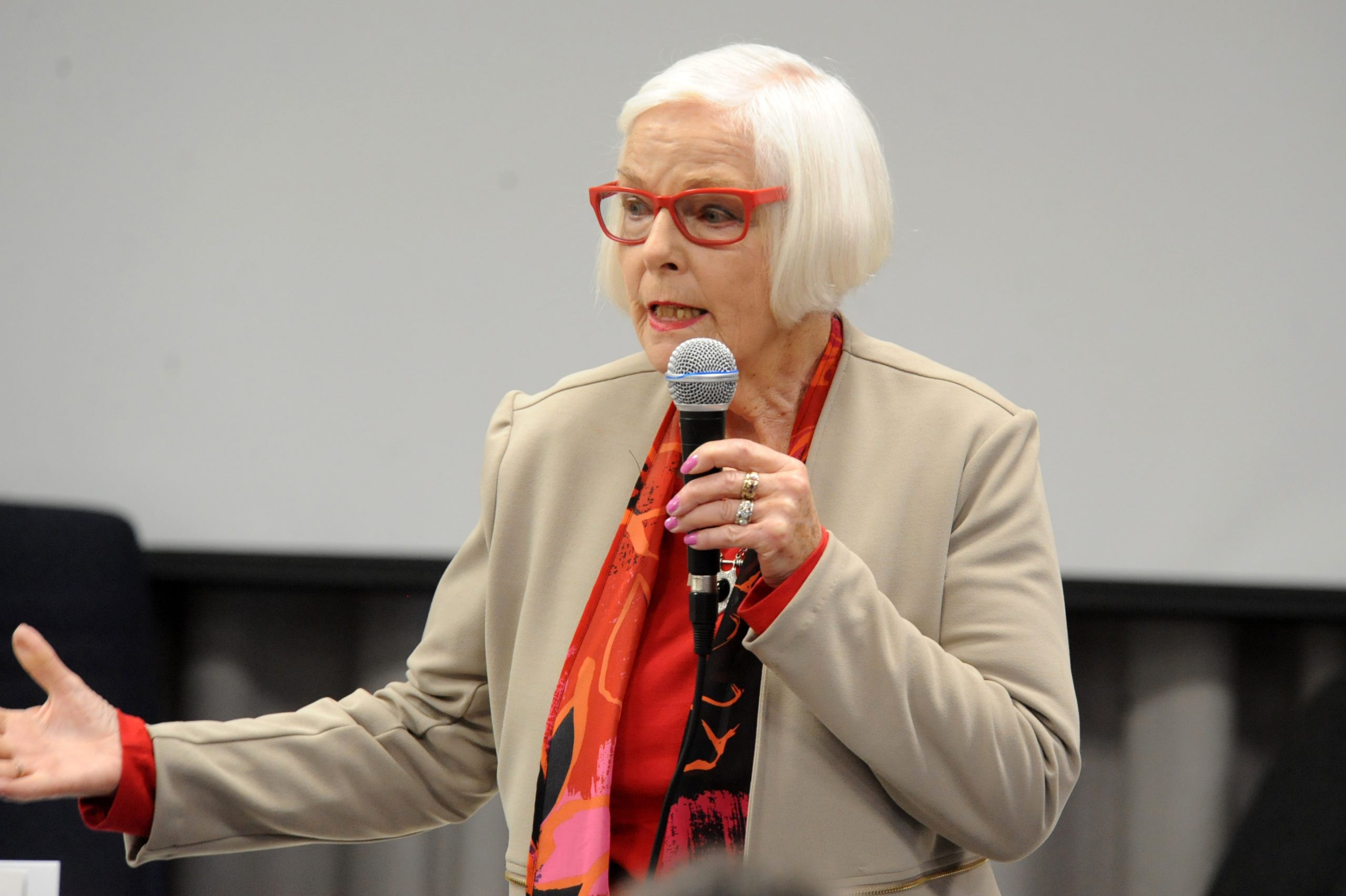 Cher Jimenez
PATRICIA Dennis was the only member of her family who chose to look back and relive past memories.

A survivor of the horrors of the Second World War, Ms Dennis was just seven-years-old when Japanese soldiers stormed the Philippines where her family lived in 1942. Four years ago, at the age of 80, she decided it was time to tell the world of her family's miraculous escape through her memoir Hell to Happiness.
"I'm here to tell you that I'm a survivor and I'm still going strong," the former Yinnar South resident told a crowd at the Traralgon Library last week.
You could have heard a needle drop inside the venue as soon as the actress and model, formerly known as Tricia Jones, spoke of her experience.
Her father, Mr Jones, was working as a head engineer for Shell oil company in Manila when Japanese soldiers started bombing the area. It was the same night that Patricia, her parents, and her then three-year-old sister were already packed to travel to Australia where her mother was born.
The family left Manila when the war started and decided to live in the countryside thinking it was safer there only to move back to the capital just hours before their house was bombed.
"It was an extraordinary escape," she said.
Ms Dennis said Japanese soldiers herded all the foreigners into trucks – men, women and children were thrown into military vehicles "like cattle" with a mosquito net as their lone possession.
"In the tropics if you don't have mosquito nets you're in big trouble as you can end up in all kinds of problems like dengue. It was [also] very scary because we didn't know where we were going," she said.
The Jones family ended up at the University of Santo Tomas, the oldest university in Asia that was turned into a Japanese concentration camp where 7000 expats were held.
"A lot of them were expats from different countries managing big consortiums and held really high-powered jobs," she told The Express after her talk.
She said writing the book many years later was a sort of getting the memories "out of the storage" experience.
For three and a half years Ms Dennis was forced to see the ugly face of war as a child.
She said everybody worked including the children as there was not much food.
"Our rations were two and one-half ounces of rice per day. That's not very much and you got to be very careful how much you ate of that and divide it into three meals. The lines for any of this food were a long time waiting," she recalled.
She said towards the end of more than three years of being held by Japanese soldiers many of the prisoners started to get sick and died of starvation.
"Our numbers shrunk to 4000 [and] we're still weren't sure if we going to survive it," the author said.
She said there were also young men and women who were identified by the soldiers as "unattached" and were taken away from the rest of the prisoners.
"I was only a child and not old enough to know but they did take a group of young people out who were unattached and who were young men and women – they were taken elsewhere. We never knew what happened to anybody that was taken out," Ms Dennis said.
Ms Dennis, who considered herself as someone who was born with a "happy disposition in life," said she always knew that her family would come out alive from detention.
"I've always had the belief that the angels will get us out of there," she said, something that did not please her father who got upset by her positivity.
"My father said don't believe [in angels] – they're going to kill us or starve us to death."
On February 3, 1945, combined troops from the American military and Filipino guerrillas stormed the university and rescued the prisoners.
The rescue came just in time as the prisoners were to be executed on the same night.
Ms Dennis said the children were made to sit in the kitchen while the fighting was going on and saw dead bodies being carried on stretchers. About 500 prisoners did not make it.
All the expats were rehabilitated to bring them back to health and later boarded ships that would take them to Britain, America, or Australia.
On their way the enemy was still dropping bombs on the ships causing some of them to capsize.
"We were lucky to be in the ship that didn't go down," she said.
The Jones were reunited with Ms Dennis's mum's family and started a new life.
With no education at all, Ms Dennis worked her way through school and became a survivor not only of the war but through her battles in life.
In Australia she became a model, an actress and a farmer while building a family in Gippsland. She now lives in Beaconsfield.
Unlike others who experienced depression after a traumatic experience, Ms Dennis said her heart was just full of gratitude and she wanted to inspire people to "never give up."
"I do think I was born with an optimistic attitude [and] it served me very well and got me over problems," she said.
"I thought I'm not going to waste my life – it's been spared, I'll do my best of who I am and be the best that I can be,".
And so she did and still does.