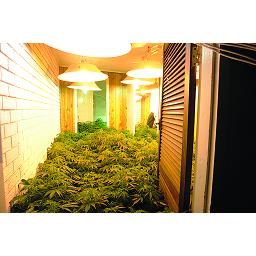 Bryce Eishold
Police uncovered an "elaborate and sophisticated" hydroponic marijuana crop house in Morwell following a raid at the property on Thursday.

More than 150 cannabis plants were seized, ranging in maturity and situated throughout six rooms in the Alamein Street house.
Latrobe Specials Unit Sergeant Farnham Molesworth said more than 1200 plants had been seized in the Latrobe Valley in the past year.
"They're done professionally, there's a bypass in so they're … using enormous amounts of power so they're stealing power as well as growing commercial-sized crops of cannabis plants," Sergeant Molesworth said.
"It's a full up hydroponic [set-up]: it's lighting, carbon filters, they're a fairly sophisticated sort of setup compared to your normal run-of-the-mill hydroponics."
An AusNet Services investigator was at the house following the raid just before 8am, Thursday to disconnect the electricity.
A look inside the property revealed false walls had been erected to hide the plants, with windows blacked out to restrict interaction with the outside world.
No one was arrested at the property, but police believe someone had been living there as recently as last night with a mattress on the floor in a meals area off the kitchen.
"We've got to drop the power here because it's unsafe because of the way they do the wiring and everything in the house – it's very rough," Sergeant Molesworth said.
"I can't afford to put [police] members at risk so [AusNet Services] will come, make it safe, drop the actual power line from the poll and make the house completely dead."
It's the fourth cannabis bust in a number of weeks in the Latrobe Valley, prompting police to warn people
about the signs of grow houses and for people to keep an eye out for unusual behaviour.
"They're coming up regularly and we're doing a lot of them," Sergeant Molesworth said.
"These [plants] are in various growing stages, a value is hard at this stage because obviously the rooms still got to be gone through.
"They're worth substantial money and obviously they grow them for the profit and most of them aren't localised people. A lot of them are foreign nationals as we understand in a lot of these groups."