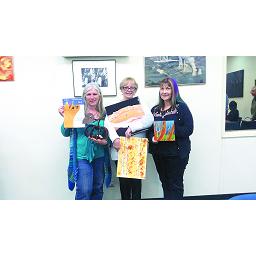 Michelle Slater
Art lovers will be able to indulge in more than 400 works by local artists on display across two venues as part of Moartz Open Studios Latrobe Art Fair.

The inaugural event will feature exhibitions and live demonstrations from Latrobe Valley artists showing off how they create their work.
Moartz events co-ordinator Amanda Thorpe said the event would be held in lieu of its annual open studio trail which will now be held every two years.
"So now the studios come to you," Ms Thorpe said.
"We decided to hold an art fair and invite artists who don't have a studio and are not set up for the public."
The art fair will be held over two days in PowerWorks, Morwell where the artwork will be integrated into the existing industrial museum displays, as well as Arc Yinnar.
Ms Thorpe said the exhibition would feature more established and emerging artists exhibiting a mixture of figurative and abstract work across painting, ceramics, textiles and glass.
She promised there would be artwork suited for all budgets, starting from about $50 to upwards of $5000.
"It will be an amazing experience for people and for schools to come and see live artists," she said.
"It will be an education to help people understand particular mediums and learn how the artists create things."
Ms Thorpe said Morwell painter Lea Jones would be producing a live portrait of local artist Ronald Edwards Pepper who would also be on hand with his own work.
She said local businesses and community groups, including The Bee and The Spider, local U3A art groups, and Morwell Art Group would also be part of the weekend of events.
"This will be something to uplift the public and see how the Valley has happy and creative people who support each other."
The Moartz Art Fair will be on October 20 and 21 at PowerWorks and Arc Yinnar.
There will be an official opening at PowerWorks on Saturday at 10am.
Tickets are $5 and will be valid all weekend.