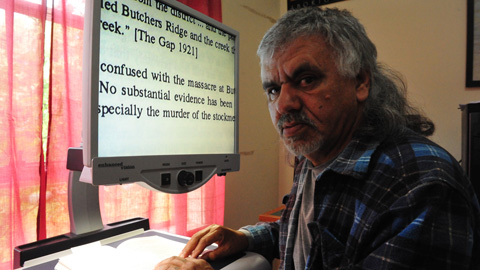 Moe resident Colin Thomas has come to terms with his deteriorating eyesight, but it has not stopped him from continuing his education.
With help from Vision Australia the indigenous student is studying his philosophy doctorate with a focus on frontier violence.
He said it was a subject he felt strongly about.
Mr Thomas has received a close circuit television, screen magnification software, scanning and reading software and a hand-held magnifier, which will aid him in his reading and writing.
"The day that I was introduced to Vision Australia was a really good day. I doubt I would be studying without their help," the 57 year-old said.
He said if he was not studying he feared he could slip into depression or drinking.
"With me doing my PhD it stops me from falling into that because it gives my mind something to focus on," he said. Mr Thomas said he was diagnosed with diabetes about 17 years ago and in 2010 was classed as legally blind. He said when his vision began to deteriorate his life changed in many ways.
"When I look at people's faces I see them as if they are blurred-out like you see on the TV news sometimes," Mr Thomas said.
He said he hoped to inspire other indigenous Australians, especially young people, to pursue further education.
"It's a personal goal for me, but I also hope that I'm a mentor type of person for our kids, because we are trying to get our kids into education," he said.
"It would make me feel even better if one of our kids thought 'if he can do that then surely I can do that'."
Mr Thomas completed his masters in 2009 and said it was "hard in a way" to return to studying, having left school after third form (equivalent year nine).
"Our kids today should be able to do it because they've got more opportunities than we ever had," he said.
Mr Thomas said he knew the day would come when he would "wake up and only see black," and it was now a race against time to finish his PhD.
He said while he had accepted his situation was a "reality", it would not stop him from enjoying his life.
"I can sit here and be depressed and just let life pass me by, or else sit here and try to live with it and I get on with my life – that's my philosophy," he said.
"At the moment I can see my garden and I'm happy with that."