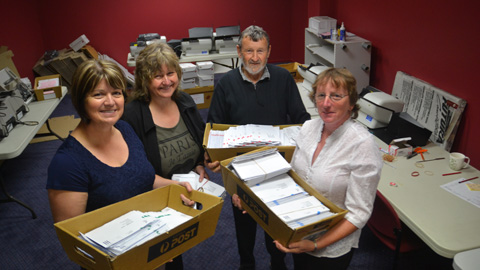 WITH only two candidates in the upcoming Latrobe City council elections, South Ward will be attracting the lion's share of man-hours in the counting room this weekend.
Come Saturday, a vacated office on George Street will become a hive of activity, as 60 casual Victorian Electoral Commission employees cram into the space to manually collate and count South Ward ballots.
According to Alan Bright, who has served as returning officer since 1998, in specific circumstances, manual counting can "still hold its own" against data entry.
"Because there is only one councillor to be elected from South Ward, the process for the count is very simple and basic, whereas once you are electing more than one councillor for a ward, it becomes a very complex method to count votes and requires a lot of mathematical calculations, which the computers take over with," Mr Bright said.
By contrast, the remaining wards, which host almost 90 per cent of Latrobe City's registered voters, will see their ballots handled by nine data entry operators and two team leaders at Kurnai College's Churchill campus on Sunday, with data entry expected to be completed by 3.30pm.
Mr Bright said as of Tuesday, 45 per cent of Latrobe City's 54385 enrolled voters had returned their ballots, adding as a rule of thumb in local government elections, 80 per cent voters could be expected to register their vote.
"We are more or less on track to achieving that here in Latrobe," he said on Tuesday.