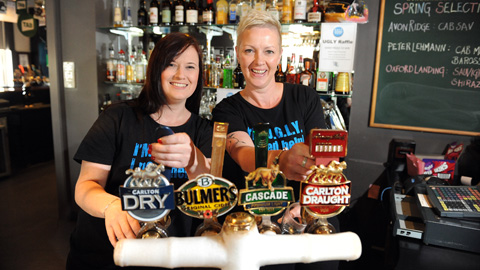 Latrobe Valley bartenders are getting UGLY in a bid to be crowned bartender of the year, and raise money for a good cause.
The Understanding, Generous, Likeable You bartender of the year competition has attracted 246 competitors from across Victoria to raise funds for the Leukaemia Foundation.
Leukaemia Foundation Victoria general manager Stephanie Hechenberger said this event offered a fun way for bartenders to raise funds to help people with blood cancer and other related blood disorders.
"Only one bartender can be named Victorian UGLY bartender of the year, but together they're expected to raise $185,000 to help the Leukaemia Foundation continue to provide regional families with a fully furnished place to call home in the city during treatment," Ms Hechenberger said.
Julie Grenfell and Meeghan Smith, who work at Traralgon's Grand Junction Hotel, were among nine other registered UGLY bartenders in the Valley. The women have raised about $800 so far through a swear jar, a raffle and other efforts to get donations from patrons.
"If they ask what UGLY stands for or if they ask about our shirt they have to make a donation," Ms Smith said.
Everyday this month Ms Grenfell and Ms Smith have worn shirts provided by the Leukaemia Foundation, which say "I'm UGLY I need help", and they said it had attracted a lot of attention.
"As soon as you tell them it's for the Leukaemia Foundation customers are really happy to donate and buy raffle tickets," Ms Grenfell said.
They said the raffle, to be drawn on 9 November, was for 12 hampers made up of more than $1000 worth of donated goods from local businesses.
"We went around and spoke to as many businesses as we could and most of them were really great," Ms Smith said.
"We have car stuff, hair vouchers, cleaning products, pet stuff, massage vouchers from a day spa.
"The more people that get involved in the UGLY bartender competition the better."
Other UGLY bartenders in the Valley are Krystal Callow from Tav at Rosedale, Robyn Boyd from Boolarra Pub, Danelle Wright from Churchill Hotel, Angel Burggraaf from Commercial Hotel, Bernadine Brulo from Travellers Rest Hotel Thorpdale, Michael Patterson from Criterion Hotel and Kristal Wood from Traralgon Golf Club. For more information or to sponsor a bartender, visit www.uglybartender.org.au