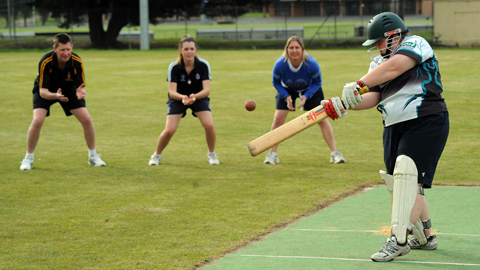 CRICKET is a statistics driven game, but for the Morwell women's team the crucial figure is not runs or wickets, it is player numbers.
The most decorated team in the women's Gippsland Cricket League begins its campaign against Warragul this weekend, but the annual battle to field a side continues to prove as testing as a Brett Lee yorker.
Now in its 11th season, the women's competition incorporates five teams: Morwell, Bairnsdale, Warragul, Sale/Maffra and Leongatha.
With five premierships and nine grand finals in its 10-year history, Morwell has proved a perennial powerhouse, but the club is on the lookout for new blood to keep the ball rolling, with just 12 players presently on the roster.
"We manage to be fairly successful but we still don't have much depth," Morwell captain Robin Fitzpatrick said.
"We're just trying to encourage these girls to keep coming back and trying to teach them a few new things and keep a core team together so we can play.
"In the boys' competition sometimes they (girls) don't get as good an opportunity whereas in the girls (league), if they show a bit of promise, they can get more involved and be a bigger part of the game."
After inheriting the captaincy two years ago, the all rounder said the key for women's cricket moving forward was to attract new players to the game.
"There's just something about the game and it would be great to see more people and young girls come and have a try," Fitzpatrick said.
"Unfortunately it's not growing at the moment… it would be nice to see that kids would like to still get out and be involved in a sport like cricket.
"It's a great team sport and it's a great social sport in many ways… there's great camaraderie."
In the competition each side plays off twice throughout the season in 40-over a side one-day matches, in which players must retire after scoring 50 runs to promote the involvement of all players.
Morwell coach Barry Mathieson has been at the helm of the team for a decade and said it was a great sport for girls once they overcome the initial trepidation.
"It's just breaking down that initial fear factor barrier," Mathieson said.
"We've got girls from 14 upwards that play and once they come down and have a look at it and find it's a safe game they really enjoy it.
"The girls have a lot of fun and they mix really well… once the interest is there and you come back, slowly we build you up, we don't throw you in the deep end straight away."
The competition also offers pathways to the upper echelons of the sport; Naomi Fullwood came through the Morwell club to play for Victoria.
The side trains on Thursday from 5pm at Keegan Street Reserve and all are welcome.
For more information phone Barry Mathieson on 5120 2201 (bh), 5122 2840 (ah) or 0418 595 168.