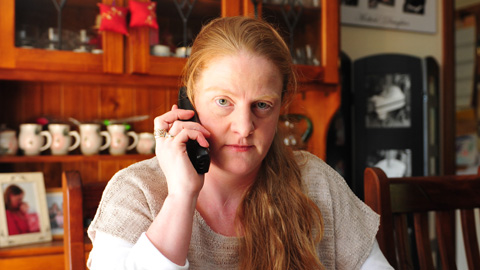 EVEN before Morwell's Michelle Lagerwey answered an unexpected phone call last week, she was well on her way to becoming a victim of identity theft.
The caller had her name, address, phone number and date of birth – enough details to expose her to fraudulent credit card and tax file number applications.
"When I picked up the phone, there was no number displayed – not even anything to say 'private number'; it was very unusual and I've never had that before," Ms Lagerwey said. In a professional and convincing manner, Ms Lagerwey was told she was entitled to a refund check of $5248 from the 'Australian Government Reclaim Centre' and was given an 'application code' and another phone number to call, to arrange her cheque delivery.
When Ms Lagerwey called the second number, the scam quickly lost the perception of authenticity.
She said it was clearly an international call; she was asked for her banking institution detail, and told she would be delivered a cheque personally by a 'Mr Lee' at a local post office rendezvous.
In order to gain legal approval for the transaction, she was told a foreign lawyer had been hired to oversee the transaction for a fee of $199, as Australian lawyers "had become so expensive these days".
"At the start of the call, I was believing everything they were saying; they weren't talking too fast and it sounded very convincing, but it wasn't until I talked to the second person and they started asking for my banking details, is when it really started to set in they were targeting me," Ms Lagerwey said.
A call to the Australian Taxation Office complaints line revealed there was no such thing as a 'Government Reclaim Centre', and she was told to exercise caution, as the amount of details the scammers already had could expose here to identity fraud.
"It's kind of scary because when you've got so much to lose – kids and a mortgage – I don't want to turn out to be on one of those cases on a Current Affair," she said.
According to an ATO spokesperson, Ms Lagerwey's scamming was common across Australia.
"As scammers start to gather information, they are starting to profile the individual; it is worrying because enough basic details could enable a fraudulent tax file number application, which makes it much easier to lodge fraudulent tax returns. Scammers are getting very crafty in how they go about it; with the growth of online banking and shopping, identity fraud with the basic details is not outside the realm of possibility, and has been done before," the spokesperson said.
"A lot of people don't realise how much information they are putting out there."
The spokesperson advised people who suspect they may have been a victim of identity fraud to phone their financial institutions for advice.