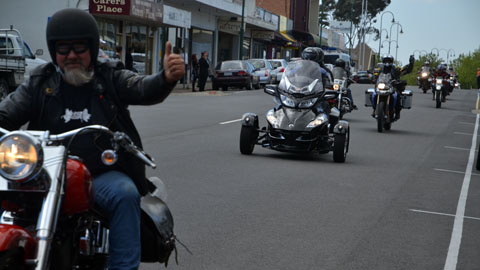 THE thundering sound of about 500 motorcycle engines rumbled through the Morwell central business district on Thursday, as the annual Barry Sheene memorial ride proceeded to the Phillip Island motorcycle grand prix.
According to Latrobe Highway Patrol Sergeant Clint Wilson, the entourage was well behaved, with great cooperation displayed by local drivers as the group motored through. "Everyone that we came across had to wait at intersections for the bikes to come through, and we had no incidents to report in relation to the bikes," Sgt Wilson said.
He said police were out in force all weekend monitoring rider behaviour, and with riders expected to return through Gippsland today, he warned drivers to be extra vigilant and attentive on the roads.