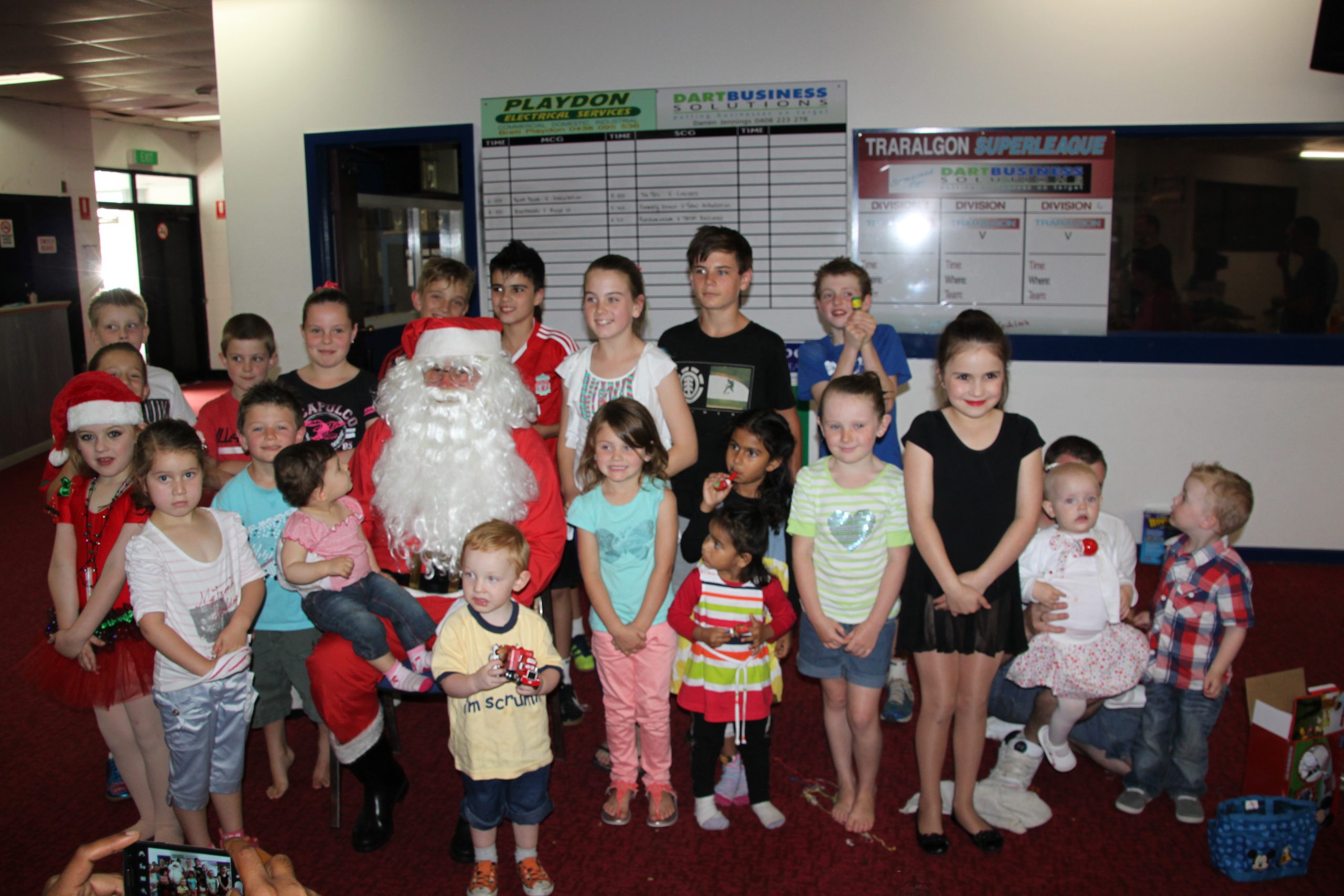 A GOOD dose of the Christmas spirit in the form of Santa himself helped bring an impressive local fundraising effort for dialysis patients to its $40,000 total.
Thanks to the ongoing work of local residents Francis Tripodi, and family, together with dialysis patient Suzi Picken, Bruce Bremner, Peter Maxwell and Margaret Blanck, and the donations of various local community groups and businesses, there is now a generous travel scholarship attached to the Big Red Kidney Bus project, according to Kidney Health Australia community education and health promotion manager Jo Fairbairn.
The project, spearheaded by dialysis patient and Traralgon resident Vince Tripodi, who died in February last year, aims to provide kidney dialysis patients the opportunity to go on holiday and is likely to see a world-first mobile satellite unit established in the Latrobe Valley.
An additional component of the project is the KHA Vince Tripodi Travel Scholarship which aims to provide families who cannot afford holidays with the means to travel to holiday destinations where they can then access the mobile dialysis unit.
Ms Fairbairn told The Express the committed local fundraising group had raised $39,600 toward the scholarship fund.
Their efforts were supported just before Christmas, when local Santa, Ray Rowley, a close friend of Mr Tripodi's, visited children at Traralgon's Colin Watson dealership, contributing his appearance fee to the scholarship fund. The sum was then matched by Colin Watson and the fund had hit $40,000, Ms Fairbairn said.
"The local community and businesses have been so generous, as has this small group of people," she added.
Ms Fairbairn said KHA had also been "working hard to secure funds to refurbish the Big Red Kidney Bus", raising $138,000 so far, "however more is needed to appoint a project manager and an evaluation consultant".
Ventura Buslines donated a recently retired school bus to the project and Latrobe Buslines would deliver it to Express Coach Builders in New South Wales in February so it could be refurbished, she said.
LV Buslines general manager Rhonda Renwick said the company was "so happy" to support the project and would provide a driver to take the Big Red Kidney Bus to different holiday destinations in Victoria where it would stay for six to eight weeks.
The local buslines will also donate all servicing and provide a parking place for the bus at its Morwell depot.
Key community partner with KHA, Southern Health – under the leadership of Professor Peter Kerr – would run the bus and staff it with two renal dialysis nurses, Ms Fairbairn said.
"Southern Health renal technicians Colin and Tony are also working hard on this project, with Colin working with Express Coach Builders as a volunteer on his days off as project manager responsible for all standards being met with the dialysis equipment and setup," she said.