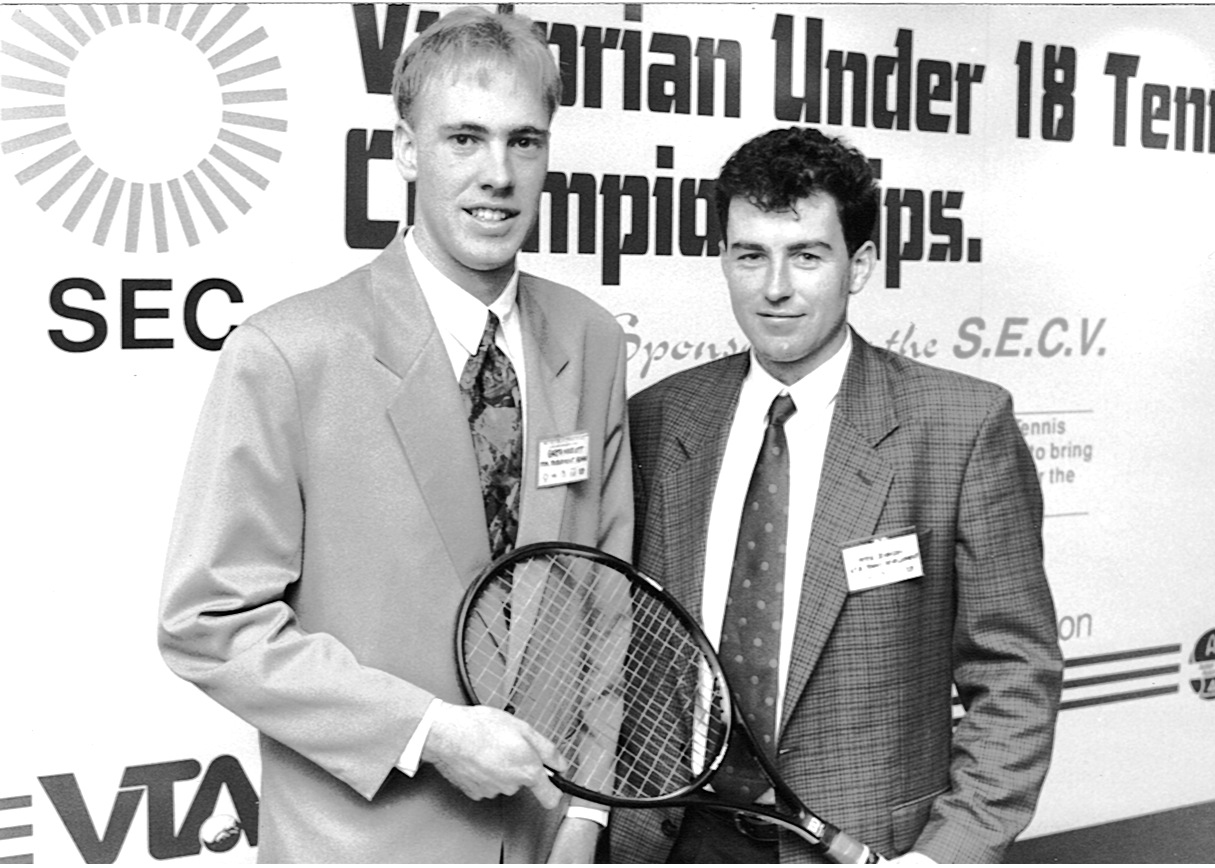 AS the world's best junior tennis players converge on the Latrobe Valley for the 20th anniversary of the AGL Loy Yang Traralgon International tennis tournament, so too will a smattering of the original committee that brought the event to the region.
The likes of Roger Federer, Lleyton Hewitt, Gael Monfils may never have graced the courts of Traralgon if not for the efforts of the tenacious Traralgon Tennis Club representatives of the time, including then president Terry Ambler and former secretary Gareth Marriott.
Now residing in Queensland, Ambler will be absent from the commemorative celebration to be held for his peers of yesteryear, however when it came to securing the International Tennis Federation's ongoing presence in Traralgon he was a driving force behind it.
After helping centralise Traralgon tennis into one expansive complex, a seven-year process, Ambler, Marriott and company immediately set about procuring a trademark event for the centre.
"We knew that we had one of the best centres in Victoria let alone country Victoria, we didn't want to survive just with our own locals, so because we had such a centre we wanted to bring as much tennis into the area as we possibly could," Ambler said.
After a brainstorm with club legend Graham Charlton, Marriott, who was only 18 years-old at the time, approached Peter Johnston at Tennis Australia and the junior international crystallised as a possible drawcard, albeit being entrenched in Melbourne.
"Our dream was to bring an ITF tournament there," Marriott said.
"There was a perfect storm where they needed a funder and a club with the capacity to do it.
"We had an exciting club, the club was focused and we were prepared to pay."
Marriott pledged $8500 to the cause, funding which was eventually picked up by Traralgon City Council chief John Mitchell, and the ball began to roll. Sponsors started to come on board and partnerships with the municipality and TCC allowed the necessary facility upgrades to host the event.
"The focus, which I'm really proud of, is just how people rallied together for this tournament," Marriott, who credited his networking from the initial tournament with growing his executive career, said.
With Johnston, who is now senior vice-president of the women's professional tennis tour, championing the cause, the dream came ever closer, but still there was work to be done.
"There was quite a lot of stuff we had to come up with to drag it out of Melbourne… over a period of time it all worked out and we got it down here," Ambler said.
Tennis Australia officials had their misgivings about hosting the tournament in regional Victoria, but the inaugural Traralgon showing evaporated any doubt, according to Ambler.
The TTC life member said that while successful, the first ITF caused a few headaches despite Tennis Australia taking care of the tournament's running.
"There was a lot of protocol and rules that Tennis Australia put into place," he said.
"If you look at it now it's just mind boggling how easy it's run compared to what we had to do at the start to get the tournament down here.
"In the club house we put up every flag for every country that was represented and we had to make sure we didn't have certain countries next door to certain countries because they were at war or didn't like each other."
Security was another hot topic, with fencing around the entire venue considered at one point, and key players were missing in action.
Mark Philippoussis pulled out to try his luck at the New South Wales open, and Romanian Andrew Ilie didn't turn up at all.
Logistics aside, Ambler said the tournament became a firm favourite of junior players throughout his decade of on and off presidency, with iconic Acubra hats awarded to the winners becoming a coveted prize.
"They just fell in love with things," he said.
"It was a very simple idea, but kids came back years after year saying 'I've got to get one of those hats'."
As the tournament grew, so too did the crowds and player base.
"It was hard in the early days to convince people to come down and have a look at the best under 18 kids in the world; when people think junior tournament they think little kids but this is the best in the world," Ambler said.
"We've had a lot of the best in the world that have gone on to be the best (in open competition) and that's where they all start.
"(Initially) we had to get the players down there and then later on the players came down themselves; once we had the tournament established the kids wanted to come."
The 61 year-old has returned to Traralgon, where he still has family, for several tournaments over the last decade, and said it brings him great pride to see it flourishing.
"It's very pleasing and very satisfying to go down there and see how it's still running very well," he said.
"Because of the ITF everyone knows Traralgon now, that put us on the map… if ever there's a tournament on people know it's not a hick town… it's one of the best in Australia."
If the driven committee was the heart of the ITF in Traralgon, the ongoing support of AGL Loy Yang, who has sponsored the tournament since its inception, would be the soul according to Ambler, a sentiment echoed by the club secretary of today Susie Grumley.
"We just wouldn't have been able to do it otherwise," Ambler said.
The tournament proper will begin on Saturday with matches running through until next Thursday's finals.