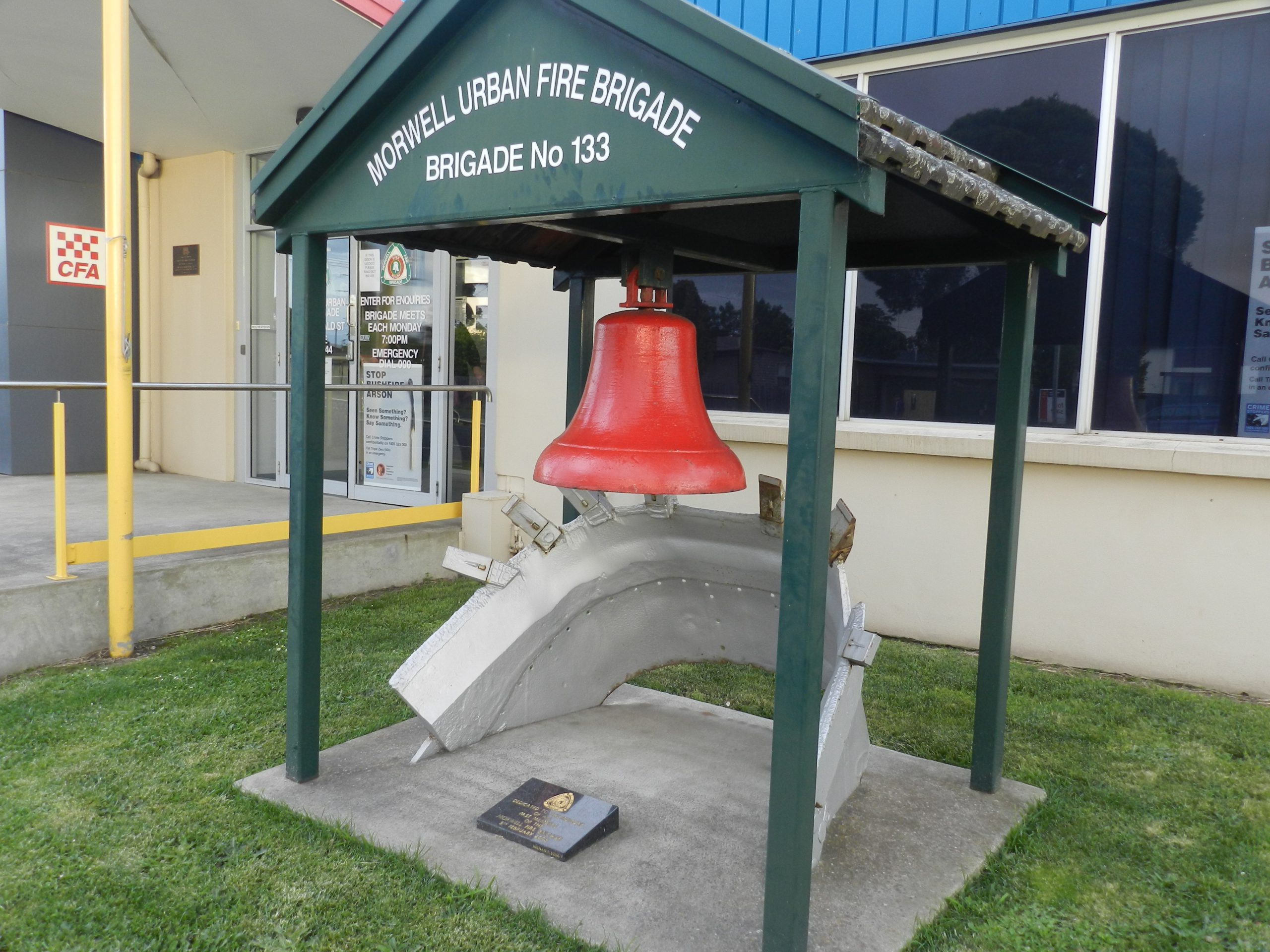 A SEARCH is on to solve the whereabouts of the original Morwell Fire Brigade bell which adorned the then fire station tower outside the original fire station before it was shifted in July 1953 to Church Street, Morwell.
Current research being undertaken suggests the bell was shifted from its tower at the Church Street site when the new Morwell fire station was opened in McDonald Street in February 2005.
But it appears that the bell on display at the McDonald Street main entry may not be the original bell.
As the Morwell Fire Brigade prepares to celebrate their 100th birthday early in 2015, the research for material to be used in a book to commemorate the occasion is well underway.
Part of this research has uncovered a level of intrigue about the bell.
According to Morwell Fire Brigade centenary committee chairperson Terry Ainsworth, after several major fires in 1912 and 1913 destroyed a number of shops, there was strong community support for a fire brigade to be formed.
The 1912 fire destroyed about six shops which prompted the editor of the Morwell Advertiser to campaign for a permanent water scheme.
"Moreover, there are historical records of a larger fire in March 1890 describing how destruction by that fire was limited to four buildings because many of the town's tradesmen actually turned out to save other buildings," Mr Ainsworth said.
"The Morwell Fire Brigade was first formed following a public meeting convened by the then Morwell Shire President, Councillor Edney in August 1914.
"Townsfolk gathered in the Mechanics Institute Hall to hear about plans to establish a brigade.
"Naturally, there were plenty of volunteers and a Grand Ball in September managed to raise 40 pounds to buy equipment. In November 1914, the first brigade officers were appointed.
"The fledging brigade affiliated with the Country Fire Brigades Board and officially became the Morwell Fire Brigade in January, 1915."
About 4.50pm on Thursday, 14 October 1915 considerable damage was done to Mr J B Hoyle's business office in Commercial Road when a fire started in a box full of paper.
Stock and furniture was damaged as well as the internal walls and ceiling.
Mr Hoyle was a valuer, and land and commission agent, and being ever so grateful to the brigade for saving his office, five days later gave a cheque for two pounds and two shillings to the fledging brigade – half of which was to be "devoted to obtaining a fire bell for the town" and the other half "for a medal for competition between the members".
The then Morwell Advertiser reported on 22 October 1915 that a "30 feet tower had already been generously promised the brigade free of charge but as a stand will be useless without a bell".
"The bell was obtained and, after about 33 years, was relocated to a new tower in 1953 when the second Morwell Fire Brigade Station was opened in Church Street," Mr Ainsworth said.
"The first station, opposite today's Post Office was run down and too small. There was also pressure to develop the Princes Highway through Morwell.
"Over the years, technological advances meant an electric siren eventually replaced the bell.
"Also, a new, larger Presbyterian Church was opened next door on 18 March 1961. Subsequently, a new church hall extension opened in March 1986, featured a tower for which a bell was soon required."
At a Morwell Presbyterian Church Board meeting held on 7 June 1989, it was reported that "enquiries had been made with the fire station about spare bells".
The Morwell Fire Brigade responded with a letter of support. Within a month a positive reply was received and on Tuesday, 31 October 1989, a bell was placed into the tower on the new hall.
"We have believed the original bell was donated to the church," Mr Ainsworth said.
"However, new information now tells us a bell was actually provided from a large collection of bells stored at the Bendigo Fire Station.
"Therefore, assuming the bell on permanent display at the brigade's McDonald Street headquarters is simply too large to even contemplate that it did sit atop the Church Street tower, let alone on the 30 feet tower promised in 1915, it's intriguing to speculate about our original bell."
The Morwell Fire Brigade welcomes any further information about this piece of history.
"The bell that tolled is only one part of a fascinating history being uncovered in the lead up to our 2015 celebration," Mr Ainsworth said.
* Leo Billington is an occasional contributor to The Express