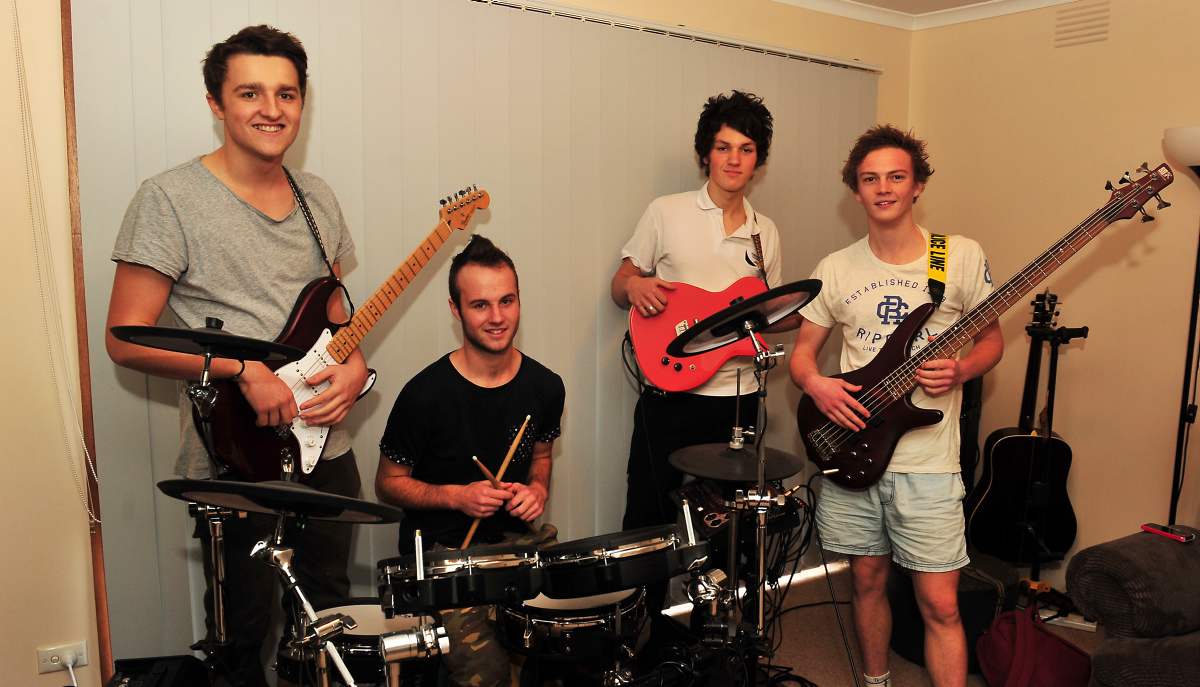 The easy-going attitude of the high-schoolers who make up local band Lobes of Julia, has not stopped their song Diego's Deli from ambitiously climbing the Triple J Unearthed charts.
The Lowanna College students' alternative tune reached number one on the Triple J website's Unearthed High chart last week and was at number five on the Unearthed Indie chart, up from number 13.
It has now dropped slightly to number two on the Unearthed High chart, but risen on the Indie chart to number three and overall to number six.
Lead vocalist and guitarist Zac Godwin, drummer Miles Eddy, bassist Caleb Clua and guitarist Tom Johnson – all Newborough and Moe residents – make up the band which has entered in Triple J's Unearthed High competition.
In late July a panel of Triple J staff will listen to all tracks entered and choose finalists for the best high school act in the country, and while they do not take chart positions into account, the boys' top spot position is a good indication they could be in with a chance to be selected.
The band, named after Prime Minister Julia Gillard's ear lobes, has played at venues and events across the Latrobe Valley, including the Moe Music Festival and The 3844.
Zac said when the band uploaded its track it was about number 700 on the overall Unearthed chart before they began promoting it to friends and others via social media and it shot up to 51 then to 17 last week, before rising again to six this week.
"When I first saw we were at number one (on the Unearthed High chart) I was confused. I thought 'really?' And when I told these guys (Miles, Tom and Caleb) on Facebook they didn't believe me at first," Zac said.
Though new to the music charts, Lobes of Julia has already been awarded Best Alternative Rock Band in national competition Kool Skools in 2011, when Tom and Caleb were not part of the band.
The boys will enter that competition again this year and are set to record two new songs in Melbourne next month.
They list their influences as Twelve Foot Ninja, old Maroon 5 and Incubus and describe their sound as alternative or Latin jazz.
Miles said the band's original tunes musically contradicted the lyrics Zac wrote, which would mask the true nature of the song.
"Diego's Deli is about a man going to a deli and not being able to get what he wants, but it's a metaphor for something else," Zac said.
Despite the success the boys have found through the band so far, they said they did not aspire to make it big, but were simply taking things as they came.