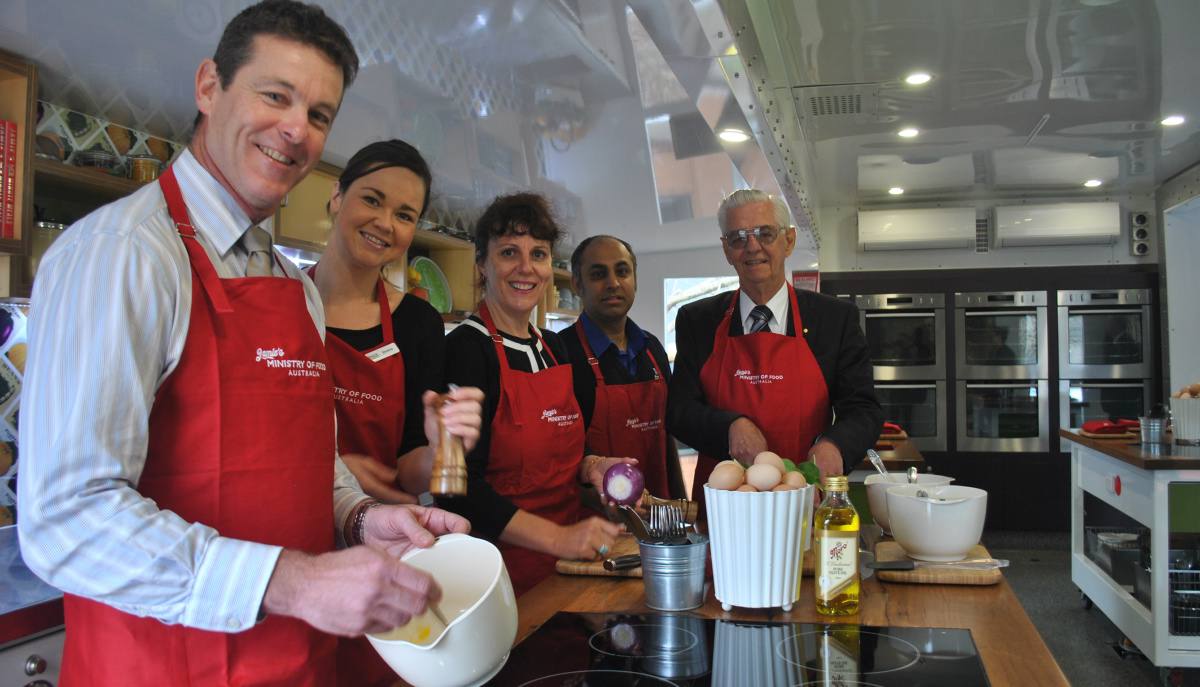 From humble hands to a high-profile chef, a major initiative aimed at getting Latrobe Valley residents eating well and keeping active is gaining momentum.
Jamie Oliver's Ministry of Food mobile kitchen will make the Valley its home for the next 10 weeks, teaching more than 270 people the value of cooking fresh and healthy food from scratch.
Food trainers and volunteers from local organisations will lead the hands-on classes as part of the Healthy Together Latrobe initiative which aims to get schools, workplaces and the broader community to be part of an active team-effort to improve their health.
"We hope people are inspired and have more knowledge about how to be healthy and that it's not that hard to whip up a meal in less than an hour," mobile kitchen manager Emma Hannah said.
"We're going to start the program with eggs and work our way up to roast."
Grey Street Primary School pupils did their bit to contribute to the initiative on Monday, planting a pop-up vegetable garden which will stay on display alongside the mobile kitchen at the corner of Grey and Church streets in Traralgon.
It will also be accompanied by a mobile information hub on weekdays, where the public can drop in to find out about healthy-living activities and events closest to them.
Healthy Together Latrobe is a partnership between the state and federal governments, Latrobe City Council, Latrobe Community Health Service, Jamie's Ministry of Food and the Good Foundation.
The Victorian Population Health Survey 2011-2012 found 60.6 per cent of Latrobe Valley residents were overweight or obese and 52 per cent did not eat enough fruit and vegetables.
The mobile kitchen will be stationed next to the Traralgon service centre until mid-November, during which two five-week courses will run.
The course costs $50 or $25 for concession card-holders.
Places are limited for the first lot of classes, but bookings for the second five-week cycle can been made by visiting www.jamiesministryoffood.com and clicking on the Australia tab.