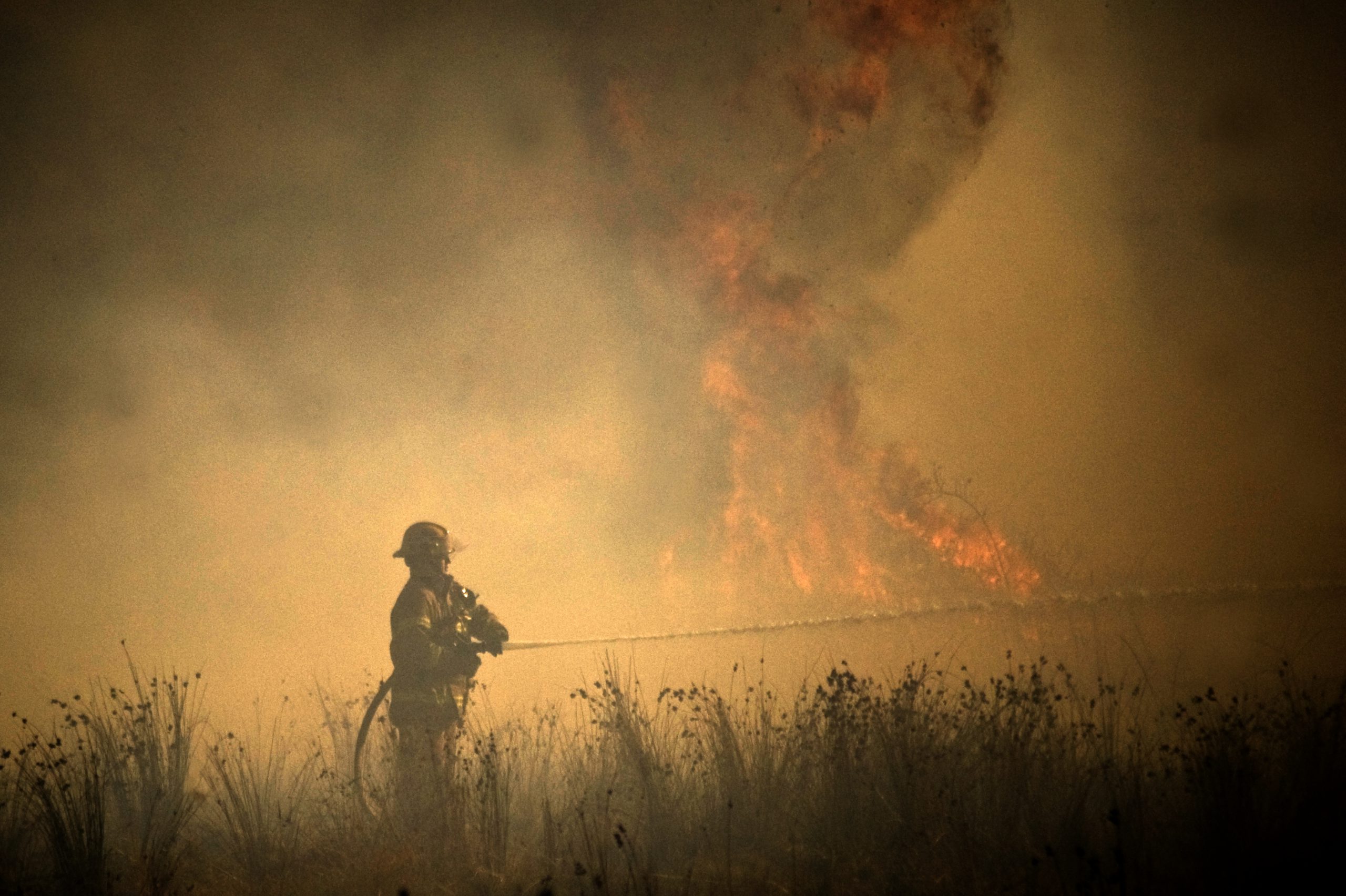 JANUARY
Fires, betrayal and the MACP
AN aggressive fire in Glengarry west is contained, but a major fire warning for the following day indicates the worst may be yet to come.
THE Public Transport Users Association believes rising fares for public transport could prove to be a devastating blow to sustainable futures, after the State Government increased V/Line ticket prices by an average of 6.8 per cent as of 1 January.
THE Federal Government's funding cuts to the Victorian hospital system forces ongoing bed closures at Latrobe Regional Hospital and potential blowouts to elective surgery waiting lists.
A TRARALGON man is sentenced to 18 months jail after he was found guilty of shooting a 10 year-old girl in the buttocks with an air rifle last year.
WIDESPREAD claims of betrayal, lies and questionable trading practices follow in the wake of Macalister Constructions being placed into administration.
GIPPSLAND prepares for "spike days" when temperatures are expected to be in the mid-30s, while emergency services continue to battle the out-of-control Aberfeldy-Donnellys fire.
A GROUP from the Latrobe Valley tells their harrowing story of survival after the Aberfeldy-Donnelly's threatened their camping site in Paradise Valley, near Heyfield, despite being told by park management they would be safe from the blaze.
MOE residents rally at the proposed site of the civic precinct site to "save" the town's future, after Latrobe City Council carried a motion to conduct a review of the Moe Activity Centre Plan, resulting in the suspension of future works.
FEBRUARY
Projects, planes and coal
TRARALGON community members are left "devastated" and "blindsided" after discovering Latrobe City councillor Christine Sindt plans to move a notice of motion asking for the Gippsland Aquatic Centre proposal be returned to council for a full review, despite its wide-spread regional endorsement.
THE region's state secondary school leaders warn multiple cuts to State Government school programs threatens the educational prospects of a large number of Latrobe Valley residents.
LATROBE City Council chief executive Paul Buckley reveals to The Express new projects for the region are "imminent", despite "tenuous" federal political circumstance leaving the Latrobe Valley's power generation future in limbo.
THE Gippsland Aquatic Centre is shortlisted by Regional Development Australia for vital funding, but a pavilion at Churchill's new synthetic hockey pitch is left out.
MELBOURNE'S Avalon Airport is floated as a possible contender for the manufacturing of the GA18 aircraft, despite Latrobe Regional Airport being home to Australia's only aircraft manufacturer, GippsAero.
ISS security guards at Yallourn Power Station approach an unfamiliar visitor taking site photos only to discover, after questioning them, they were there to take over their security contract at the power station.
MARCH
Ice, unions and the future
THE Latrobe Valley faces a health crisis driven by an increase in the use of the street drug 'ice' by the region's 16 to 20 year olds.
THE ambulance service buckles under the strain of minimal resources, putting the Latrobe Valley's vulnerable patients at risk.
DESPITE a multi-million dollar recycling plant at Australian Paper's Maryvale Mill being touted as a major boost for Latrobe Valley employment, unions fear if a Melbourne-based company's tender is successful, local workers will miss out on construction jobs.
SEVERAL months of negotiations pay off for Central Gippsland Institute of TAFE, after it receives approval for a $7 million loan from the State Government to improve campus facilities.
ABOUT 100 Yallourn Power Station employees are sent home with pay in a bid by Energy Australia to take the strategic advantage in an ongoing enterprise bargaining dispute led by the Construction, Forestry, Mining and Energy Union.
LATROBE Regional Hospital is forced to drop major fundraising activities, including its annual fun run and gala ball, as it continues to wait on the payment of millions of Federal Government dollars ripped from the system months earlier.
A GIPPSLAND delegation to Canberra secures a long-awaited endorsement from the Federal Government of the region's plans for its future.
APRIL
WALKOUTS and a tragic accident
A DRUG and alcohol worker attached to the Latrobe Community Health Services Drug Treatment Service team, pleads with 'ice' addicts to shed the self-blame, understand they are not alone and seek help.
LATROBE Valley's first power station walk-out in more than a decade takes a costly toll, with station operator EnergyAustralia warning continued action would jeopardise future employment opportunities at the operation. A 24-hour stoppage by power generation operators cost the company $500,000 in the immediate term.
FURTHER industrial action at Yallourn Power Station puts a 12-month delay on at least 600 job opportunities during a statewide recession.
NEWLY released data ranks Morwell and Moe in the top 10 per cent of Australia's most disadvantage towns. The Australian Bureau of Statistics Socio-Economic Indexes for Areas data, also shows the two towns were fourth and sixth mist disadvantages towns respectively in Victoria.
STAFF and course numbers at Monash University Gippsland are being threatened by Federal Government funding cuts, but an alliance with Ballarat University remains the best way forward, according to Monash Gippsland Pro Vice-Chancellor Professor Robin Pollard.
AN Australian not-for-profit organisation's dream to bring jobs to the Latrobe Valley and open a factory in Morwell is one step closer to fruition, but it needs community support to get there.
JEERALANG'S Lyn Giles this year returned to Vietnam, 46 years on from his 12-month posting during the war.
REBECCA Grant's seven month-old purebread husky 'Peppa' is killed on Anzac Day along Hunter Road near Yallourn North when it was apparently mistaken for a wild dog.
MAY
AN alliance and a crisis
FORMER Federal Energy and Resources Minister Martin Ferguson calls for "maturity" in the stalled enterprise bargaining negotiations at Yallourn Power Station, in a letter to The Express.
LEAD agencies working with the vast numbers of vulnerable Latrobe Valley children say new State Government funding and strategies are beginning to impact positively on local outcomes. The government-launched 'Victoria's Vulnerable Children – Our Shared Responsibility' outlines numerous actions aimed at combating child vulnerability.
THE Latrobe Valley anxiously awaits a decision between University of Ballarat and Monash University on whether it will forge ahead with a regional university alliance, despite a Gippsland campus briefing leaving staff feeling the plan was "a done deal".
THE rebranding of Monash University Gippsland begins in earnest, with the new entity to be known as either State University or Federation University.
LATROBE Valley's flagship manufacturing operation GippsAero moves to shed about 40 workers, after recording poor international sales for its bestselling product, the GA8 Airvan, as a result of the high Australian dollar.
LATROBE City Council fears a planning decision made by the Victorian Civil and Administrative Tribunal, which approved a block of units in the bowl of McClure Court, Traralgon, could set a precedent for developers to construct multi-storey unit blocks across the region as long as the site was close to a local fish and ship shop or convenience store.
SCATHING criticism is levelled at the Federal Government following confirmation the region can expect just $1.4 million next financial year for its economic diversification.
LATROBE Regional Hospital is forced to defend the safety of its pharmaceutical practices following the resignation of its two pharmacy directors. Sources tell The Express mounting frustrations over resource shortages and inadequate provisions for appropriate medicine management at LRH led its pharmacy director and deputy director to tender their resignation.
JUNE
lockouts and Clive Palmer
DEBATE flares over the Latrobe Valley's soaring crime rates, with new data showing big jumps in drug offences and family violence rates.
REAL estate stakeholders believe Moe's housing market is finally "having its day", with median prices jumping 16.2 per cent in the past calendar year and making it one Victoria's strongest regional price growth areas.
BILLIONAIRE and aspiring politician Clive Palmer says the Latrobe Valley has suffered "enormous disruption" to its community at the hands of government policies and he is the man to undo the damage.
DEATHS and crime rates linked to the methamphetamine 'ice' are soaring and the crisis has long-serving Magistrate Clive Alsop worried.
LATROBE Valley students may miss out on an "opportunity of a lifetime" if the State Government fails to sign up to the Gonski education reforms, according to local school leaders.
IT is only a matter of time before picket lines form at the gates of Yallourn Power Stations, industry observers and union insiders warn, predicting the likely fallout of an extraordinary operator lockout at the plant.
WITH six weeks remaining until the Federal Government enters 'caretaker mode', rendering it unable to fund new projects, it faces pressure to focus on the Latrobe Valley.
JULY
TAFES, FESTIVALS AND FATHER BOB
UNDER proposed changes to electoral boundaries, the state seat of Morwell will be reshaped to encompass Latrobe Valley's three major towns. As part of the recommendations released, Moe and Newborough would no longer sit within the Narracan electorate.
THE Central Gippsland Institute of TAFE confirms a 10 per cent drop in enrolments on last year's figures, as the institute's course overhaul, largely forced by State Government budget cuts, begins to settle.
OUTSPOKEN, high-profile Melbourne priest Father Bob Maguire visits the protest camp set up outside the Yallourn Power Station, following the lockout of 75 operators late last month.
HUNDREDS turn out to support the inaugural winter night festival in Morwell.
MOE parents are left reeling after receiving word St Luke's Kindergarten will close at the end of the year, leaving four staff members redundant.
MONASH University seeks to close its print services at its Gippsland campus, leaving the fate of nine workers hanging in the balance.
AUGUST
FUNDING DOUBTS AND NEGOTIATIONS
YALLOURN-based workshop Mechanical Engineering Corporation notifies its 15 employees 10 minutes before knock off it is going into liquidation at close of business, after incurring ongoing and unsustainable financial losses.
THE man charged over the fatal shooting of a family's pet husky, Peppa, near Yallourn North escapes conviction.
DOUBT is cast over millions of dollars in federal funding for Latrobe Valley projects, including the long-awaited Moe railway precinct revamp, following revelations the government failed to finalise funding agreements with recipients before the election period.
A MAJOR walkout of about 170 maintenance workers at Maryvale Mill is temporarily averted at the 11th hour, with unions and Australian Paper knuckling down for four days of "solid" enterprise bargaining negotiations.
An estimated 300 million litres of water cascades down a 40-metre mine wall into Yallourn's active open cut.
SEPTEMBER
AN ELECTION AND SECRET REVIEWS
FUNDING of more than $860,000 allocated to recreational projects for Traralgon and surrounding areas will be at risk if a Federal Coalition Government is elected.
WITH just days remaining before Latrobe Valley votes take to the polls, McMillan and Gippsland's major party candidates hope final policy pitches will help their election prospects – or reduce 'safe' margins in both electorates.
THE Latrobe Valley, once Australian Labor Party heartland, now sits within some of the safest Coalition seats in the nation with Valley voters turning away from the party in droves at the election.
A VICTORIA Police decision to axe two of its three bands, could effectively strip the local Neighbourhood Watch contingent of $3000 a year.
LATROBE City Council keeps secret the details of a review investigating the handling of a major Moe infrastructure plan.
ANXIETY is running high among one of Latrobe Valley's biggest public employers, with more than 120 casual jobs set to go from Traralgon's Centrelink call centre by the end of the month.
YALLOURN Power Station focuses on healing workforce relationship wounds after one of the Latrobe Valley's most damaging industrial disputes ends.
OCTOBER
land developments and jail strain
IT is revealed equestrian events would not go ahead at this year's Traralgon Show due to resurfacing of the showgrounds' main oval.
MUTLIPLE land development fronts are being progressed across Latrobe City, with thousands more land lots to potentially come on line.
THE Victorian head of a body representing civil contractors across the country says public infrastructure in the Latrobe Valley will be stymied if a new council procurement policy is upheld.
A COURT hears how Wayne Glenn Bayley's sister watched him die as she attempted to stop his bleeding in the early ours off 22 December last year.
A RARE sighting of a kangaroo hopping through the streets of Morwell ends in the native animal's death.
CONGESTION in Victoria's overflowing prison structure places strain on Latrobe Valley's law and order system while jeopardising prisoners' rehabilitation prospects, a leading Morwell lawyer has warned.
A NEW approach to the obesity epidemic plaguing Latrobe Valley aims to transform the region's 'food system' through a series of initiatives.
FORMER Latrobe City mayor Ed Vermeulen breaks a year of political silence to criticise the sitting council and what he views as a lack of proper leadership and advocacy.
NOVEMBER
HEALTH WOES AND A NEW MAYOR
A CONFIDENTIAL report detailing day-to-day operations at Latrobe Regional Hospital's acute care units gives rare insight into a mental health system under pressure.
SIX decades on from the Korean War, Traralgon Returned and Services League veterans of the conflict are acknowledged and immortalised in a new plaque fixed to the Traralgon cenotaph.
LATROBE City's new mayor, Sharon Gibson, vows to listen to her community and says she will not be scared to ask questions.
THREE sisters assaulted by a Latrobe Valley sex offender in the 1970s warn other sex abuse victims against prolonging their silence, after their attacker was jailed for a minimum sentence of three years and nine months.
AN embattled Latrobe Regional Hospital director defends the management of its mental health wards in the face of frustrated employees speaking out against "unacceptable" working conditions.
A POTENTIAL merger between GippsTAFE and Chisholm Institute of TAFE will be workshopped over the coming months, through a Memorandum of Understanding signed between parties exploring joint course delivery options.
THE Latrobe Valley's dedicated Family Violence Unit becomes one of the most effective response teams in Victoria.
DECEMBER
CODE, LPG AND AUSTRALIAN CHAR
GIPPSLAND could be stranded without local Labor parliamentary representation for the first time in decades, if current moves to bypass rank-and-file upper house preselection is successful. Internal debate about candidate preselection processes for the November 2014 state election came to a head, with Victorian Administrative Committee favouring backroom deals over a membership ballot.
THE Latrobe Valley Magistrates' Court hears a VicForests fire investigator could not identify the point of origin of the Aberfeldy bushfire when he visited the property of Grahame Ernest Code the day the fire started on 17 January.
THE embattled Moe railway revitalisation project is back on track, following a concrete funding commitment by the Coalition Government.
WITH LPG prices breaching $1 per litre at local fuel outlets, financial strain is expected to be widely felt across Gippsland in the lead-up to Christmas.
A DINOSAUR in Latrobe Valley's industrial landscape will perform its swan song next year, when Australian Char mothballs its char production facility in June.
THE magistrate presiding over the hearing for Grahame Ernest Code, the man accused of causing the Aberfeldy bushfires, has expressed concerns the matter had descended into a case of "duelling experts" in the absence of hard evidence.
THE founder of the Gippsland Carers Association warns the Federal Government it will only govern for one term if it fails to honour its commitment to the National Disability Insurance Scheme.