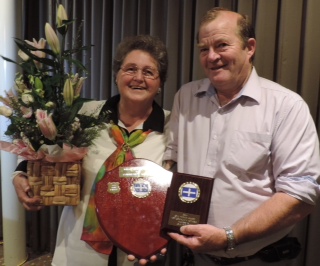 Unwavering commitments to improving social justice by Gippslanders will be recognised annually by the Gippsland Trades and Labour Council, after the creation of a new award at the weekend.
Trade union stalwart and community advocate John Parker has become the inaugural recipient and namesake of the award – The John Parker Award for Community Activism – recognised in-house for his decades of employee rights activism.
In presenting the award to Mr Parker on Friday night, GTLC president Val Prokopiv – his colleague of 10 years – said she hoped Mr Parker's "relentless" pursuit of worker advocacy and social reform in Gippsland would inspire others.
"He deserves the recognition – he deserves to go down in history books – and people following his actions over the years will hopefully be inspired by what he's achieved in his career," Ms Prokopiv said.
She said Mr Parker's ongoing campaign to establish a comprehensive workforce and community transition plan for Latrobe Valley's diversification away from the brown coal-fired power sector – which lead to the widely supported 'Just Transition' strategy – was one of his standout achievements.
"John has pushed for this transition from the start – eight years ago before anyone else was even talking about it – he just pushed and pushed and pushed, and it has become one of the key agendas for the Valley," Ms Prokopiv said.
"Through that we've seen the Contract for Closure scheme come and go, and a change of (Federal) Government and the coming policy changes, so (transition) timelines may have changed a little, but he will still be plugging away at it – there is no way to change that; we have to continue doing that."
Ms Prokopiv also recognised Mr Parker's wife Allison, whose support "was an integral part" of his ongoing efforts.
"You can't divorce the worker from the community nor can you the family – the rights of workers, their jobs and social justice are all intrinsically linked – and (Allison's) support of him has been unfailing – the workers support the families and families support the workers."
Recently diagnosed with motor neuron disease, Mr Parker said the development had only emboldened his fight for social justice.
"I'm going to go out swinging," Mr Parker has said in numerous occasions.