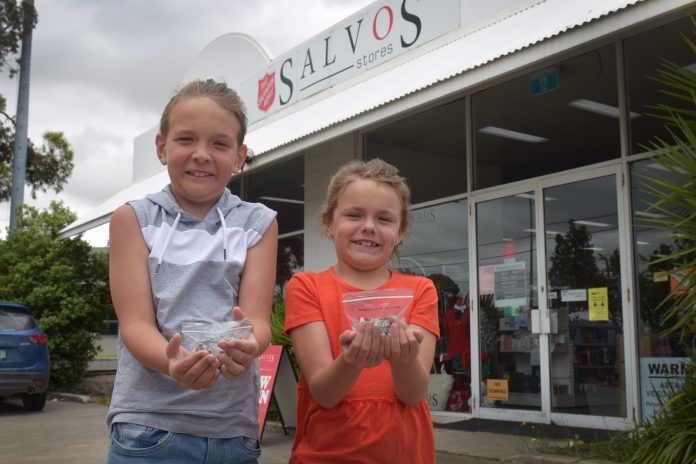 Hayley Mills and Kate Withers
Two generous little Trafalgar residents have dug deep to give to those less fortunate this Christmas.

Kaylem (8) and Aleyah (6) Horton-Maynard have been saving their pennies all year and decided to donate a portion of their earnings to a local charity.

Kaylem and Aleyah delivered $81 to the Salvos in Traralgon last week, all in a bid to help other children "who can't afford Christmas".
Grandpa Paul Horton said the philanthropic idea was spawned to help teach the siblings about the value of their hard-earned.
"Probably eight or 10 months ago, instead of giving them pocket money and just going down the street and wasting it or throwing it away, we thought why don't we get some money boxes?" Mr Horton said.
"And we put the pocket money in there and they thought it was a great idea and then a couple of months later I was sitting with them and talking about the money.
"I said 'when we fill it up, what about – as some children aren't as lucky as others and they don't really get a lot at Christmas – what about if when we open the money box and a third of it we'll put it into the bank, a third you can spend and the other third we'll take it and give it to charity to help other children."
Kaylem and Aleyah helped out with odd jobs around the house to earn their loot.
They also thoughtfully stowed away birthday money and takings from the tooth fairy.
"Since then, even Kaylem, he got a $20 note from one of his aunties for his birthday and he ran over and put the money straight in his tin," Mr Horton said.
"All the money they get they just pop it straight into that tin and they were so happy (counting the money) this morning."
Kaylem and Aleyah were grinning from ear to ear as they handed their generous donation to the Salvos last week, but Mr Horton said there were also lessons to be learnt from the exercise.
"It shows them that you can save money for a start … even a little amount of money, you don't need to go down that street and spend it on some lollies or a toy that's going to break in five minutes," he said.
"If you put it in, at the end of the day it does mount up and it's a good way for them to learn how to save money.
"Unfortunately in this day and age people spend money and don't have the money and have to pay it back. It's just teaching them to try and be responsible with money in the future.

"I'm hoping if we can inspire one other person out there it'll help the local charities going forward and hopefully the children will also help the children learn the value of money."