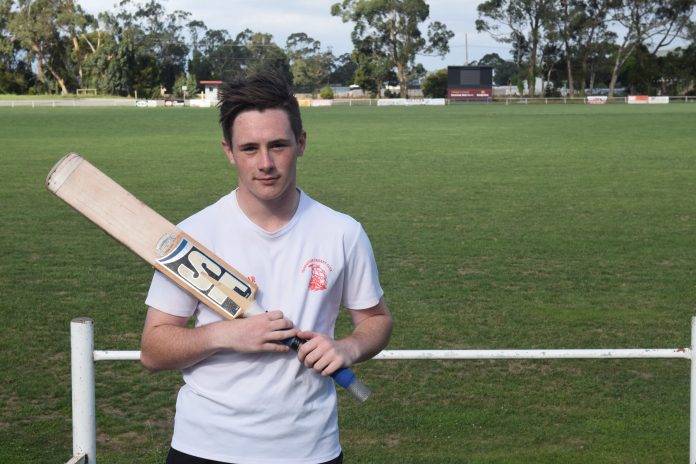 Liam Durkin
TRAFALGAR cricketer Billy Claridge had a match to remember last Saturday.

Strolling to the Trafalgar Recreation Reserve wicket in the fifth over against Latrobe, the youngster walked off 35 overs later with a score of 123 next to his name.
It was Claridge's maiden century at any level of cricket, and he also entered the record books as the second youngest player to make a senior century in the history of the Trafalgar Cricket Club.
Playing Latrobe in second grade, the 16-year-old whacked nine four and four sixes to help take the Ships to a total of 6-246.
Not one to die wondering, he brought up triple figures with a six over backward square leg.
Speaking of his innings, Claridge said things materialised pretty quickly.
"I had no idea what I was on," he said.
"I was seeing them well from the start and my approach was pretty much just hit the ball as it comes."
This 'see ball hit ball' mentality has served Claridge well so far in season 2020-21, and he hasn't been afraid to play his shots regardless of who is bowling.
On debut in A Grade earlier this season, Claridge brought up the winning runs with a boundary, while he played the role of pinch hitter to make a run-a-ball 25 in the last game before Christmas.
In a good sign, he has also shown his ability to change gears, evidenced by a half hour stint against Churchill when the team needed to bat out for a draw.
As primarily a strokemaker, it is perhaps unsurprising Claridge identified Australian limited overs captain Aaron Finch as one of his favourite players to watch.
"I just go about it (batting) myself," he said.
"My go-to shot is probably over mid-wicket."
Playing second fiddle at the other end for most of the Claridge onslaught was Fred Dyke, who scored something of a forgotten 76.
The combination of youth and experience put together a 194-run partnership for the third wicket.
It was a good weekend for the Claridge family, with Billy's dad Brent making 70 for the Trafalgar thirds and younger brother Mitch returning from injury.
As an added bonus, his mother was there to record the moment he raised the bat.
Trafalgar Cricket Club youngest-ever senior centurions
1. Lester Tatterson, 16 years one month, 152 vs Lillico 1935-36
2. Billy Claridge, 16 years four months, 123 vs Latrobe 2020-21
3. Rhys Holdsworth, 16 years nine months, 228 vs Yarragon 2006-07;
4. Leo Connolly, 17 years three months, 110 vs Yallourn North 2018-19
5. Brodie Burgess, 17 years nine months 22 days, 104 vs Morwell 2017-18
6. James Blaser, 17 years nine months 24 days, 123 not out vs Longwarry 2006-07