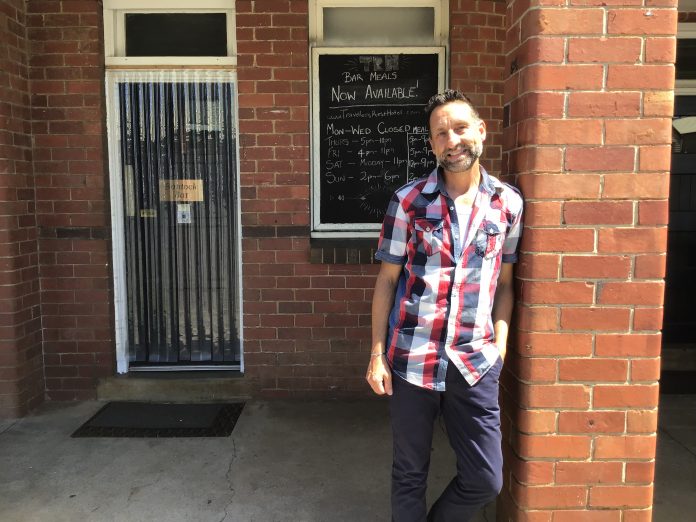 Liam Durkin
EXCITEMENT is brewing at Travellers Rest Hotel, Thorpdale, with the famous country pub undergoing a number of upgrades in recent months.
Since moving to the area in October last year, hotel manager Adrian Thompson and owners Jill Jepson and Sean McCarthy have set out to re-establish a presence for the local community, while also being emblematic of Gippsland by focusing on local food, craft beer and spirits.
The rolling hills of Thorpdale have well and truly been a tree-change for Mr Thompson, who spent many years working as a front of house manager for Cirque du Soleil.
In taking on the job of Travellers Rest Hotel manager, Mr Thompson said the pub afforded a great opportunity.
"We have a pretty strong vision with all the potential that the Travellers Rest Hotel has. We have a lot of ideas of what to do but we're taking it step by step," he said.
"We opened the Bantock Bar and we've moved on to doing bar meals, the next step will be to get accommodation and the restaurant up and running."
The bar is named after the Bantock and Holden families, who had a more than 100-year ownership of the pub, which tragically ended in 2017 when fire damaged the pub in which legendary publican Johnny Bantock lived.
The upstairs accommodation area has been fitted out with family and single rooms as well as a formal lounge.
It is hoped people from the wider region will use the accommodation during a country weekend away.
Finishing touches are being put on the restaurant section, which appropriately has not lost any of its iconic art deco interior.
The pub has engaged the services of Darren Thompson (no relation to manager Adrian) as head chef, who has spent 10 years among Melbourne's top chefs and worked with the likes of Gary Mehigan.
Of all innovations, perhaps the most exciting is a distillery set to be installed in the pub's basement.
With Thorpdale and potatoes going hand-in-hand, Mr Thompson said it was no great secret what would be created.
"The plan is definitely to have a distillery downstairs to make potato gin and potato vodka, and what better place to do that when you're surrounded by potatoes," he said.
"We have everything in place to move forward with that when we are ready."
The stairs to the basement of the pub literally feel like you are entering a time machine, as the rooms at the bottom have remained virtually untouched for decades.
Amazingly, there is still actually a prison cell at the bottom of the stairs that was used to house patrons who became too drunk, as well as horse stables from the pub's time as a general store.
In more recent times, the Thorpdale pub was frequented by many football clubs calling through on Mad Monday and was famous for having driver licences taped to the fridge.
Given the Bantock legacy, Mr Thompson ensured the pub's history wouldn't be lost.
"It is big shoes to fill," he said.
"I think it's very important that history is acknowledged and that what this pub was remains a big focus in the community.
"One of the most amazing parts of this journey is the history of this building and it's something that has been shared open heartedly by the community, meeting people connected to the bar, hearing the stories about the history and how much it's been part of the local community.
"It's not just a history about this pub, it's a history about Thorpdale. Back in the days where there was hundreds of truck drivers and potato pickers, it was a whole different era then, so it's fascinating.
"This building if only it could talk would have stories from those times.
"This hotel is an integral part of Thorpdale. We're very aware of the fact that that's a really important part of the journey for the pub.
"Our hope and vision is that having the pub here again will hopefully bring more tourists up to Thorpdale and revive this little strip.
"They say it takes two businesses to revive a town so we have two now, well actually two-and-a-half with the post office (the bakery and post office are in the same building), so who knows?"