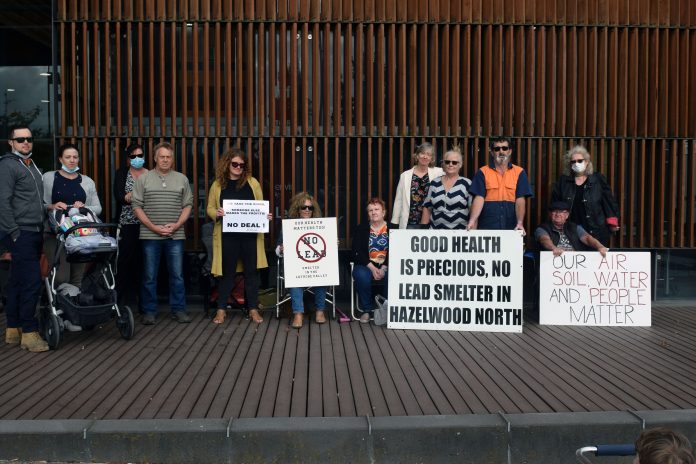 Michelle Slater and Liam Durkin
LATROBE City councillors have voted against conducting a judicial review into Planning Minister Richard Wynne's decision to approve the Hazelwood North used lead acid battery recycling plant.
The decision was made in a closed meeting on Monday night, as project objectors sat outside Latrobe City's Morwell headquarters awaiting the outcome.
Latrobe City Mayor Sharon Gibson said she was legally unable to provide the reasons behind the councillors' decision not to support the review, under the Local Government Act.
"I wish I was able to give this information, but I have to abide by the rules," Cr Gibson told The Express.
"But we are not backing away from our original stance to oppose this development.
"I can only say how I voted, and I voted to support the judicial review. The minister imposed this at a stroke of the pen without any consultation with us or the community. I think this stinks."
However, Latrobe City is vowing to renew its push for Mr Wynne to overturn his ministerial approval after council had refused the planning application last year.
Cr Gibson said council was drafting a letter on Tuesday to request a meeting with Mr Wynne to discuss the matter.
The Mayor stated she had not ruled out "sitting with the community outside the Planning Minister's office or Parliament" until he would personally meet with councillors or the community.
Newly-formed group ALIVE – standing for Advocating for Latrobe in the Valley – helped to organise a community rally outside council HQ to ask councillors to support the judicial review.
ALIVE committee member Maggie Jones said she was hopeful that councillors would forge ahead with it.
"We're hoping to stand in support of the councillors who probably feel much like us, that their right to decide what happens in the Valley has been erased by this decision," Ms Jones said before the closed council meeting.
"The council mentioned last year … that there had never been a development in the Latrobe Valley that had elicited so many submissions, and I think that is quite telling."
Voices of the Valley convenor Wendy Farmer said she was disappointed in Latrobe City's decision, but said objectors would continue campaigning against the plant from going ahead.
"This was not the outcome we hoped for. I have a feeling the decision was based on cost, but what cost can we put on community health and the future of the Latrobe Valley?" Ms Farmer said.
"We will not allow this happen, we will blockade the gates if need be and we won't stop until they leave. And if it does get built, we will watch them like hawks."
The proposed development had gained an Environment Protection Authority Works Approval, and was also recommended for approval by Latrobe City's planning officers.
Developer Chunxing has rigorously defended the plant's safety credentials.