FOOTBALL
NORTH GIPPSLAND
By LIAM DURKIN
ROUND 9 of North Gippsland football returned no great surprises, although there was no shortage of talking points as results came to hand.
CHURCHILL passed its litmus test against Heyfield with an 11-point victory at home.
The Cougars led at every change, holding off a gallant Kangaroos outfit to win 11.9 (75) to 9.10 (64).
Jake Roe-Duggan led the scoring for the victors with four, while youngster Bailey Flanigan was best on ground, followed by Nick Celima.
The match was virtually neck-and-neck for the most part, with the margin at quarter and three quarter time just five points.
Churchill kicked three goals in the last term and it proved to be enough, as Heyfield could not quite bridge the gap.
Tyson Birss was best for the Kangaroos, and received good support from Brayden Woodland and Shaun Humphreys.
It was a contrasting aftermath for the teams, with Churchill putting another four points in the bank, while Heyfield will be feeling it might well have to rob the same bank to snap its four game losing streak.
After starting the season with four wins on the trot, the Kangaroos have not won a game since, which has been exasperated due to the three week lockdown, meaning it has been eight weeks between drinks.
YALLOURN Yallourn North overcame a sluggish start to defeat Rosedale.
The Bombers yet again powered away after half-time, slamming on nine goals to one in the second-half to win 13.19 (97) to 6.5 (41) at home.
Everything the Blues touched in the first quarter turned to gold, as they put up 5.3 (33) to just four behinds.
There was clearly a scoring end at George Bates Reserve, as in the second term YYN kicked four goals from 12 scoring shots.
As teams went in for the main break the margin was only three points to the advantage of the Bombers, but by three-quarter time it had bleed out to 34 points.
YYN did what it needed to do in the last to chalk up another win and keep its 'new sheriff in town' image intact.
In what was surely pleasing for the Bombers coaching staff, Dean MacDonald was not left to do all the goal kicking, as seven different players hit the scoreboard.
Anthony Young was best on ground, along with Braden Paulet and Keenan Hughes who snagged four majors.
Dylan Bentley was again in the best players. Bentley is enjoying some season and has been listed in the best for YYN in six of eight games.
There was another McDonald up forward in this game, albeit with different spelling to the Bombers spearhead, with Rosedale's Brandon McDonald doing the best for his team with three goals.
Wilson Gaudion, Luke Lossberg and Jake Suter were judged to be the Blues prime movers on the day.
YYN revealed their much anticipated new nickname later in the evening at their mid-season ball.
From next season, YYN will be known as the Jets.
GLENGARRY inflicted Gormandale with a huge defeat.
Playing at home, the Magpies could not be denied and ended up winning by 157 points, 25.21 (171) to 1.8 (14).
Glengarry burst out of the blocks with six goals in the first quarter and never looked back from there.
By half-time the margin was 64 points and at three quarter time it was as good as 100 points.
Goals were shared by those wearing black and white, as seven kicked multiples and 10 got their name in the paper.
Michael Ryan kicked half a dozen, while Travis Patten nabbed four to be in the best.
Jackson Hall also played a great game and was in the action for most of it.
Perhaps the most telling narrative to come out of the match came at the expense of Gormandale, who must surely now be fearing the worst after losing by more than 150 points to a team that was only two positions ahead of them on the ladder heading into the game.
If the Tigers' team sheet is any indication to their struggles – six players were without a
recognised jumper number.
Jack Burgess, Mitchell Jones and Luke Mackay battled hard in a losing cause.
WOODSIDE again won a close and low scoring game.
Travelling to Yarram, the Wildcats returned home with a gutsy 5.6 (36) to 4.7 (31) win.
The Wildcats just keep
finding a way to have their noses in front, and have won their last three games by less than five points.
Scraping it out with the Demons, Woodside took a slender lead at quarter-time, and managed to hold onto a similar lead at the main break before Yarram hit the front with a quarter to play.
The difference ended up being in the conversion, as Woodside kicked two goals in the last to Yarram's two behinds,
ultimately netting the Wildcats victory.
Ben Johnson, Tom Jessup and favourite son Ryan Foat were best for Woodside.
David Brinker-Ritchie, Jack Weston and Roland De Biase put in solid efforts for Yarram.
SALE City survived another scare from a team in the bottom three.
After crawling over the line against Glengarry last week by three points, the Bulldogs were required to shake off a persistent Cowwarr outfit, who refused to go down without a fight on their home deck.
Just three points was the margin in favour of Sale City at half-time, yet the Bulldogs were able to take this out to a comfortable 20-point lead at three-quarter-time.
Sale City found three goals in the last term to ensure itself victory, as the four Cowwarr kicked proved to be too-little-too-late.
The Bulldogs won 9.12 (66) to 8.6 (54) to keep their season and ambition of playing finals alive.
Michael Todd played a good game, as did Lachlan Carman and Bohdi Walker for Sale City.
For Cowwarr, best were Jack Casson, Nick Wozniak and Ben Coffey who kicked two goals.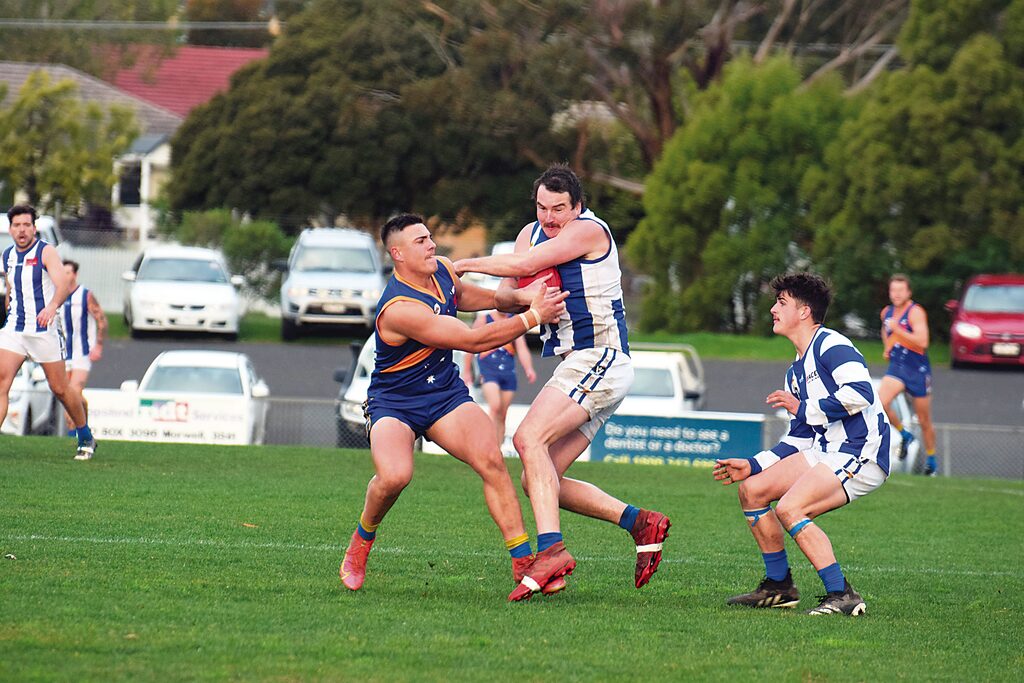 Risky business: Heyfield's Jesse Bedggood runs in to trouble against Churchill. photographs tom gannon