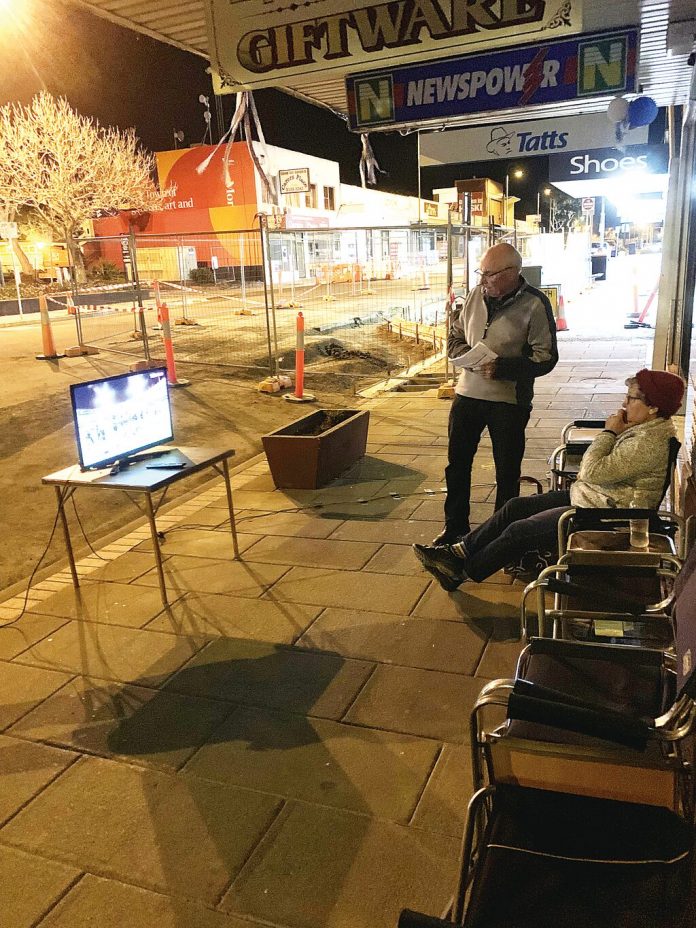 By Liam Durkin
FOOTBALL
By LIAM DURKIN
ORDINARILY at this time of year footy fans across the state would be desperately trying to get their hands on AFL finals tickets.
With tickets selling like the proverbial hotcakes, die-hard supporters often waste no time getting in line outside ticket agencies as soon as they know who is playing who.
Working on the 'first in-best dressed' principle, people will go to extreme lengths to make sure they don't lose their spot – often camping overnight for days on end. It can be quite a sight for passers-by, as chairs and blankets line the footpath outside the ticket agency.
While some might question the sanity of people standing out in the cold waiting for a sheet of paper to be printed, this dedication forms part of the experience and journey of securing a finals ticket.
Believe it or not, tactics even form part of the lining up process, as friends and family stand in line for each other and essentially tag out to allow the other to catch up on sleep (often in their car), or get something to eat.
Once the tickets are in the hands of the supporter, one can only imagine the relief for not only them but also the staff assigned the job of effectively having the fate and quite possibly the dreams of the supporter attending an AFL final at their fingertips.
Morwell Newspower Centre's Christian Burgess is one of those staff, and said those standing in line for days on end formed something of a bond.
"All of the people that line up early consider themselves a little community, so they do look after each other," he said.
"It is very territorial though so if anyone from outside Gippsland comes they are a little bit suspicious."
The bond extends to the ticket agency as well, and at Morwell Newspower, the centre has provided electricity to run a television out in the street.
Come grand final week, Burgess said people go to extreme lengths just to get in early.
"The tickets for the grand final go on sale on the Sunday before the grand final. So people start lining up maybe the Tuesday or Wednesday before that," he explained.
"Generally the AFL set limits for club members, AFL members and MCC members.
"AFL corporate members also have an allocation and what's left is available for the general public.
"It changes yearly for the grand final but roughly it is 20,000 for each competing club members. 20,000 AFL members, the rest is AFL corporate sponsors and MCC members."
For non-MCC members wanting to give themselves the best chance of securing a ticket to the big dance, Burgess recommended becoming an AFL member.
"As you can also nominate the club you support (being an AFL member)."
"Therefore it is easier to get a ticket if your club makes the grand final and still gives you a chance to attend the grand final even if you're club is not in the grand final."
Burgess recalls the drawn 2010 grand final between Collingwood and St Kilda as being the hardest decider in recent memory to get tickets to.
Ticket agencies in 2019 surely slept easier after Greater Western Sydney narrowly defeated Collingwood in the preliminary final, the result of which meant a showdown between two of the competitions biggest clubs in Richmond and Collingwood was avoided.
When asked how quickly tickets would have gone if it was a Magpies-Tigers clash, Burgess predicted "20 minutes at the most".
"And then a lot of disappointed supporters that would miss out," he said.
"Generally if two Melbourne based teams get into the grand final it is pretty much organised and unorganised chaos!"
For those who do everything within the rules to get a ticket and still miss out, there is of course one more option.
Burgess was under no illusion as to how much activity went on the black market when it came to scalping.
"It definitely happens, you only have to look at sites like EBay and Gumtree," he said.