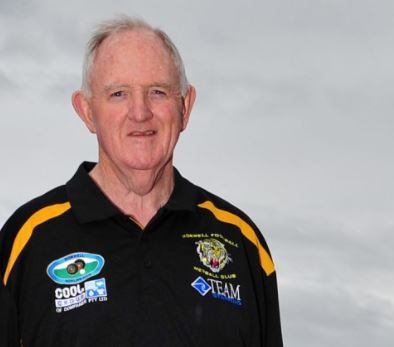 Liam Durkin
FOOTBALL/NETBALL
By LIAM DURKIN
MORWELL Football-Netball Club icon Stan Morgan died last week.
Morgan is being remembered as a true gentleman and the greatest volunteer in the club's history.
While the term 'legend' is tossed around rather loosely in local sport, there can be no questioning Morgan is befitting of the title given his service to the Tigers.
After playing 77 games in the yellow and black between 1964 and 1969, Morgan turned to administration, where he was to make his mark across five decades.
A truly extraordinary length of service started in 1980 and continued until this year.
Fulfilling virtually every role at the club, Morgan served as secretary from 1980 to 1996, treasurer (1986 and 1988), vice president (1999-2001) and on the committee for all the years in-between.
As well as all that, he also ran the club's bingo for 22 years – something for which he will possibly be best remembered.
Under Morgan's leadership, the Morwell FNC bingo raised an estimated $1.2 million for the club.
Morwell FNC football operations and close family friend Michael Henderson said Morgan's legacy was ensured.
"Stan's contribution to the Morwell FNC is immeasurable," he said.
"The club will still be benefiting from his efforts for decades to come.
"He can only be described as a club legend.
"For 40 years he displayed a club first mentality, was a thorough gentleman, as honest as the day is long and never sought the limelight or recognition.
"You could always trust Stan. You knew he had the club's best interests at heart. He always wanted to do what was best for the club.
"He's without doubt the greatest volunteer in the club's history and his contribution will never be surpassed."
Morwell won seven senior premierships during Morgan's tenure, occasions which brought him great joy.
Regarded as one of the best sporting administrators in country Victoria, he was inducted as a life member of Morwell FNC in 1987 and of the Gippsland League in 1996.
A man of great humility, he responded to the creation of the Morgan-Stanistreet Cup, played for between Morwell and Traralgon, by personally seeking to have his name removed and instead giving the honour to fellow Tiger legend Brett Stanistreet.
He took his skills literally next door to Gippsland Power in 2012, becoming secretary and team manager.
Gippsland Power stalwart Peter Francis said Morgan was a terrific asset to the organisation.
"He was absolutely outstanding, he had a wealth of knowledge and a good understanding of the wider Gippsland football landscape as well," he said.
"He was that wise and considered head that I could discuss issues with. We worked really closely and effectively together.
"I was more than happy to have him on board, he was the perfect fit for us."
While not only a great administrator, Francis said Morgan was an equally great person.
"He was a big part of the fabric of the club … admired by everyone, staff, parents, the opposition," he said.
"He was one of those guys who always had a kind word, he was approachable and very professional in his role. Just a smile and a nod of the head when you said g'day.
"People really loved him, he was very witty and funny as well. A bit of a master of one-liners.
"He'll be sorely missed. There are thousands of people across Gippsland who know and respect who Stan Morgan is and was."
His service to local sport continued away from football, as he stood as a cricket umpire for many seasons, winning the John Mussared Medal for Central Gippsland Cricket Association Umpire of the Year in 2004-05.
The Morwell FNC is in the process of having a lasting tribute to Morgan's contribution to the club formally and properly created in the near future.
Yellow and black extended beyond Morwell for Morgan, as he was a passionate Richmond supporter and enjoyed the last few years immensely.
He died following a battle with pulmonary fibrosis, aged 74.
He is survived by wife Pauline and daughters Vanessa and Kara.
ONLINE TRIBUTES
Devastated hearing this news. Such a gentleman always willing to help. Extremely well respected amongst football and netball across Gippsland. – Daryl Couling
A truly great man and the most influential figure of our great club. Bled black and yellow.
– Craig Giddens
Stan is no doubt one of the most humble, selfless, committed, dedicated and loyal volunteers the club has ever had. Stan was always "going okay" when asked, to which he would quickly ask "how are you goin?" – Brendan Blackshaw
Absolutely gutted to hear this sad news. A legend, a true gentleman and a man that would do anything for the footy club and anyone else. RIP Stan. – Jason Macfarlane
Very sad news, always admired the way Stan went about his business, a gentleman. Will be greatly missed by the club. – Michael Duncan
The heart and soul of the Morwell Football-Netball Club. A true gentleman and for a few years a great neighbour. – Robert Mayo