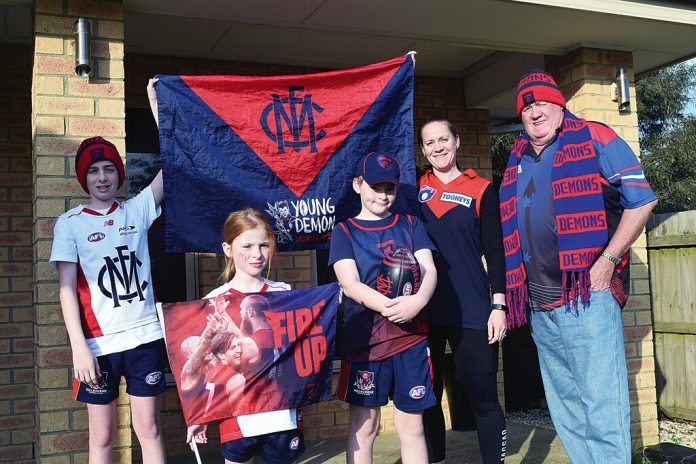 Liam Durkin
FOOTBALL
By LIAM DURKIN
MELBOURNE supporters across the Valley are daring to dream.
After finishing the season on top of the ladder and winning their first two finals with ease, success-starved fans have genuine reason to believe that this – this will finally be the year.
The Demons have captured the hearts of most neutral supporters this season and won plenty of admirers for the way in which they have played their football under Simon Goodwin.
With star players the likes of Max Gawn, Christian Petracca and Jack Viney, Melbourne look its best chance of lifting its first premiership cup since 1964 – a time so long ago people were still paying for things in pounds back then.
From then until now there has been just two further grand final appearances, intercepted by no shortage of false dawns, moments of madness and the lingering so-called 'Norm Smith Curse'.
Yet for all the jokes about Melbourne supporters being an affluent bunch who enjoy trips to the snow and dining out on cheese platters while watching the game, all wearing the red and blue will be wanting to make sure they are the ones having the last laugh come Saturday night.
Demon diehard Max Duncan, who has been supporting Melbourne for more than 60 years, said it was an incredible feeling knowing the team was just one win away from history.
"It's good to see them up there, very excited, tremendous effort to get there, they've stuck to their guns and been terrific," he said.
"It will be a good game.
"There will be messages (between mates) going out left, right and centre."
Sporting a Melbourne tattoo on his right arm, Duncan's allegiance is clear, while the red and blue runs deep in the family tree as former Melbourne coach John Northey is a second cousin.
Duncan can't remember the 1964 premiership, but can remember the first game he watched was between Melbourne and Geelong, as well as the great Demons of that era in Ron Barassi and Hassa Mann.
Of current players, he enjoys watching midfielder Clayton Oliver, and the man he shares a first name with in Melbourne captain Max Gawn.
Granddaughter Lara lists Gawn as her favourite player, and has the number 11 emblazoned on her back, while 10-year-old Blake enjoys excitement machine Kozzy Pickett and 13-year-old Liam rates Jack Viney highly.
As the senior Duncan explained, barracking for Melbourne was virtually a way of life in the family.
"All my kids barrack for Melbourne, daughter-in-law is Melbourne now, otherwise they are out, 11 grandkids, eight of them are all one-eyed Melbourne," he said.
The veteran supporter was quick to respond when asked if there had ever been the temptation to change clubs.
"Never ever, I'll stick to one," he said.
"I get pretty disappointed at times but I don't jump on the bandwagon and jump back off."
For Duncan and the countless other Melbourne fans who have remained loyal over the decades and stood by the team through more bad times than good, the sentimental thoughts of most neutral supporters will be with them during everything that happens on grand final day.
Tears are likely for Melbourne supporters
regardless of the result, but for their sake, most will be hoping they are tears of joy.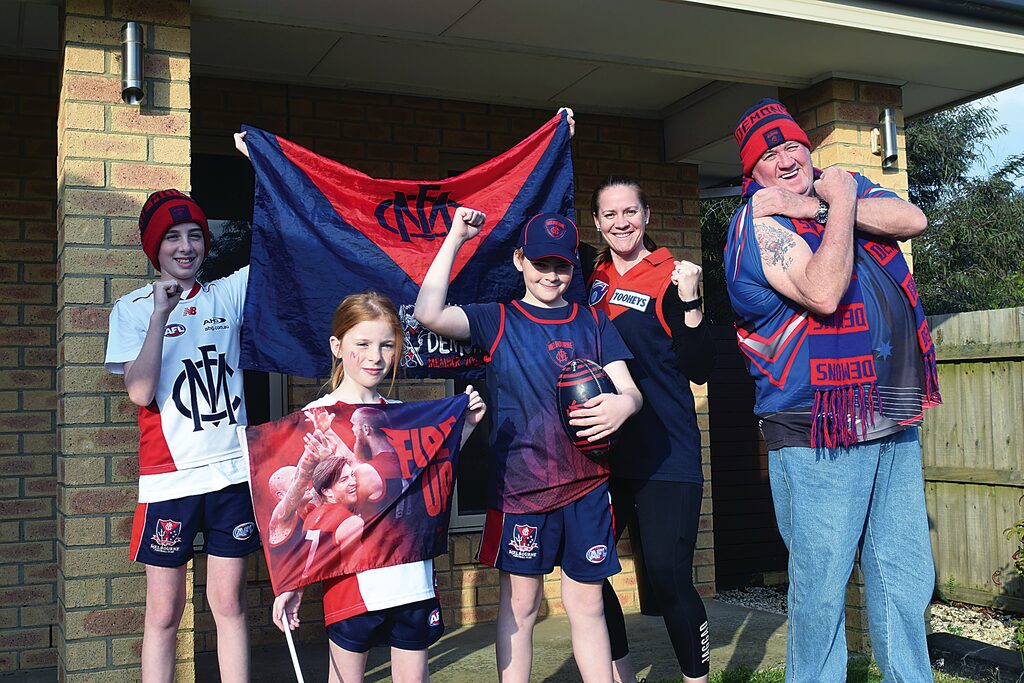 Fever pitch: Morwell family the Duncan's will be one of many die-hards hoping this will finally be the year their beloved Demons break the drought. Pictured are 13 year old Liam, Lara (eight), Blake (10), with mother Melissa and grandfather Max Duncan. photograph liam durkin