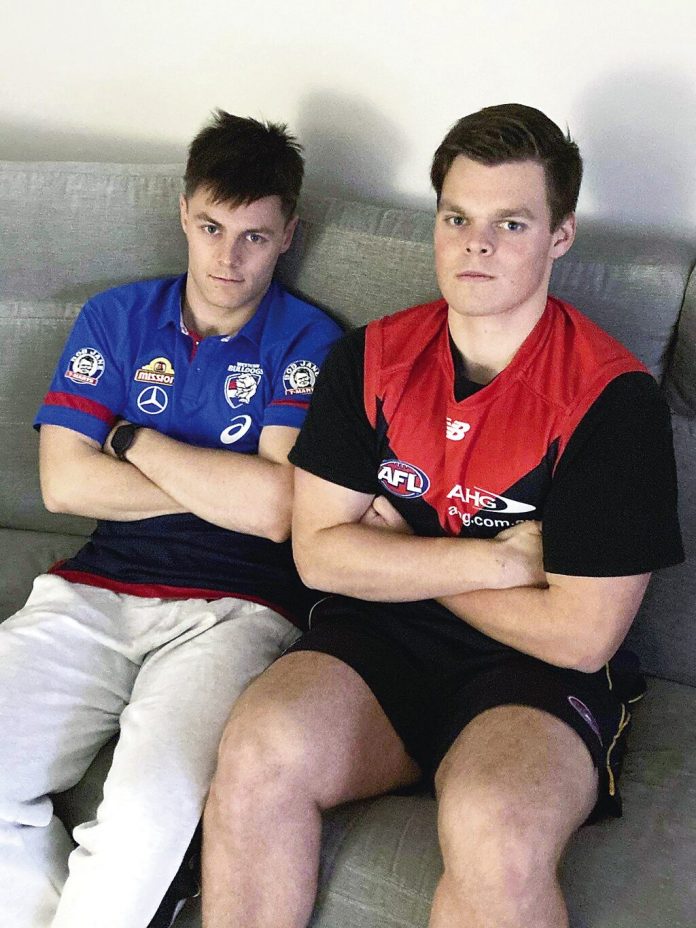 Liam Durkin
FOOTBALL
By LIAM DURKIN
THERE can only be one winner in the Michie household on AFL grand final day.
Newborough brothers Caleb and Liam Michie will be putting the niceties aside as Melbourne and the Western Bulldogs do battle, with Caleb's Demons up against Liam's Bulldogs.
The brothers had been eyeing off a potential Melbourne-Western Bulldogs grand final for some weeks, but never thought it would actually happen.
Younger brother Caleb will have the weight of numbers on his side, as every other member of the family barracks for Melbourne, which begs the question why Liam goes for the Western Bulldogs?
"When I was a kid my dad (Brad Michie) played for Newborough and foolishly I thought that he played for the Western Bulldogs and since then I've been converted," he explained.
"Dad has always reminded me in the hospital room there was a Demons teddy and they were playing the Melbourne song … safe to say it hasn't panned out how he thought."
Liam admitted to feeling like the black sheep of the family, but having already seen his team win a premiership in 2016, said he was prepared for the week ahead.
"I'm excited at the prospect of another one," he said.
"It was very emotional getting the first one, admittedly I'm only 22 so I can't say I've waited like most Bulldogs fans but it will still be a very emotional build-up.
"It feels different to 2016. I feel like 2016 was 'why can't we?' and now it's 'there's no reason we shouldn't win'.
The Bulldogs fan said he was still tossing up whether to watch the grand final alongside his brother.
"If we do I'm sure someone is going to come off second best," he said.
"It's probably going to be a tense couple of months afterwards depending on the result."
Caleb wasn't even born the last time Melbourne played in a grand final, and like a lot of Demons, has lived through some dark times.
"It's been absolutely traumatic," he said.
"I still remember the day we lost by 186 (points) to Geelong, I watched it on TV and was asking dad 'why are we this bad?'."
With his team now in the decider, Caleb was cautiously optimistic about what was on the horizon.
"I'm still feeling a bit on edge about it, I couldn't sit in my seat during the prelim," he said.
"I couldn't believe how well we played (in the prelim), just the way we moved the ball and our ruckman carried our team to a grand final, it was just great to see.
"I think 2018 (preliminary final appearance) was a false dawn. We were too early to make it, the next year we were a shambles, but this year we deserve to make it.
"I think our coaching staff have been the reason for the turnaround. We got Choco (Mark) Williams and Darren Burgess as our fitness coach and that really got us going. Having Choco there after his experience as a premiership coach has been really good."
With a 57-year drought hanging over their heads, Caleb will be one of thousands of Melbourne supporters desperate to see the Demons break through.
Ultimate bragging rights: Brothers Liam and Caleb Michie will face off in the AFL grand final supporter stakes. photograph supplied