LIAM DURKIN
BASKETBALL
By LIAM DURKIN
LOCAL basketball products Jaz Shelley and Jade Melbourne finished their Asia Cup tournament last night.
The pair walked away from the event in Jordan with a bronze medal after the Opals defeated Korea Republic 88-58.
Melbourne ended up with six points courtesy of a pair of three pointers, while Shelley provided an assist during her four and a half minutes on the court.
It was the culmination of an impressive campaign for Australia, who opened the tournament with a 76-65 defeat of Chinese Taipei, before thrashing the Philippines the following night.
In the match against the Philippines, Australia more than doubled their opponents score, winning 120-56.
Shelley and Melbourne got on the court in both games and netted baskets throughout.
Newborough's Shelley ended with six points in the first match, while Traralgon's Melbourne got on the board with a free-throw after getting her opportunity.
Due to the one side nature of the match against the Philippines, Australian players had their court time managed and were heavily rotated.
Shelley scored 10 points in this game, with two lay-ups and two three-point jump shots.
Melbourne scored seven, including a 100 per cent free-throw percentage.
Australia lost its next match to China, going down 82-64.
Shelley was unable to have much impact, with two rebounds and one assist, although she only play just over 10 minutes.
Melbourne got on for less than three minutes and shot three points during that time.
After finishing Group B in second position, the Australian team faced New Zealand in the
qualifying round for a place in the semi-final.
The Trans-Tasman rivals played a hard-fought game, and it was the Australians who came out on top, winning 72-61.
Scores were tied at 20-all at quarter time before Australia took control.
A 20-14 point second term gave the team enough breathing space, which it was able to maintain throughout the rest of the contest.
Unfortunately for the locals they virtually had to watch from the sidelines in this match. Melbourne only played just over a minute-and-a-half, while Shelley did not play at all.
After securing the win over the Kiwis, a date with destiny awaited against Asia Cup powerhouse Japan.
Australia needed to win this match to progress to the final, and in a pulsating match, was denied by just two points in a 67-65 scoreline.
The Opals came so close to defeating a team that has won the previous four women's basketball Asia Cups, and looked to have the game in their grasp as they led by six points with four minutes to go.
However, Japan stepped up their defensive play and powered to a nine-nil run that ultimately saw them over the line.
There was plenty of drama right at the death when a block on Australia's Sami Whitcomb denied her a last-gasp three-point effort.
In the aftermath, it was a heroic effort from Australia, who played their hearts out against much more seasoned opponents, while for Japan, they well and truly used the get-out-of-jail card.
Despite the result, Australia coach Paul Gorris was full of praise for his team.
"The scoreline reflected the tightness of the game," he said.
"It was two great teams battling it out. It hurts to lose and we don't want to lose, but being able to get here and do what we did today is a reflection of how far this group has come. It also reflected the toughness of how we play. We held them to their lowest score of the tournament, but we gave up too many turnovers and that hurt us."
Melbourne saw 13 minutes in the semi-final, scored two points and had one rebound and one assist. Shelley did not play.
As one of the top four teams Australia qualified for the 2022 World Cup, to be held in Sydney.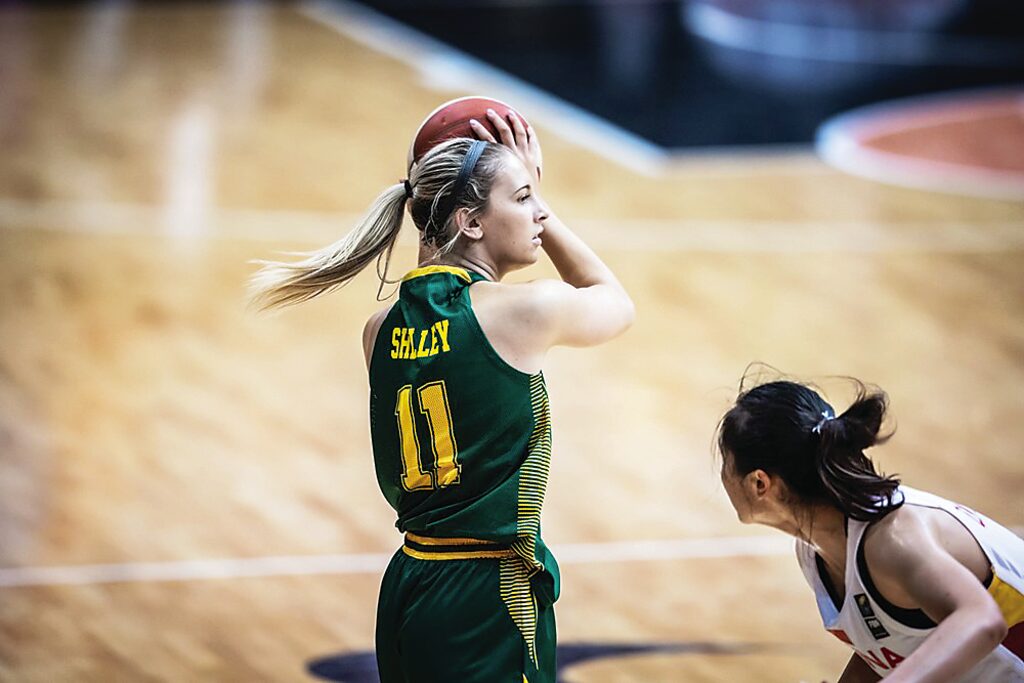 Assessing: Newborough's Jaz Shelley looks for an option against China at the Asia Cup. photograph fiba womens asis cup