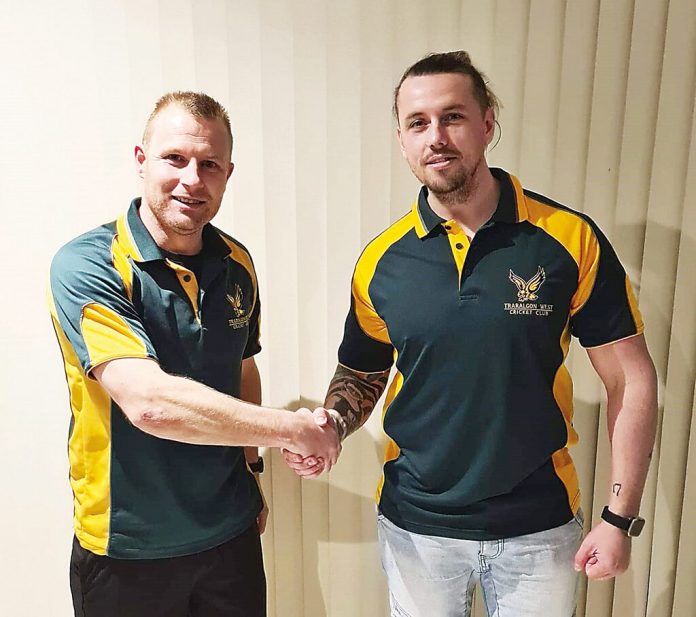 LIAM DURKIN
CRICKET
LVDCL
By LIAM DURKIN
NEW Traralgon West Cricket Club captain Rob Wilkie will literally be able to see his old club this season.
Wilkie has made the move from Apex Park to the neighbouring Jack Canavan Reserve to lead the Eagles in the Latrobe Valley and District Cricket League.
A line of houses along Gilmour St is virtually all that separates Wilkie's old club Centrals and Traralgon West.
While Wilkie himself acknowledged it would be slightly strange playing a stone's throw away, he said the opportunity to captain an A Grade side was an exciting prospect.
"It will be so weird (playing next door to Centrals), but I'm looking forward to it," he said.
"Coming from the same league and being in the same division together, when you play against a few sides a few times you start to get to know people and have beers with people, so there wasn't too much having to introduce myself (at Traralgon West), we all knew each other anyway.
"I'm just really keen to lead a side and work on my leadership. Traralgon West surrounded me with some people who were willing to help."
Having coached Centrals previously, Wilkie will bring some ideas across, working in tandem with Eagles coach and club stalwart Tim Fitch.
The new captain has played as an opening
batsman in the last few seasons at Centrals, but a change of club is also set to bring about a change of role, with Wilkie expected to come in at first or second drop to stabilise things in the middle order.
Fielding wise, Wilkie said he would more than likely stand at mid-off to talk to the bowlers, while his very looping off breaks might only come out in case of emergency.
Although Traralgon West hasn't featured too heavily in the wins column in recent seasons, there was enough signs of promise last season to suggest they are on the right track.
The Eagles reverse-outrighted eventual A Grade premier CATS and defeated Trafalgar at a time when the Ships were the reigning A Grade premier.
Furthermore, the depth of Traralgon West is clearly strong, highlighted by the second grade side finishing last season on top of the ladder by 16 points.
Young batsman Ihraam 'Rami' Zafar has been a shining light, and an innings of 56 at Gippsland Cricket League level last year proved his worth.
Latrobe premiership player Hayden Kimpton joined the Eagles 12 months ago, and is another youngster the club will be looking to turn some of the starts he got last season with the bat into more significant scores.
With this in mind, Wilkie said he would be giving some of the up-and-comers more ownership in the hope of them blossoming as future leaders in years to come.
"I've already set Josh Monacella and Hayden Kimpton as vice-captains, basically with the goal to teach them a few things and ensure by the seasons end they have improved with that side of things as well," he said.
"To Fitchy's (Tim Fitch) credit he's really invested a lot of time into researching how to get the best out of the kids, giving them every opportunity to do so.
"I've been friends with Fitchy through high school and since the season we played under 16s together where Centrals and West had to merge for a year.
"To see what he's been able to do at the club, I've looked on from afar and just thought how great he does.
"We're really putting a lot of time into the kids to ensure they get as good as their potential would suggest."
For Traralgon West veterans the likes of Fitch and Ben Edebohls, the motivation for teammates should be there to reward the mountain of work they have put in through some very lean seasons.
The pair's loyalty has been astonishing, especially considering they stuck by Traralgon West during a time when the Eagles went five years without winning a game and would have been well within their right to play elsewhere.
Departing the Eagles are left-arm spinner Luke Sumner, who has made the move to Bruthen, and all-rounder Nila Thillekarathna who has joined Jeeralang-Boolarra.
Despite the losses, Wilkie was confident some of the young Eagles would be able to help the team along rather than need to be carried through.
"That's a top order bat that goes out (Thillekarathna) but our thought process is young Zafar and Monacella now being 18-19 should continue their improvement and take up that spot," he said.
"The list is looking really strong. I think we've probably got six or seven bowlers to pick from at the moment.
"With the lads putting in so much effort I'm quietly confident we should be able to shake up some top sides and hit the ground running as soon as the seasons back up and going."
In making the move to Traralgon West, Wilkie said he left Centrals amicably and on good terms.
"I'd still consider them a bit of a home club and a place where I'd spend a lot of time at in the future," he said.
"I basically said to the lads it's not necessarily 'goodbye', it's 'goodbye for now' while I give this captaincy a crack."
Now that he will be wearing the green and gold of Traralgon West, Wilkie was sure a good deal of banter would be coming his way when he played against Centrals.
"The lads know just about everything about me so they should have some good gags," he joked.