Alyssa Fritzlaff
ROYAL Freemasons Moe hosted a Halloween themed competition on Friday, October 29.
In the lead up to Halloween, staff decorated their offices with all things spooky. Cobwebs, fake blood, skulls and pumpkins littered the halls.
On the Friday before Halloween, the staff engaged in festivities, hosting several competitions including Best Dressed and Best Unit Display competition.
Clinical Care manager Nikki Pearless and Care and Income Support co-ordinator Whitney Uchtman were the judges, and eventually picked the stand outs of the day.
The winner of Best Dressed was nurse and team leader Kimberly Croft, who dressed up in a gory nurse uniform, her white apron was smeared with fake blood.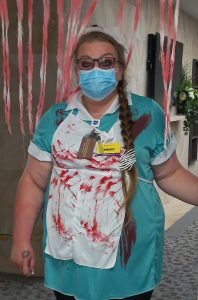 The facility's Fowler Unit won Best Display.
Their reception desk was adorned with hanging skeletons, cobwebs and creepy clowns.
"We have staff that have really gotten into the theme … we've got witches and zombies running around," Ms Pearless said.
She said the staff and residents have enjoyed the initiative.
"They've enjoyed it, they've had a ball."
"Some people have gone above and beyond, the staff have spent their own money to decorate, it hasn't been funded."
There were prizes awarded for each category, including vouchers up to $50.
Ms Pearless said the themed month is a way to bring the community Halloween festivities inside, "instead of looking at the same four walls."
The pandemic has been a difficult time for the aged care community, especially for the residents, she explained.
"It has been really isolating for them."
The initiative has boosted morale, and the facility has decided to continue costumes and decorating into the upcoming months.
November will be an Enchantment theme, with staff members beginning to prepare before Halloween was over.
"We've already starting getting fairies and unicorns and things like that … stockpiling things ready to go up on Monday."
After Enchantment month, the facility will be decked out in a Christmas theme for all of December.
"We're trying to bring life into the place, rather than looking at the same walls and same nurses stations," Ms Pearless said.