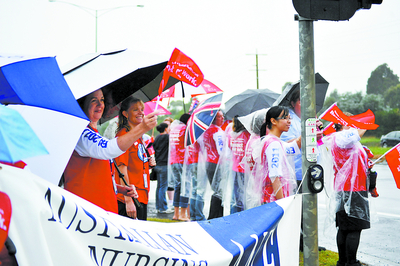 LATROBE Regional Hospital nurses have defied orders from Fair Work Australia and the Federal Court to cease industrial action and return to work as a "last resort" in light of the impasse with the State Government on work conditions.
The nurses, who feel "backed into a corner" participated in work stoppages on Tuesday, with reduced numbers yesterday.
It is understood while a "small number" of the nurses outside the hospital yesterday had defied the Federal Court ruling to return to work, others were staff who had come off duty or were not rostered on, and were supported by other hospital staff in their protest.
"Nurses and midwives will not escalate their action, but they will maintain the current level of action and will be ensuring that category one, cancer and diagnostic surgery for cancer are not impacted upon," Australian Nursing Federation Victorian branch secretary Lisa Fitzpatrick said yesterday in a strongly-worded statement condemning the State Government and the Victorian Hospitals' Industrial Association as "double-crossers".
"Triggering further Federal Court buttons will not resolve this dispute," Ms Fitzpatrick said.
The rolling stoppages of up to four hours were scheduled to take place during the morning and evening shifts and are expected to continue until the dispute is resolved.
The industrial action has resulted in elective surgeries at LRH being postponed on both days, according to LRH chief executive Peter Craighead in a statement yesterday.
In the statement, LRH management said it had advised nursing staff of the Federal Court order and urged the ANF to communicate clearly with its members regarding the return to work order.
"Nurses don't like doing this, but we've been backed into a corner," a LRH nurse, who did not wish to be named, said.
"This is ridiculous – we haven't had to do anything radical like this for many years…we have to put pressure on government."
According to the nurse, LRH nurses faced reduced nurse-to-patient ratios, career development, and other state issues.
"As a legal requirement, we must have 20 hours of study every year," she said.
"Some conferences last for two days and can cost as much as $600 per conference, and this is all self-funded."
The nurse also said LRH had similar acuity levels compared to some metropolitan hospitals.
"We are a major referral hospital in the region, we have patients from Sale and Bairnsdale who come here before they are referred elsewhere," she said, reinforcing the need for patient ratios to be maintained.
ANF industrial officer Leonie Kelly said the current situation had deteriorated.
"Negotiations have been going on for more than three months and we are no closer to an agreement," Ms Kelly said.
When asked about hospital operations, Ms Kelly said each ward had at least night duty staffing levels of a one to eight nurse-patient ratio during the work stoppages.
"No ward has below minimum (nurse) levels," she said.
"If there is a clinical need, the nurses will go back."
According to a report by The Australian on Tuesday, some Victorian hospitals were seeking injunctions to stop the industrial action, and were collecting the names of nurses participating in the stoppages to dock pay.
There was no official comment from LRH on the matter at press time.
ANF assistant secretary Paul Gilbert said he anticipated some nurses might have their pay docked four hours even if they did not participate the entire time.
"The nurses are no longer protected by law," Mr Gilbert said.
"Hopefully this drastic action brings things to a rapid conclusion."
Up to 100 nurses stood outside LRH on Tuesday morning in the rain as passing drivers tooted their horns, with a smaller group reportedly seen on Wednesday morning.
On The Express' Facebook page, readers voiced out their support as well as discontent with the current situation.