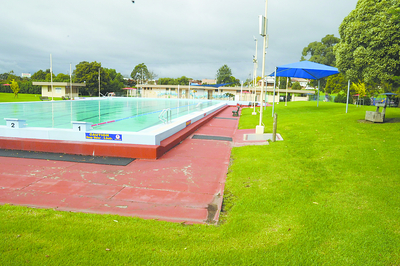 "DISJOINTED" opening hours and unkempt change rooms are some of the concerns raised by patrons of the Traralgon outdoor pool.
In a recent letter to The Express a Traralgon resident said the pool would serve the community more beneficially if its potential was fully utilised.
The resident further added a number of patrons had resigned to "just giving up going to the pool" as a result of "never being able to guess opening hours".
"I'm sure if the opening hours were more consistent, so would be the patronage," the resident said.
"There are also a large number of people travelling to the Morwell Leisure Centre for swimming lessons; what a waste to have our pool sitting empty when we could hold lessons here."
Comments placed on The Express' Facebook page showed a shared concern for more feasible trading hours among patrons.
Allie Kohana said she was not even aware of the pool being open after constantly being told the pool "is closed for this or that reason".
Kelly Vardy on the other hand said while the pool was "a fantastic resource for our community", the opening hours were "very restrictive".
According to Latrobe City Council general manager recreation, culture and community infrastructure, Grantley Switzer, opening hours of the pool had been increased since 2009.
"We are confident that our operating times meet the needs of the majority of our residents for the majority of the time," Mr Switzer said.
"There is a regulation that requires us to have minimum of two staff at an outdoor pool at any one time so, as I am sure the community would understand, it is prudent for us to avoid running up massive salary expenses if there is no-one at the pool."
Mr Switzer said while council had not received "any direct complaints" as to the condition of the change rooms, council would address any maintenance issues across all facilities as and when they arose.
He added council was currently undertaking the Traralgon Indoor Aquatic Facility feasibility study which would address the pool infrastructure, including any potential changeroom upgrades.