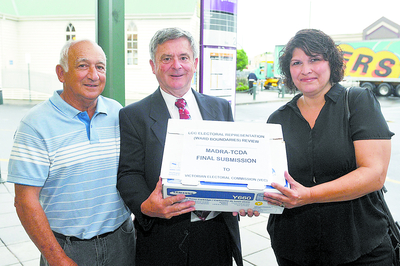 A RECORD number of public submissions to the Victorian Electoral Commission regarding the local government structure review were made by Latrobe Valley residents by the close of deadline on Monday.
According to Traralgon Community Development Association Inc committee member Axella Johannesson, as of Monday morning, more than 730 submissions comprising form letters together with individually prepared submissions had been received, with 50 of those being online.
"The number of submissions were nearly 2.5 times more than the previous record, which was in an urban municipality," Ms Johannesson said.
"It's an impressive effort considering the short time limit…we are very pleased and encouraged by the fantastic effort."
The public submissions are due largely to TCDA and the Moe and District Residents Association Inc's lobbying of Latrobe Valley residents to reject the VEC's proposal to maintain Latrobe City's existing nine wards, calling instead for a five-ward multi-councillor model.
TCDA and MADRA said their proposed model was "better and cleaner" in terms of representation, accountability and in considering the different needs or urban and rural communities.
The groups had carried out a public awareness exercise from 14 to 23 February in some of the towns.
They expect to hear back from the VEC on the review outcome in March.